Oscar R. Ortiz
by
Kenneth from Sherman Oaks
To me, a hero is a person who puts his or her own problems aside to help someone else solve their problems. The dictionary describes a hero as any man admired for his courage, nobility, or bold deeds. This can be said about many people in our society. The person I consider to be my hero is Oscar. Who is Oscar? Well he's my father, and I consider him to be my hero. To you he might be just a regular guy, but to me he's more than that.
My dad was born in Guatemala. He is the oldest of three children. Growing up in a poverty-stricken town was not easy for him. His family went through tough times living in poverty. They had to fight to survive. When my dad was nine, his father abandoned their family. He was forced to live without the love and support of a father figure in his life. When he was 14 he became involved with drugs. He was a kid with an attitude. His favorite pastime was starting fights. But he grew tired of his life, and decided to make some changes. When he was 18 he moved to the USA. He was in search of a better life.
When he arrived in the United States he was alone. There were no friends or family he could go to for help. I think it took lots of courage to leave his country and to come to an unfamiliar place in search of a better lifestyle. For about three months he was homeless. Soon after, he started looking for a job. When he found a job, one of his coworkers offered him a place to live. During his stay there, the man preached to him about Jesus Christ, and my dad became a Christian. He started going to church and found a better job.
That's where he met my mother, Maritza. They were both 19 and very much in love. Soon after, they got married and had three kids. We lived in Hollywood for a few years. Then we moved to about five different places before ending up in Sherman Oaks. Because of the things my dad went through growing up, he became a minister. He enjoys helping people less fortunate than himself. I believe that he understands the struggles those people face, because he went through the same things. He travels to Tijuana, Mexico to deliver food and clothing to the poor. He does this without anybody telling him to do it. He does it out of the goodness of his heart, never expecting anything in return.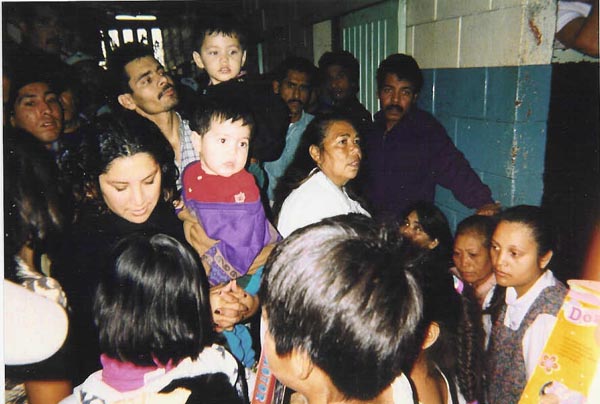 I deeply believe my father is a hero. The way his life was as a child you would never expect him to end up the way he did. His courage to leave his home in search of a better life, his nobility to help others despite his own problems, and his bold deeds of delivering food and clothing to the poor have earned him the title of My Hero.
Page created on 10/18/2011 1:09:32 PM
Last edited 1/5/2017 11:12:16 PM
The beliefs, viewpoints and opinions expressed in this hero submission on the website are those of the author and do not necessarily reflect the beliefs, viewpoints and opinions of The MY HERO Project and its staff.
Extra Info
In 1992 Acordaos de los Presos ministry began preaching the Gospel of Our Lord Jesus Christ in the state penitentiary of La Meza in Tijuana, Baja California. In 1998 they opened a Midway house for those that were set free and who have no place to go, and in 2000 they opened a church to keep instructing them on the Bible to keep them from crime. Now they need to open a place of training, to teach them trades. They have the trainers (a mechanic, welder and a carpenter) but they need a teaching location and tools to train with. If you can help, please contact Oscar R. Ortiz at
[email protected]
or call (USA) 818-419-2842 or 818-990-2446.