Sandra Day O'Connor
by
Derek from Cupertino High School
The definition of a hero is one that is greatly debated. People have their moms or dads, some revere Martin Luther King or Lincoln, and others have their celebrities. Personally, my hero is one that accomplished something that set a new standard in this country. My hero is Sandra Day O'Connor.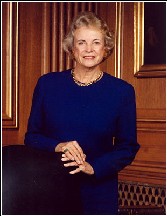 Sandra Day O'Connor was born on March 26, 1930 in El Paso, Texas. She earned her B.A. in Economics at Stanford University in 1950, and continued her studies at Stanford Law School. After she graduated at the top of her class, she went looking for a job as a lawyer in California. Unfortunately, no law firms offered jobs to her, and she was forced to look into public service. She took on various jobs, from San Mateo Deputy County Attorney to Assistant Attorney General of Arizona. O'Connor then became a state senator for Arizona, and became the first woman to hold state senate majority leader in the history of the United States. She was elected twice, and was then elected the Maricopa County Superior Court in Arizona. Her last post came in 1979 when the governor appointed her to the Arizona Court of Appeals. Finally, in 1981, the moment of truth arrived.
On August 19, 1981, President Reagan nominated O'Connor for Associate Justice of the United States Supreme Court. She was confirmed, with a senate vote of 99-0, and was sworn in as the first female judge to serve on the United States Supreme Court on September 25. For the next 24 years, she reigned upon the Supreme Court and was the usual swing vote among close verdicts. She was often described as "unpredictable" and, in a way, always gave hope to either side. For example, in the Roe v. Wade decision, her vote, although not the deciding one, was critical in allowing abortion rights. Again and again, she displayed her thoughtfulness and wisdom during her years as the associate justice.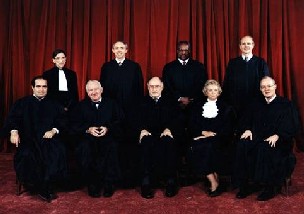 The real reason she is my hero, however, is of an entirely different matter. She is my hero because she stood up for what she believed in. Just because she was a woman, none of the law firms wanted to hire her, even though she was the top of the class! Yet, she battled on and eventually got the last laugh. Her 24 years on the court were one of the most memorable—and decisive—times in US history, and her retirement, although not desirable, is one that she certainly deserves. Sandra Day O'Connor, you have my vote as a hero.
Page created on 12/6/2006 12:00:00 AM
Last edited 3/2/2019 8:50:43 PM
The beliefs, viewpoints and opinions expressed in this hero submission on the website are those of the author and do not necessarily reflect the beliefs, viewpoints and opinions of The MY HERO Project and its staff.