Operation Kindness is "Texas's oldest and largest no-kill animal shelter," it is located in Carrollton, Texas. Operation Kindness was created to be a shelter that wouldn't kill the animals after they had been at the shelter for too long. Operation Kindness was founded in 1976 in Garland, Texas, by three individuals who loved animals. The shelter wants to provide a caring environment for homeless or abandoned dogs and cats until they are adopted or put into foster homes. Operation Kindness is a nonprofit organization dedicated to the well-being of dogs and cats. It relies on volunteers and donations to keep it running because they have no government funding. Operation Kindness believe that every animal deserves a loving home and this is why it is my hero.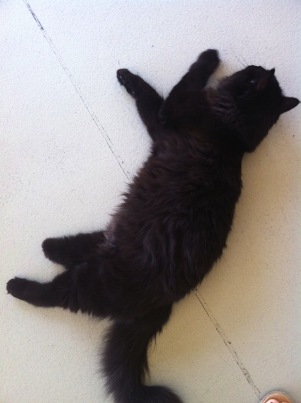 During the first 12 years, the shelter was located in a small building in a shopping center donated to them by an animal clinic. Operation Kindness had a very small space with very little supplies to work with but they just kept persevering and trying to pursue their mission. In October 1988, they lost use of the location and moved into a maintainable 2,300-square-foot warehouse in Carrolton.
In July 1996 Sarah M and Charles E. Seay and Lori and Lea Shmitt provided funds to Operation Kindness for a 4.3-acre tract in Carrolton. But in January 2002 Operation Kindness started a $220,000 capital campaign to renovate their space. They raised the targeted amount of money so they could add a veterinary clinic and treatment center to the original building for the animals that need medical attention. The project was completed in 2004, and the first surgeries where completed in January 2005.
To this day Operation Kindness remains in Carrollton, Texas still growing and expanding. They have cared for and adopted over 65,000 dogs and cats. They care for at least 200 animals on a day-to- day basis. They have about 80 to 100 animals in volunteer foster homes. Operation Kindness always has animals in loving foster homes. The foster homes are for animals that need special care or attention and need to be out of the shelter and in a quiet, loving home where they can get constant attention until they are adopted.
At Operation Kindness there are veterinarians who volunteer their time to the animals at the shelter three times a week. The veterinarians are their heroes because they volunteer time that is very useful to all the animals, because the animals need special medical assistance that only vets can give.
I went to visit Operation Kindness, and I thought that it was amazing. You can tell that they really care. For the cats, there was a cat room, a kitten room and a cat porch. I thought it was great that all the cats were just walking around freely. There were cats in the volunteer break rooms; there were cats in the laundry room and even cats in the lobby. Since Operation Kindness is a no-kill shelter, there was one cat named Barbara that had been there for six years! Barbara was given up by her family because she didn't use her litter box, but what they didn't know is that she had a urinary disorder and she is being treated for it at Operation Kindness. There was another cat at Operation Kindness that had lost its paw. The older cats are the animals that take the longest to get adopted. I think it is great that Operation Kindness can care for any kind of dog or cat with whatever trouble they may have.
At Operation Kindness there was also a small dog area and a large dog area. Outside there were two dog parks, one for the small dogs and one for the large dogs. The "dog parks" gave the dogs a chance to interact with the volunteers and other dogs too. All the dogs were barking for our attention. Some of the dogs that have been found together have to be adopted together because they would get lonely. Puppies usually get adopted very quickly, so there are not a lot of puppies. When they do get puppies or any kind of animal, they put them in a special room for new arrivals. There was also a veterinary room for the examinations. The sick animals were also in that room. There are special kennels for the dogs and cats that have ringworm, called the "ringworm condos."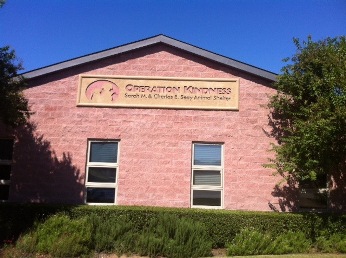 About fifty percent of the animals at Operation Kindness come from the public—rescuing an animal or animals off the street. The other fifty percent comes from shelters that have a time limit on their animals, so Operation Kindness takes them into their no-kill environment.
Every year 27,000,000 dogs and cats are born in the United States. Hundreds of thousands of those animals are killed. Imagine how many of all those animals are killed in shelters. If all shelters were like Operation Kindness, then the world could potentially be a better place.
The Animal Care Team at Operation Kindness visits the Kirby Manor and Heritage Gardens nursing homes with the animals at Operation Kindness. They bring their own animals as well. They have also visited and helped out with numerous charities. Operation Kindness believes in using their animals that they have saved to make other people happy! The volunteers and staff also make visits to the community, schools and youth groups about proper animal care and pet ownership. I think that everyone should properly know how to care for an animal.
Operation Kindness has lots of active volunteers that really care for and support the cause. The youngest volunteers are only six years old! But Operation Kindness still believes that there is no age limit for helping animals and every bit of effort helps. I think Operation Kindness is a great example of people with a cause at heart who are doing their best.
Everyone at Operation Kindness really loves animals. I think they realized the way animals were being treated and wanted to help them without eventually killing them like other shelters. On my tour of Operation Kindness I saw all the staff and volunteers and I could tell that they really loved animals and loved doing what they do. I think that Operation Kindness was inspired by all the other shelters but they wanted to be special and unlike the other shelters in the area, they wanted to save animals.
Operation Kindness inspires me to want to help animals in need. Operation Kindness speaks to me in a special place in my heart. I would like to be like Operation Kindness and do whatever I can to help. I think that everyone should know about Operation Kindness and should be aware of animal abuse because it is growing everywhere around the world. Operation Kindness is my hero because they help animals in need and do their best to place them into responsible families. Operation Kindness shows a willingness to persevere. They will try and try again to do whatever they need to do to care for an animal or meet an animal's needs. If you have a mission, a task or a job at hand, the most important part of the mission is caring for your cause, just like everyone at Operation Kindness, because everyone there definitely loves and cares about what they do. I want to love and care about what I do, just like Operation Kindness.
Page created on 11/3/2011 12:00:00 AM
Last edited 1/4/2017 9:04:04 PM