Della Overcash, Sherrie Lee, and Stephanie Kennedy
by
Cody, Jamie, and Scott from Statesville
Nurses are the heartbeat of health care. ~Author Unknown
When you think of heroes you might think of fictional story characters with superpowers like Superman and Spiderman. But those are not the only heroes. There are real life heroes all over the world. In our film (I am working with two of my friends, Scott and Jamie) we are going to focus on a personal hero of ours, Nurses. We believe that nurses are the structure of a hospital. Sure doctors are good, but nurses actually take care of the patients and watch the monitors and really put the time and effort into their work. Another reason why my partners and I appreciate nurses is because all of our moms are nurses, so we understand the time, effort, and the value of their jobs.
Our heroes have done many things for all of us. They have taken care of us when we were sick, when we were hurt, or when we just needed someone to talk to. Nurses save people's lives all day everyday, 365 days of the year. They go through a lot of stress during the work day but they still put the patients first.
Our moms, who are our heroes, all live in Statesville, North Carolina. They are all living now, in present day. My mom, Della, works at Lake Norman Regional Medical Center. Scott's mom, Sherrie, works at Iredell Memorial. And Jamie's mom, Stephanie, works at a Nursing Home. All of our moms, and heroes, have done everything in their power to help us get through our lives. They take care of us whenever we need it. When you think of it, moms are heroes by themselves, but because ours are also nurses it makes even bigger heroes in our minds.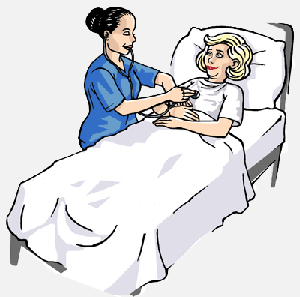 Nurses have made an impact everyone's life. Whether or not it was directly or through someone else, they have shown us true compassion and hospitality. Personally, our moms have made a difference in our lives because they have shown us that you don't just get happiness from receiving presents or winning a contest, but just by knowing that saving or helping someone's life can put a smile on your own face. They have shown us the stress they have to go through at work, but still put the patients and us first.
As you can tell, nurses are a very important part to our lives and society. Everyone can learn a thing or two from nurses. I know that we have. Where would we be without nurses?
Page created on 8/28/2011 12:00:00 AM
Last edited 8/28/2011 12:00:00 AM
The beliefs, viewpoints and opinions expressed in this hero submission on the website are those of the author and do not necessarily reflect the beliefs, viewpoints and opinions of The MY HERO Project and its staff.