Peter C. Alderman Foundation
by
Amanda Molinaro from Irvine
"Our youngest child, Peter, was murdered on September 11, 2001. He was attending a conference at Windows on the World in the World Trade Center. He didn't work in the building and he was only 25 years old when he died. Peter was too young to have decided whether he wanted to leave his mark on this earth. We have decided to leave a mark for Peter."
On September 11, 2001, Steve and Liz Alderman had to live a parent's worst nightmare: learning that their child had been killed. As the realization set in and they struggled to carry on, they felt a need to honor his life. About 8 months after his death, Steve and Liz Alderman realized that he had been killed because of terrorism. They decided that helping those who had survived terrorism and would be a perfect memorial to Peter.
"One billion people, one-sixth of humanity, have directly experienced torture, terrorism or mass violence. More than 50% of the survivors were no longer able to lead functional lives because of incapacitating traumatic depression or PTSD. They can't work or care for their families. Children can't attend school. Many can't even leave their beds."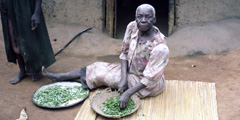 The victims are often left with life-long disabilities that prevent them from caring for their families and leading productive lives. They decided that the solution to this problem would be to create a sustainable, culturally effective mental health care system. They established the Peter C. Alderman Foundation (PCAF) to help those who had survived terrorism but were unable to continue their lives. They began setting up clinics to help treat mental anguish, and to help alleviate the suffering caused by terrorism. Physicians and local caregivers are trained and given the tools to heal emotional and psychological wounds, using a combination of Western medicine and local healing traditions. If cared for, up to 90% of the victims suffering from PTSD can eventually return to productive lives.
The first Peter C. Alderman Trauma Treatment Clinic was opened in Siem Reap, Cambodia in March 2005. The psychiatrist was trained by PCAF and the clinic partnered with the local government, who supplied the psychotropic drugs and the space for the clinic. Within the first year, the Cambodian Clinic had treated over 4,000 patients, had made over 400 home visits, and had a 14 month waiting list. The following year, they added a satellite clinic in Soutr Nikum that operates 3 days a week. Because of the partnerships that PCAF has established with the government and the local monastery, the cost to operate both clinics is just under $22,000 annually.

Shortly thereafter, the foundation opened 3 clinics in Uganda, a country that has been war-torn for more than 4 decades. Since opening in 2008, they have treated over 30,000 child soldiers who had been formerly abducted into the Lord's Resistance Army. The foundation is currently working in Haiti, Rwanda, and Africa. To date, more than 75,000 victims have been treated by PCAF personnel. The foundation continues training caregivers to expand their reach, and in November 2007 was listed as "one of the ten most effective small charities in America" in Barron's Magazine. To date, the foundation has reached over 100,000 people suffering from depression and post-traumatic stress disorder resulting from terrorism and mass violence. You can help treat the millions affected by war and terrorism by making a donation. Visit the foundation's website to make a donation, or learn how you can help them with fundraising.
Page created on 11/14/2010 12:00:00 AM
Last edited 1/6/2017 4:57:11 PM
The beliefs, viewpoints and opinions expressed in this hero submission on the website are those of the author and do not necessarily reflect the beliefs, viewpoints and opinions of The MY HERO Project and its staff.
Related Links