Paulo Coelho
by
Marzieh from Tehran, Iran
In the Name of God
'Paulo Coelho is not only one of the most widely read, but also one of the most influential authors writing today.' Paulo Coelho, the Brazilian author of bestsellers such as The Alchemist, The Valkyries and Veronica Decides to Die, comes from a powerful tradition of magic. He believes in angels and omens. The Brazilian author PAULO COELHO was born in 1947 in the city of Rio de Janeiro.
"He started writing when he was a teenager. But then, his mother told him that it was impossible to make a living out of writing in Brazil. He believed her, and tried to do something else. Nothing that he did, however, gave him joy. So, he dropped college and started to travel—as a hippie. When he returned to Brazil, he created an underground magazine. He was then invited to write lyrics for songs, and later, journalism. He made a living out of writing, although he did not write a book till he was 38. Why? Because he believes there are two things that keep you away from your dream: to think that it is impossible, and to realize that it is possible (in this second case, you fear losing the meaning of your life)."
When I was 15 years old I read Paulo Coelho's book "The Alchemist." I had great feelings. When I read this book I realized that it changed my views and it helped me to have a positive look in to the life. I found out that we have to try hard to catch our goals. I knew that I should use the experience of the other people and pay attention to the symbols that are in our way. I understood that anything is possible even though we think that it isn't and we have to go after our aims.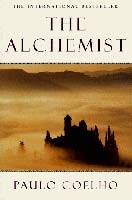 "The Alchemist was one of the most important literary phenomena of the 20th century. It reaches the first place in bestselling lists in 18 countries, and so far has sold 30 million copies The book has been praised by different personalities ranging from the Nobel Prize Kenzaburo Oe to the singer Madonna, who considers it one of her favourite books. It has equally inspired many projects – such as a musical in Japan, theatre plays in France, Belgium, USA, Turkey, Italy, Switzerland. It is also the theme of two symphonies (Italy and USA) and had its text illustrated by the famous French artist Moebius (author of the sceneries for 'The Fifth Element' and 'Alien')."
Page created on 5/14/2007 10:41:22 AM
Last edited 1/6/2017 11:01:13 PM
The beliefs, viewpoints and opinions expressed in this hero submission on the website are those of the author and do not necessarily reflect the beliefs, viewpoints and opinions of The MY HERO Project and its staff.