FOR IMMEDIATE RELEASE
Contact: Wendy Milette
949-376-5964
USC's Dean Elizabeth Daley Honored with Global Educator Award
Los Angeles, CA - 11/14/11 - The MY HERO International Film Festival is proud to present the 2011 Global Educator Award to Elizabeth M. Daley, Dean of the University of Southern California School of Cinematic Arts (SCA). This award is given each year to an educator whose work has made a positive impact around the world.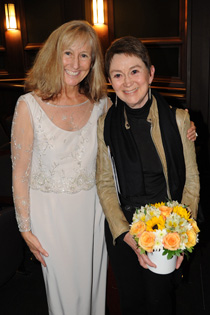 Dean Daley is the founding executive director of the USC Annenberg Center for Communication (1994-2005) and serves as the executive director of the USC Institute for Multimedia Literacy. Before coming to USC, Daley served as director of the film and television subsidiary of the Mark Taper Forum, and prior to that, was a producer for MGM/Television. Daley has been honored by American Women in Radio and Television and was twice nominated for a Los Angeles Area Emmy Award. She has received a Cine Golden Eagle, the Barbara Jordan Award, the California Governor's Award, and the Women in Film Business Leadership Award. Daley is also on the Board of Governors for Operation Smile, a non-profit organization that provides reconstructive surgeries in all parts of the world to children with facial deformities.
Since becoming dean, Daley has strengthened the school's academic programs, infrastructure, and ties with the entertainment industry and media arts community. Under her leadership, the school has added two new divisions in animation & digital arts and interactive media, built the Robert Zemeckis Center for Digital Arts, established 17 endowed positions, and formed successful partnerships with a variety of entertainment and technology companies.
With the help of filmmaker and SCA alumnus George Lucas, Daley's vision for USC has brought forth a cinema complex designed in the style of early Hollywood studios. The facility both honors the rich history of the medium and houses state-of-the-art resources, offering students an unparalleled level of opportunity. Daley's pursuit of advances in technology and methodology has kept SCA on the film industry's cutting edge.
Dean Daley has had a profound impact on global education with her passion for venerating historical cinematic masters and her ability to remain on the forefront of new media in academia.
~Wendy Milette, Festival Director
To Daley, filmmaking is an art form with an integrity that is strongest when cinema is utilized to honor cultural diversity and the dignity of the human spirit.
For her tireless efforts to make sure all voices are heard, The MY HERO International Film Festival will bestow the award on December 3, 2011, at the Ray Stark Family Theater at USC. Elizabeth Daley will be present to receive this prestigious honor.
Screenings run from 2 - 5 pm and the Awards Ceremony takes place at 6:30. www.myhero.com/rsvp
Watch the tribute video: http://myhero.com/deandaley
The festival is part of the award winning MY HERO Project (www.myhero.com), a non-profit educational web project that honors heroes from around the globe.
Page created on 11/14/2011 12:00:00 AM
Last edited 7/10/2017 5:17:38 PM