Anthony J. Pu
by
Mahealani from Pukalani
"This whole effort has shown me that many people can come together, like sewing a lei, the worthwhile outcome is preserving the land." – Anthony Pu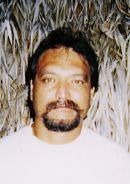 Anthony James Pu was born in St. Francis Hospital on O'ahu on August 4th, 1956. He grew up in Nänäkuli where he attended Nänäkuli High. After he graduated, Anthony went to college for a year. He then returned home to Häna, Maui where his family originally comes from. He currently resides in Hana since 1980, with his wife and now three children. Hana is a small, rural community on the east side of the island of Maui, the second largest of the Hawaiian Islands. Tony Pu is the Treasurer and Secretary of the Hui `Aina o Hana, he has served as the past President and Vice-chairman of the Hana Community Association. Tony is a participant in Alu Like programs as well as a Director of Ka Pilina o Hana. Tony Pu is active in the promulgation and allotment of indigenous and native species of plants in the Häna community. The Pu family originated in Hana. He works for Häna Tropicals also known as Mähealani Farms a flower plantation that sells native and non-native flora and fauna. Tony, as he likes to be called, is a part of a small non-profit organization known as Ho'onipa'a Nö Häna. He helped to create this organization along with Eric Kanaka'ole and Manuel Arriaga; both of whom are also from Hana.

Tony Pu is my hero and my dad because he supported the purchase of Mu'olea Point in Häna. He helped others to see that this piece of significant land must be preserved and protected for the present and future generations of Native Hawaiians. Ho'onipa'a Nö Häna spearheaded the effort in seeing that these 70 acres were placed into a trust so that no private owners could change it. They received support from many other organizations as well as the Maui County Council and Maui Mayor Alan Arakawa.
The actions that Tony and other Hawaiians have performed to save a portion of our culture, or our heritage is very heroic to me because, what are we with out it? Who will we be if it disappears one day, or if it vanishes? What will we have to share with everyone else, or our future generations and what will there be to look back on one day and say "Yes, that is what we have done, that is what we have accomplished. We, the Hawaiians have done this great thing, which was preserving and saving our land and our culture."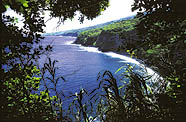 Tony Pu has put all his heart into projects he believes will make a difference. His goal is to see that the Hawaiian culture is protected and preserved for the future. His vision for the future of Mu'olea itself is to one day see that all of our keiki (children) and 'opio (youth) take interest in the land and help to keep it active and productive. He wants to see the land preserved and knows that through the preservation of the land so to will the Hawaiian culture flourish and the Hawaiian people thrive.
Anthony James Pu is my hero because he has taught me the importance of wanting to do something, then going out and doing it. He has shown me how to do something and put my heart into it. Tony Pu has inspired me because he has taught me the value of family, friendship and hard work.
Page created on 11/14/2006 4:10:26 PM
Last edited 11/14/2006 4:10:26 PM
The beliefs, viewpoints and opinions expressed in this hero submission on the website are those of the author and do not necessarily reflect the beliefs, viewpoints and opinions of The MY HERO Project and its staff.