Pete Carroll
by
Alec from Granite Bay
Pete Carroll: A Better L.A.
Pete Carroll is one of the best college football coaches ever. His USC Trojans football team has gone to seven straight BCS Bowl Games and they have won 6 of them. Pete Carroll has the best record of any active coach, with a minimum of five seasons which includes 88 wins and only 15 losses. These accomplishments, in front of millions of viewers, have made Pete famous and wealthy. However, it's what Pete Carroll does when no one is watching that makes him my hero.
It was obvious that Mr. Carroll was special at an early age. As a youngster he was a promising athlete. He was a star baseball, basketball, and football player at Redwood High School in the Bay Area. During his senior year in high school he was named athlete of the year by his Redwood High coaches. Because of Carroll's leadership, athletic ability, and enthusiasm, everyone thought that he would move on to bigger and better things.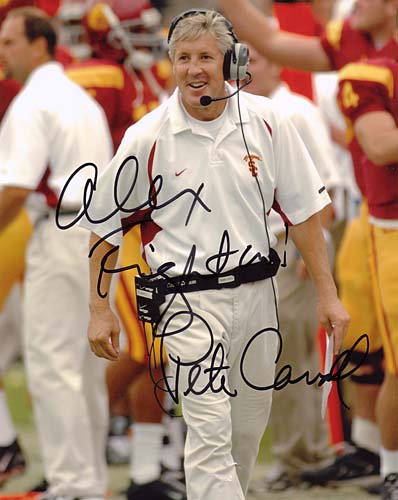 During Pete's college football years he discovered he wasn't talented enough to become a professional player, so he turned to coaching. He got his first coaching job at his alma mater, University of the Pacific. Pete then worked as a graduate assistant on the football team in 1976. He re-enrolled at Pacific and earned his second teaching credential and a master's degree in physical education, to make him more skilled as a coach. Carroll then made his way up through the coaching ranks. He coached at various colleges and several NFL teams, including head coaching jobs with the New York Jets and New England Patriots. However, Pete Carroll was not a particularly successful head coach until he took over at USC in 2000. His personality and enthusiasm were perfectly matched for the college game. He went on to win two BCS Championships. His teams finished in the top 4 of the national football polls 7 years in a row, and he produced 3 Heisman Trophy winners (Carson Palmer, Matt Leinart, and Reggie Bush). His USC teams have never been beaten in the critical month of November. Many experts consider Coach Carroll one of the best college football coaches ever.
In 2003 Pete was driving home from practice one night when he heard on the radio that yet another gang-involved shooting left two men dead. Carroll had grown tired of hearing about young gang members dying on the streets every night. He knew that something had to be done to help these young gang members live a better life and to improve the communities where they lived. He began meeting privately with gang members in their communities. He also met with community leaders, police and other people associated with gang violence. That year he founded an organization called "A Better LA" where local leaders come together to help reduce violence and inject change into the minds of youngsters in gang-related areas. Since 2003 more kids have graduated high school and have been given opportunity of success. Plus, gang-related violence has been dropping significantly. On top of that, gang members have been participating in more positive activities. The common goal for Pete and the local leaders is to use the knowledge of the community to help each person work to help make our world a better place, and give everyone hope for success.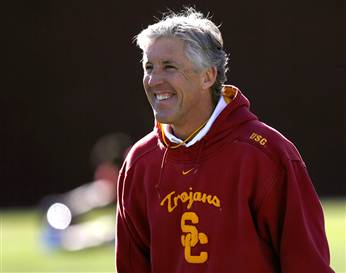 Pete Carroll's success as a football coach has created a lot of opportunities for him. His sense of humor and enthusiasm make him a very demanded speaker. Rather than taking advantage of these opportunities for his personal benefit, he risks his safety and spends his free time trying to make things better for the community. Coach Carroll does it without T.V. cameras or any attention. He does it because he wants to make a difference in the world. That is why Pete Carroll is my hero!
Page created on 11/11/2009 12:00:00 AM
Last edited 1/5/2017 7:23:56 PM
The beliefs, viewpoints and opinions expressed in this hero submission on the website are those of the author and do not necessarily reflect the beliefs, viewpoints and opinions of The MY HERO Project and its staff.