Paula Watson
by
Missy from Austin
My hero was a loving, caring, strong, and kind person. She comforted me when I cried, but she can't anymore. She was torn away from me and my family by cancer. I never dreamed of her leaving, I didn't want to see her go. She left with me the ways in which I, too, could be courageous and strong, loving and kind. My hero is my grandmother, Paula Gayle Hickman Watson.
Paula Gayle Hickman Watson was born on February 15th, 1939 in Houston, Texas. She grew up in Beaumont, Texas. Two years after she married Jim Watson in 1961 she had a daughter named Melissa. Melissa had Down Syndrome and heart problems. The doctors didn't know what to do then with children who had a birth defect and so they wanted my grandparents to separate her from the rest of the world by putting her in a special hospital. My grandmother refused. In the years that followed, she gave birth to two more children, my uncle and my mother. Having to take care of a child with Down Syndrome, as well as her other two children, was difficult. Social workers came to her house to help and later inspired her to help others by becoming a social worker herself. My grandmother went back to college and completed a Master's Degree in social work in 1980.
Paula worked at Children's Hospital in Dallas. She helped start the first Cystic Fibrosis Clinic in Dallas for patients and families. My grandmother was very involved with Down Syndrome families in Dallas. When she was 56 her daughter Melissa passed away peacefully. My grandparents were devastated. They had just lost a loved one. One year later, Paula Watson was struck with cancer. Every moment was painful but she was brave for the whole family and survived. We thought the cancer was over, but we were wrong. She was hit once again. She continued to fight and fight this horrible disease, but sadly lost her battle in the year 2000. After that she wasn't ever able to hug and hold me again.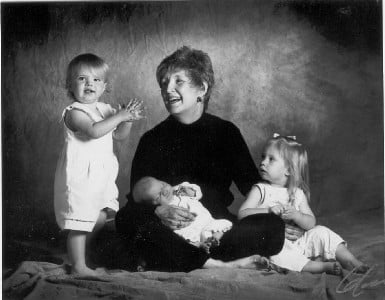 My grandmother persevered. I respect my grandmother because she had a passion to help the world by starting the first Cystic Fibrosis Clinic in Dallas. She has taught me that the teeniest bit of help is wonderful and it makes a difference. She has done so many great things that inspire me to be just as wonderful and brave as she was.
My grandmother had so much love for family and life. She was the greatest person I knew and she taught many people to do their best, including me. I still look up to my grandmother even if she is not on the face of this earth any more. Paula Gayle Hickman Watson is my role model, my hero.
Page created on 5/1/2008 7:57:43 AM
Last edited 1/5/2017 11:13:02 PM
The beliefs, viewpoints and opinions expressed in this hero submission on the website are those of the author and do not necessarily reflect the beliefs, viewpoints and opinions of The MY HERO Project and its staff.
Related Links
American Cancer Society
- Information on Cancer
National Down Syndrome Congress
- fosters a network of local and regional groups across the country to reach out and embrace thousands of people - people with Down syndrome, their families, friends and the professionals who support them.