Peyton Williams Manning
by
Peyton from Roseville, California
"Pressure is something you feel when you don't know what... you're doing."
"Peyton Williams Manning was born on March 24, 1976, in New Orleans, Louisiana. He was the second of Archie and Olivia Manning's three sons. Cooper, the oldest, arrived in 1974. Eli came into the world five years after Peyton." Throughout his early life Peyton and his Brothers would always compete against each other. Peyton grew up into being a NFL quarterback because of his dad Archie Manning. Archie played for the Saints of New Orleans. Peyton attended Isidore Newman High School in New Orleans, Louisiana. In three seasons as a starter he passed for 7,207 yards, 79 touchdowns ,and completed 59.4% of his passes. After his senior year he had a record of 34-5, was named Gatorade Circle of Champions National player of the year, and was the number one recruited QB in the nation. He decide to attend the University of Tennessee instead of Ole Miss were his dad Archie attended. After playing til his senior season he was drafted the first pick to the Indianapolis Colts.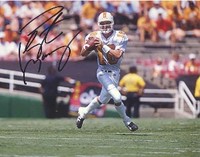 Peyton Manning started a foundation called the PeyBack Foundation. The PeyBack foundation was established in 1999. It promotes future success for disadvantaged youth helping programs that provide leadership and growth opportunities for children at risk. The Foundation works for youth that are abused, neglected, boys and girls club, after-school programs, summer camps, and foster children.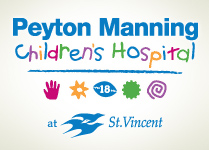 Manning also has helped out with other foundations. On the day of September 5,2007 St. Vincent Children's Hospital was renamed to the Peyton Manning Children's Hospital at St. Vincent. The hospital was opened in 2003 and is located at the St. Vincent flagship West 86th Street Hospital complex. "In the NFL, the name on the back of the jersey is emblematic of a player's commitment to contribute any way he can to the success of that team. For me, having the name on the front of this building carries with it much the same: a weighty responsibility to contribute to the many victories ahead at St. Vincent." –Peyton Manning. The quote was stated in the opening of the newly named hospital in 2007. Peyton also has a foundation for older kids that is called the Manning Passing Academy. It is run by the Manning boys Archie, Cooper, Peyton,and Eli. The academy provides top notch instruction to high school athletes from across the country.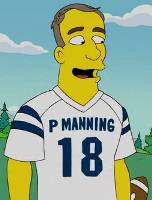 When Peyton Manning was drafted by the Indianapolis Colts I was just an infant. My parents named me after Peyton because he was a football player that influenced younger kids. I've looked up to Peyton Manning since I got my first jersey of him when I was three. The jersey came with pants and a plastic helmet that was worn pretty much 24/7 after I received it. He has been my hero because he has shown me what path to take to be an elite athlete and a good citizen. He is a hero because he helps out needy children in his free time when he could be doing anything else he wants.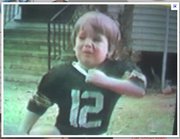 Peyton Manning has helped out many needy kids around the country. Peyton Manning has received some awards through his career: Henry P. Iba Citizen Athlete Award, 2002, USA Weekend's Most Caring Athlete Award, 2002, NFL MVP, 2003, John Wooden Trophy, 2004, NFL MVP, 2004, Walter Payton NFL Man of the Year, 2005, Byron "Whizzer" White, Humanitarian Award, 2005, Super Bowl XLI MVP, 2007,Best Championship Performance ESPY Award, 2007, NFL MVP, 2008, NFL MVP, 2009, Youthlinks Indiana National Pathfinder Award, 2010. Peyton Manning has exceled in sports and his life. Peyton Manning is a true hero.
Page created on 10/27/2011 12:00:00 AM
Last edited 1/6/2017 11:59:42 PM
The beliefs, viewpoints and opinions expressed in this hero submission on the website are those of the author and do not necessarily reflect the beliefs, viewpoints and opinions of The MY HERO Project and its staff.