Ivan Suvanjieff and his wife, economist Dawn Engle, founded PeaceJam
by David Karas
Correspondent of
The Christian Science Monitor

Punk rocker Ivan Suvanjieff and his wife, economist Dawn Engle, founded PeaceJam to help Nobel Peace Prize laureates share their stories with youths around the world.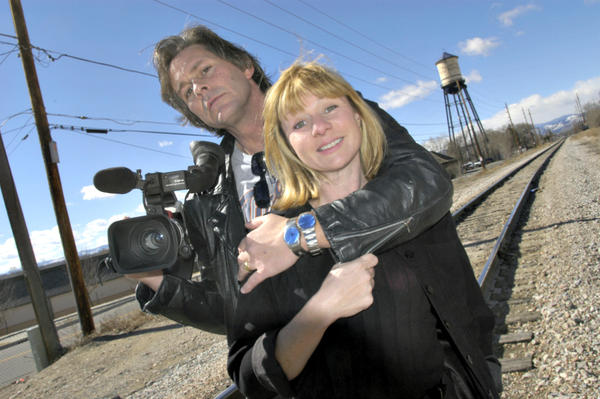 Courtesy of PeaceJam
Two decades ago, punk rock musician Ivan Suvanjieff noticed some young men walking the streets of his Denver neighborhood carrying guns. Sensing that some of the teenage boys had dropped out of school to join a gang, he sought them out to start a conversation.

"I discovered that, while none of these teens knew anything about politics - or cared about politics - they had all heard about [Archbishop] Desmond Tutu and the miracle of [peace coming to] South Africa," Mr. Suvanjieff explains. "That gave me the idea of putting kids together with Nobel Peace Prize winners - living examples of how anyone could work for peace, could make a difference."

That conversation sparked a desire within Suvanjieff to help change the feeling among some youths of being helpless and hopeless into a sense of empowerment. He wanted to "help young people become effective agents of change," he says. "I wanted to [help] them to channel any negative energy into a life where they're working to tackle the tough issues facing them and their communities," he says.

Today, Suvanjieff is co-founder and president of PeaceJam, launched 18 years ago with the backing of 13 Nobel Peace Prize winners – including the Dalai Lama and Archbishop Tutu – who work through the organization to mentor, inspire, and guide youths to take action to address some of the most pervasive and far-reaching problems facing their neighborhoods and the global community as well.

PeaceJam was designed to serve as an educational outreach program on behalf of these Nobel Peace Prize laureates to youths around the globe, says Suvanjieff's wife, economist Dawn Engle, who is co-founder and executive director of PeaceJam.

"PeaceJam is now the only organization where so many Nobel Peace laureates are working together for a common cause – creating a better future for the next generation," Ms. Engle says.

In the close to two decades of work PeaceJam has done, the organization has expanded it focus from teens. Today, it has five different programs designed to inspire and mobilize youths in elementary school, middle school, high school, college, and even those in the juvenile justice system.

PeaceJam has also launched the "Nobel Legacy Film Series," which creates documentary films. The second installment in the series, "Children of the Light," tells the life story of Tutu. The couple says it is receiving a great deal of attention.

Another initiative, the One Billion Acts of Peace campaign, launched May 29 at the Social Innovation Summit, challenges people around the globe to take part in a collective 1 billion acts of peace – each a high-quality project, Engle notes – by 2019 in an effort to address social ills worldwide.

Thanks to the efforts of PeaceJam, more than 1 million young people have received mentoring from the 13 Nobel Peace Prize laureates. The youths study the laureates' lives and works, and spend a weekend with them at a youth conference geared toward developing action plans for service projects.

"The young people of PeaceJam have also created almost 2 million projects designed to address the toughest issues facing their communities," Engle says. "And we are going to build on that."

The couple – an economist and a punk rocker – are perhaps an unexpected duo to take up the cause of peace. But they have found that devoting their time and talents to PeaceJam to be well worth it. The most rewarding part is seeing the transformations it causes in the participating youths, Suvanjieff says.

Engle agrees wholeheartedly. "PeaceJam is the most powerful and transformational program for youth that I have ever seen," she says, adding that, beyond providing contacts between youths and the Nobel laureates, the film program is now creating new ways to share the message of peace.

"People are really moved; they are inspired," she says. "We are now sharing our Nobel Peace laureates with so many more people in a really powerful way."

- For more information or to get involved, visit www.peacejam.org.
Page created on 7/31/2014 12:00:00 AM
Last edited 1/6/2017 10:30:49 PM
The beliefs, viewpoints and opinions expressed in this hero submission on the website are those of the author and do not necessarily reflect the beliefs, viewpoints and opinions of The MY HERO Project and its staff.