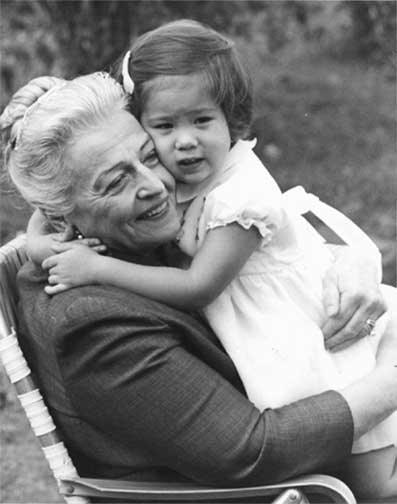 Pearl S. Buck with a Welcome House child in the 1960s.
Photo courtesy of: http://www.english.upenn.edu/Projects/Buck/tour.html
Pearl S. Buck's biography reads as a jaw-dropping list of accolades and accomplishments: Pulitzer Prize winning writer, Nobel Prize recipient, author of 70 books, one of which was adapted into a major film, teacher, poet, humanitarian, philanthropist, social activist, adoption advocate, and a fervent and vocal supporter of the rights of children, the eldery, women, minorities, and the peoples of Asia. And though these accomplishments and works of activism are inspiring, even moreso was the woman behind them, the passion that drove them, the generous and loving heart that moved them. For as much as Pearl S. Buck was a talented and accomplished individual, it was her passionate and loving spirit that led her to become one of the most admired and respected women of her time.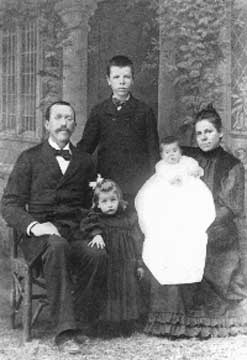 The Sydenstricker family in China in 1894.
From left to right: Absalom, Pearl, Edgar, Clyde, and Carie
Photo courtesy of: http://www.english.upenn.edu/Projects/Buck/biography.html
Her Life
Born on June 26, 1892, in Hillsboro, West Virginia to Absalom and Caroline Sydenstricker, Pearl was the fourth of seven children, of which, only three survived to adulthood. Her parents were Southern Presbyterian missionaries stationed in China and Pearl spent her childhood in Chinkiang on the Yangtze River.
She was educated by her mother and a Chinese tutor who was also a Confucian scholar, and accordingly, Pearl spoke both English and Chinese. Fleeing from the rebel forces of the Boxer revolution, the family took another leave in the U.S. in 1910. Pearl enrolled at the Randolph-Macon Woman's College in Virginia, and graduated in 1914. Though she had planned to remain in the U.S, she returned to China upon hearing that her mother was very ill (her mother would live until 1921).
There she met an agricultural expert named Dr. John Lossing Buck whom she married in 1917, and the couple moved to Nanhsuchou in the rural Anhwei province. It was in this underprivileged area that she gathered the material she would later use in her acclaimed stories of China. Later they lived in Nanking where both had teaching positions.
Their first child, Carol, born in 1921, suffered from PKU and severe mental retardation. Pearl returned to the United States to obtain medical care for her daughter, and during the same time period, recieved her M.A. in literature from Cornell University. Because of a uterine tumor discovered during the delivery of her daughter, Pearl had to undergo a hysterectomy. So, in 1925, the couple adopted a baby girl named Janice, the first of what would eventually be 9 adopted children for Pearl.
The family returned to China, but the region was struggling with the unrest of civil war during the 1920s, and Pearl and her family were at one point rescued and relocated to Japan for safety. But their love of Asia never waivered.
Her Works
Pearl had already begun to publish stories and essays in renowned magazines and by 1930 her first novel, East Wind, West Wind, was published by the John Day Company. Her second novel, The Good Earth, was published in 1931 and became the best-selling book of both 1931 and 1932. This literary masterpiece won the Pulitzer Prize and the Howells Medal in 1935, and was adapted as a major MGM film in 1937. Several of Pearl's other novels were adapted into films as well, including Dragon Seed, China Flight, The Big Wave, and Satan Never Sleeps. Eventually authoring a total of 70 published works, including popular children's literature, translations, novels, and poems, Pearl's passion for writing was endless, and in 1938 Pearl became the first American woman to win the Nobel Prize in literature.
By then Pearl had moved permanently to the United States and following her own divorce, had married the John Day Company's publisher, Richard Walsh, in 1935. Buying an old farmhouse, Green Hills Farm, in Bucks County, Pennsylvania, she and Richard adopted six more children over the following years.
Her Humanitarianism
Pearl became an advocate for women's rights and racial equality, even before the civil rights movement, and published essays for the NAACP and the Urban League. She became close friends with Eleanor Roosevelt, Margaret Mead, and Paul Robeson.
In 1942, she and Richard founded the East and West Association, "dedicated to cultural exchange and understanding between Asia and the West." She was a steadfast advocate for the rights of the Chinese people, and pressed for their ability to lawfully immigrate to the United States, if they so desired. More importantly, she pressed for the world to understand and embrace the Asian cultures and peoples.
"We cannot fight for freedom unless we fight for freedom for all...
Do not yield then for one moment to anything in our national life which denies democracy. Press steadily for human equality, not only for yourselves, but for all those groups who are not given equality. It is as important for you to care that justice is given to a Jew as it is to fight for it for yourself. It is the principle that must be established for all of us, or none of us will have it."
--From "Equality," a commencement address Pearl Buck delivered at Howard University in June, 1942. She was a trustee of Howard University for twenty years.
An adoption activist and as, of course, the mother of adopted children, Pearl was appalled that existing adoption services in the U.S. considered Asian and mixed-race children unadoptable. So, in 1949 she established the Welcome House, the first international, inter-racial adoption agency, which has since placed 5000 children in homes. Never ceasing in her tireless crusade, in 1964 Pearl also established the Pearl S. Buck Foundation, which provides sponsorship funding for thousands of children not eligible for adoption, in half-a-dozen Asian countries.
Pearl used her own life experiences in her writings, both in her evident love of Asia and its peoples, present in so many of her works, and in 1950's The Child Who Never Grew which told the personal story of her own daughter, whose mental development stopped at the age of four, a subject also touched upon in The Good Earth. These works drew attention to the condition, and to the need for community understanding and further medical research. Pearl was a steadfast and vocal supporter of the rights of children around the world.
Pearl S. Buck died in March of 1973, shortly before her eighty-first birthday and is buried at Green Hills Farm, now on the Registry of Historic Buildings, and visited by fifteen thousand people each year. Pearl's legacy lives on in the works she penned, in her charitable foundations, in the large family she matriarched, and in the admiring eyes and lives of readers and individuals worldwide.