"Everything you do makes a difference and all of your choices have consequences."
Philippe Cousteau is the 30 year-old son of Jan and Philippe Cousteau Sr., and the grandson of Jacques Cousteau, who invented SCUBA and introduced us to the magical world under the sea. As a member of this legendary family, Philippe is continuing the work of his father through Earth Echo International (www.earthecho.org), the non-profit organization he founded with his mother, Jan and sister, Alexandra.
Last year at SILVER DOCS, the documentary film festival held in Washington, DC, Slater, our youth reporter interviewed Philippe's excerpts of that interview are here as well as a current update from the Gulf Coast, where Philippe has been monitoring the oil spill.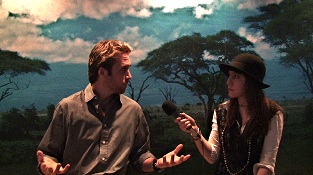 Philippe was 6 months from being born and his sister Alexandra was only 3 when their father Philippe Sr. passed away. The Cousteau family, led by Jacques and then his sons, pioneered ocean exploration and global conservation from the 1940's on. Philippe told Slater, "We felt we had a positive responsibility to share that with a new generation, our generation. And that really is what engaged us. All that (Grandfather Jacques Cousteau) did, stood for innovation. Innovation in filmmaking in television and for us, the new generation, TV is still important. We felt we had to move into the world we live in - cell phones, internet - it's still all about story and film and music and photographs but it is house delivered. We are continuing his legacy."
Philippe feels very lucky to be able to share his journey with a wide audience. He is Chief Correspondent for Animal Planet and Planet Green, and currently hosts OCEANS, a Discovery/BBC series. His environmental message is heard around the world, online, on TV and radio, and in magazines like National Geographic. He is also the Chief Spokesperson for Environmental Education for Discovery Education which broadband-delivers educational content to US schools. Philippe has lectured at, among other institutions, the United Nations, Harvard and Woods Hole Oceanographic Institution and has testified to Congress on issues of ocean management and off-shore drilling (well before the BP spill).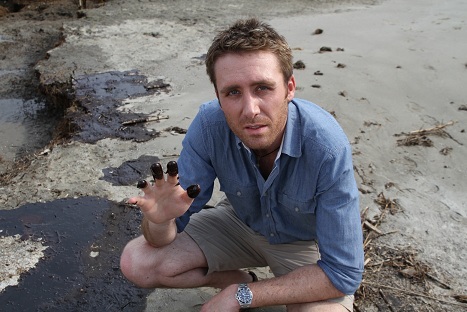 Philippe has been on the ground and in the water at the Gulf oil spill, keeping us informed about the environmental disaster President Obama calls the worst in US history. News is constantly changing about what the outcome is and as we hear optimistic stories about how well the clean-up is going, Philippe reminds us that this story is far from over,
"New information will continue to emerge over the coming years. One particular team at Georgia Sea Grant and the University of Georgia claim that it is possible that up to 70% of the oil may still REMAIN in the Gulf; much of it deep below the surface where it can still wreak unknown havoc on the eco-system for years to come. In addition, Woods Hole Oceanographic Institution has confirmed the presence of toxic oil plumes beneath the surface. While many are not visible to the naked eye, oil persists in the water and is still deadly toxic to fish eggs and larvae as well as plankton and other organisms that are critical to the health of the ecosystem. In the end it still comes down to the three R's: Regulation must be reformed so the environment comes first, Restoration must be funded for the short and long term, and Research and with it education must be invested in so that future generations are armed with the knowledge to never make these mistakes again."
His trips to the Gulf have been depressing but he has also been uplifted by the people he has met who live and work in the area and are showing signs of great resilience. Philippe has been proud to work with CNN, ABC, Planet Green and various NGOs who have empowered people to tell their stories" When asked what kids can do to help and to prevent this kind of event in the future, he is very clear about the importance of getting our news from diverse sources, not just one tv channel or blog site. And just as important is the next step. "Take action by shopping responsibly. What we buy drives demand and many of the products we take for granted are petroleum based, like plastic bags. Also: VOTE. If you aren't 18, youth have a tremendous influence on who their parents vote for. We live in a representative democracy, the right to vote is a right we should be grateful for and one we should take seriously."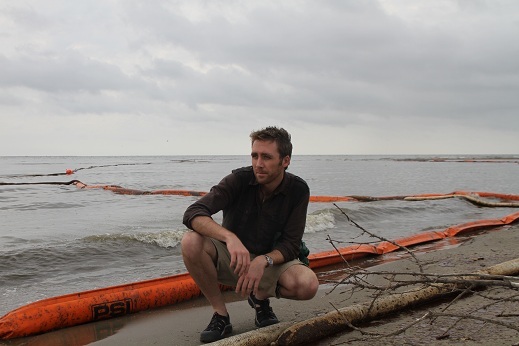 There are so many natural disasters happening this year around the world - flooding in Pakistan, heat-waves and toxic fires in Russia and record breaking droughts, melting arctic sea ice, and on and on - one wonders how much is due to global warming and how we can put the brakes on climate change? Philippe believes that some are due to climate change and some not. "I do believe it is the greatest threat to our society. The greatest obstacle to putting the brakes on is people and their unwillingness to take this problem seriously. We can debate all we want, but dealing with the fossil fuels polluting our planet and changing our climate is real. We are also polluting our air leading to higher rates of asthma, especially in children. It is also causing other ailments not to mention the pollution of our water. Coal mining has removed over a million acres of mountain tops and leached mercury, lead and arsenic into the environment. So whether one believes in climate change or not, the benefits of getting off oil and gas are all good."
Philippe told Slater that her world is so much more engaged with their use of online social media tools than even 10 years ago when he was just out of high school. "You know the reality of climate change is not so much a debate among the young generation, it's really the older generation that's still debating it." Philippe encourages us to learn about the heroes young people are inspired by and to listen to them. He told Slater about a recent stat that said the average American teen texts 80 times a day. "So use this to take action. Cell phones and new tech will have an effect on the earth's environmental conservation."
So what would this active young environmentalist say if he had the attention of the world for 5 minutes?
"The same thing I always do. We must stop and think. We must put the interests of our children first and foremost. We must stop being held hostage to the idea that doing the right thing for each other and for the planet is too expensive or too hard. Indeed, true sustainability is achievable through a free market and within our current system. The problem is that we don't live in a free market. Polluting businesses like the fossil fuel industry privatize profits and socialize cost. The true price of chemicals in our food, or a gallon of gasoline at the pump is hidden. The pollution and disease is paid for out of our taxes after the fact and distorts our democracy and our free market making us sicker and poorer. I would argue to the world that we must cast off the illusion that we have been taught. The one that makes us believe that the status quo can never change. It can and it is, we only need to look at our youth to see that."
Who is your hero?
"I have to say that, while my father was really the reason and inspiration for what we do, though I never knew him, it was my mother who kept my father and his memory and his legacy alive for us. As a single mom who had a child right after her husband died, (she) persevered and instilled in us - my sister and I -this passion for all the work she had done - all the work on expeditions and with my father. So I'd have to say she is definitely my hero; the person who has inspired me to do - not just biologically but actually - she is the reason I do what I do."
And lastly, what gives you hope for the future of our planet?
"I see a lot of difficult things. Poverty, destruction, pollution, etc., but I also see people every day who are fighting to make a positive difference. Most of all, through my work at Earth Echo, I talk to, meet and work with over 100,000 students each year. I see the passion in their eyes and the determination to make the world a better place. That is what gives me hope."
Page created on 5/18/2011 1:19:55 PM
Last edited 1/7/2020 9:01:46 PM
Related Links
EARTH ECHO
- EarthEcho International's mission is to empower youth to take action that restores and protects our water planet. EarthEcho International's programs are dedicated to the legacy of Philippe Cousteau Sr.; a legacy of devotion to the conservation and restoration of the oceans and one that can be shared by all people. Sadly, the last 50 years has seen the greatest amount of destruction of our Oceans, bringing us to a current state of crisis. However, we believe that it is the next 50 years in which we can embrace the new promise of a just, healthy, and abundant water planet. In order to achieve this, a whole new generation must take action to restore and protect our water planet.
SAVE OUR GULF
- The Save Our Gulf website has been established by Waterkeeper Alliance to coordinate the efforts of Gulf Waterkeepers who are fighting to protect the Gulf Coast, its communities and environment, from the devastating BP oil disaster. This site provides a constant stream of transparent information being reported from the front lines.
OCEAN CONSERVANCY
- Here at Ocean Conservancy, we believe it's time to look beneath the surface to see where the health of our planet really begins. It's time to recognize the source that sustains us day to day with the food we eat, the water we drink, and the air we breathe...to discover that all living things are connected to the ocean. It's time to understand that going green starts with living blue. It's time to start a sea change
GULF RESTORATION NETWORK
- Groups united for a healthy Gulf.