Plato
by
Ricky from Winnipeg
Plato was a very famous philosopher who lived from 428/427 BC – 348/347 BC. He with his student, Aristotle, and his mentor and teacher, Socrates, laid the foundation for modern science of today. Plato accomplished many things in his life of being a great philosopher like founding the Academy in Athens and writing many philosophical dialogue. Plato's genius was shown through the 35 dialogues and 13 letters he made that were called the Socratic Dialogues.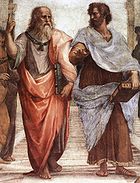 Plato was a well rounded person. He not only had a very diligent and creative mind, but was wrestler in the Isthmian Games. As his life progressed he got introduced to philosophy through a philosophy course and was taught by Cratylus. He later met Socrates and became one of his most close and devoted followers. His way of thinking was greatly influenced by Socrates' death. He and Socrates both believed that in order to reach a higher level of thinking, you had to get beyond what your senses can feel and the material world. He believes that the material world that we see is not the real world, but the shadow of the world.
Even though Plato had many views on philosophy, he chooses the unwritten path and finds that passing knowledge through spoken word is a lot more useful. He thinks that the writing process is faulty and that words on paper can't defend themselves. "He who has knowledge of the just and the good and beautiful ... will not, when in earnest, write them in ink, sowing them through a pen with words which cannot defend themselves by argument and cannot teach the truth effectually."
In conclusion, Plato is my hero because science has moved the world a great deal forward, and he paved the path for this very important aspect. He challenged reason and common sense because of what he thought was right, and he taught one of the greatest philosophers that ever lived (Aristotle)!
Page created on 4/29/2009 12:00:00 AM
Last edited 4/29/2009 12:00:00 AM
The beliefs, viewpoints and opinions expressed in this hero submission on the website are those of the author and do not necessarily reflect the beliefs, viewpoints and opinions of The MY HERO Project and its staff.