Queen Rania Al-Abdullah of Jordan took the throne at the age of 29, becoming the youngest queen in the world at the time. Wise far beyond her years, she has since devoted herself passionately to a number of important humanitarian and social causes near to her heart, as well as to her life as a wife and mother of four.
Born Rania Al-Yassin on August 31, 1970, Queen Rania is renowned for her philanthropic endeavors, her great beauty and poise -- in 2005 she was named the third most beautiful woman in the world by Harpers & Queen magazine -- and an astuteness and insight that far transcend her youth.
She and her future husband, then-Prince Abdullah Bin Al-Hussein II, met at a dinner party in 1993 and were engaged only two months later. Today they are known to be loving and involved parents to their four children: Prince Hussein, Princess Iman Princess Salma, and Prince Hashem.
Rania and Abdullah's marriage, in itself, is a testament to the potential for peace amongst Middle Eastern nations. Rania was born and raised in Kuwait to Palestinian parents and attended university in Egypt, while her husband is Jordanian of the royal Hashemite lineage. To many, their cross-cultural marriage symbolizes a hope for unity amongst the often-warring nations and cultural sectors of the Middle East, including the varying ethnic groups within Jordan itself.
After King Hussein's death in 1999, Abdullah took the Jordanian throne as King, and likewise Rania began her role as Queen, which provided her a larger platform on which to voice her important global and domestic causes, following in the footsteps of Queen Noor, her predecessor, also an outspoken philanthropic activist.
Amongst the many works she is involved in, of primary importance to her is the subject of women's and children's rights. In particular, she has focused her energy on the topics of domestic violence, and the protection of women and children against abuse. She serves as the head of the national Early Childhood Development and Family Safety Council, and she is a member of the UNICEF Global Leadership Initiative, which focuses on children's rights and is closely involved with Dar Al-Amman, a center for abused and neglected children, the first of its kind in the Middle East.
Likewise, she is also an outspoken activist in the campaign against "honor crimes," that is, the killing of women who are suspected of committing adultery or of "dishonoring" their family, by male family members. Sentences against men in Middle Eastern nations are often very lenient in such crimes, and Queen Rania is working to help revoke these frighteningly biased and unjust laws. As the head of Jordan's Human Rights Commission, she strives to find a balance between long-standing cultural traditions and basic human rights.
Another key topic of importance to Queen Rania is that of technological advancement, particularly in the form of information technology. She is a stout promoter of IT within the kingdom of Jordan, feeling that technology will help bring about greater unity and equality amongst the peoples of Jordan, as well as wider educational opportunities which will help bridge the educational divide. She is active in incorporating technology into Jordanian schools, as well as into other public institutions.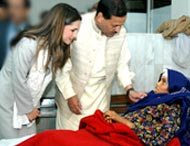 In addition to technology in education, she is also an advocate of health education. As president of the Jordan Society for Organ Donation, she educates the public on the importance of donating organs, and helps improve the process of organ donation and transplants within Jordanian hospitals. She also leads Jordan's Blood Disease Society which helps educate the public on blood diseases and their prevention. Additionally, she is involved with the Jordan Cancer Society and the Global Alliance for Vaccines and Immunizations, amongst other healthcare advocacy groups.
Both she and King Abdullah believe that the future welfare of Jordan is in great part also dependent on the economic development and success of its citizens, and likewise, they are also working to improve economic conditions for the less fortunate.
Queen Rania, whose Bachelor's degree from the American University in Cairo, Egypt, is in business administration, and who, herself, worked in private sector banking prior to her marriage, is also an advocate of small business and microfinance, as well as other income-generating community and individual-based projects. Microfinance is a simple form of banking which provides small loans to poor people to help break the poverty cycle by allowing them to pursue their small business endeavors, often based on traditional skills. Poor women in particular often take advantage of microfinance, allowing them to become more self-reliant.
Further utilizing her business skills and economic interests, Queen Rania became a board member of the prestigious World Economic Forum in 2002, as the only board member from an Arab nation. She is also a board member of FINCA International (Foundation for International Community Assistance), chairs the Jordan River Foundation, which works towards the empowerment of women primarily through small business endeavors, and established The Queen Rania Center for Entrepreneurship.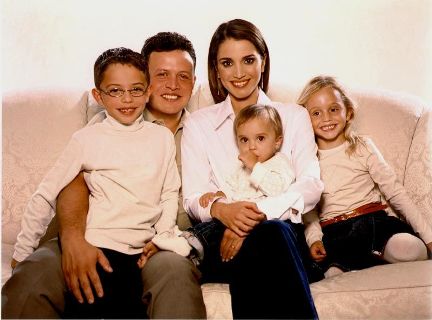 A portrait of the royal family, 2002.
Seemingly, her husband, King Abdullah, believes in the equality and advancement of women as well, as he, himself, awarded Queen Rania the honorary rank of colonel in the Jordanian Armed Forces in 2004.
Her works have not gone unnoticed by the world either. In fact, Exeter University awarded Queen Rania an honorary doctorate in law for her role in helping gain equality for women and for her work towards the betterment of Euro-Arab relations. Additionally, she has received a number of awards and commendations for her works.
Queen Rania merges the roles of wife, mother, philanthropist, activist, and of course, Queen, seamlessly, with all facets of her life given equal dedication. As a crusader for the rights of women and children, an advocate of advancements in education, technology and healthcare, a promoter of entrepreneurship and microfinance, and a forerunner in the battle to eradicate poverty and to bridge educational and cultural divides, it is clear why so many consider Queen Rania to be a role model, not only for women in the Arab world, but for women everywhere.