Robin Emmons (español)
by
Sydney de Roseville
"La comida saludable es un derecho humano básico." – Robin Emmons
Robin Emmons se convirtió en una agricultora orgánica para pelear hambre. Todo comenzó cuando tenía un pequeño jardín en el patio de su casa en el cual cultivó vegetales. De ahí creció a su propia organización sin fines lucrativos, "Sow Much Good". Ahora, Robin y sus doscientos voluntarios cultivan frutas y vegetales frescos, y más para los hambrientos, familias de bajos ingresos en Charlotte, Carolina del Norte. Robin Emmons demuestra su caridad, determinante actitud trabajadora, y su positividad, haciendo todo en su poder para ayudar a las familias con necesidades. Esto hace a Robin, una verdadera heroína.
El camino heroico de Robin Emmons comenzó cuando estaba haciendo un favor para su hermano desamparado. Robin demostró un simple acto de caridad cuando ella simplemente estaba cuidando la salud de su hermano. "Tenía un pequeño jardín, y pensé, 'Le agregaré unas cuantas filas,' comencé a hacer entregas semanales." Esto demuestra su amor y esperanza para su hermano el cual recientemente estaba en la cárcel. La amabilidad de Robin creció cuando renunció de su trabajo en el 2008 y dejó su estilo de vida de gama alta para ayudar a más que solo a su hermano, si no que a una ciudad entera. Robin dedica su tiempo a ayudar a todas las familias que la necesitan. Ella es una verdadera modelo de amabilidad y continua comprobándolo.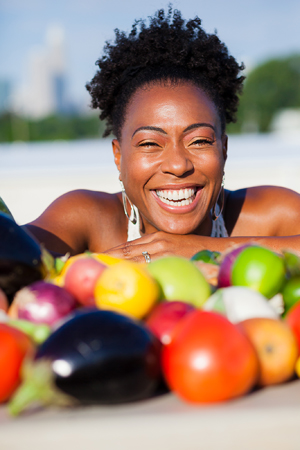 Robin Emmons puede ser una amable señora, pero no le teme al trabajo duro. A ella le encanta ver a sus clientes satisfechos que compran su comida, y se esfuerza para mantener a todos contentos. "Decidí destruir todo mi patio de atrás y convertirlo en un jardín," demostrando su afán, Robin sabe como su trabajo afecta a la gente de manera positiva. Comenzó siendo ella sola, pero ahora tiene más de 200 voluntarios que trabajan con ella en 9 acres de tierra. Juntos, "Sow Much Good" ha cultivado más de 26,000 libras de frutas y vegetales frescas, orgánicas, y libres de químicos para familias que están en búsqueda de un estilo de vida más saludable. A pesar de que su estilo de vida previa consistía de trajes de diseñador y cheques grandes, Robin prefiere estar en la tierra, cambiando vidas, una familia a la vez.
Robin tiene una visión positiva en todo, ayudando a cada familia lo más que ella pueda. Ella pretende hacer a las 72,000 familias de bajos ingresos en Charlotte, que vivan una saludable y asequible vida. Robin no solo vende su comida al menor precio posible, pero ayuda hasta más ofreciendo demostraciones para cocinar, clases de conservas, y distribuye cartas de recetas. Cualquier cosa que pueda hacer para ayudar, lo hace, sabiendo que esta haciendo a las familias feliz, y más importante, saludable. Una de las mamás de familia dijo, "No podía creer todos los hermosos y frescos vegetales, y el precio que cobraba era fenomenal." Esto demuestra que tan contentos reaccionan sus clientes a todo el trabajo dure de Robin.
La mayoría de la gente le gusta el dinero y los beneficios que vienen con vender cosas, pero eso es la diferencia de Robin. Sus razones de hacer pasar todo su tiempo para otros, es simplemente para su beneficio. Robin sentía como que su, "vida estaba vacía. Sentía como que tenía que hacer más." Robin usa sus habilidades de jardinería, su amabilidad, actitud trabajadora, y su mentalidad de ir al más allá para ayudar a su ciudad de Charlotte. Ella espera alguna día expander su organización por todo el país, pero por el momento, ella es la más grande heroína para todas las familias que cuentan en ella en Charlotte. La vida de Robin es gratificante en los beneficios de otros, enseñando sus cualidades heroicas. Robin es la definición verdadera de un héroe.
Page created on 8/7/2014 8:02:19 PM
Last edited 8/7/2014 8:02:19 PM
The beliefs, viewpoints and opinions expressed in this hero submission on the website are those of the author and do not necessarily reflect the beliefs, viewpoints and opinions of The MY HERO Project and its staff.
Extra Info
Antes de que Robin Emmons comenzara su jardinería para los necesitados, ella trabajaba en un banco americano por veinte años. Robin nunca se ha arrepentido de haber dejado su trabajo, porque ahora siente como que su vida tiene sentido. Ella es originalmente de Boston, pero ahora vive con su esposo en Carolina del Norte.