A tragic event can awake and set into motion unimaginable potentials of a human being. Until his accident, Rick Hansen led an ordinary life of a typical teenage boy in Williams Lake, BC, Canada. Although it is impossible to make an objective prediction what path his life would have followed, the tragedy made him become an inspiration to many. His strong will and genuine care for others made him a true hero.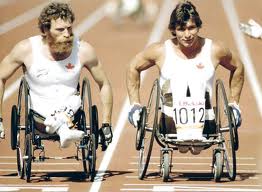 Before the accident, as a fifteen-year-old teenager, Rick was passionate about sports and he loved spending his leisure time with friends fishing. On return from one of his fishing trips, he fell off the back of a pickup truck and injured badly his back. Soon he found out that he was paralyzed from the waist down without a hope for recovery. Most people in face of such disaster give up not only previous physical activities but also become withdrawn, resigned and succumb to the disability. Rick was a fighter, instead. With the help of his volleyball coach, Rick frantically looked for ways to overcome his sudden disability. He would not accept being inactive. He managed to return to participating in sports and later became a world class wheelchair athlete. He has won a total of three gold, two silver, and one bronze medal, as well as winning 19 international wheelchair marathons, and three world championships. Hansen also received numerous awards, such as the "Outstanding Athlete of the Year," Special Achievement Award and is named Canada's Disabled Athlete of the year in 1979, 1980, and 1982. He not only won many medals in the Para-Olympics, but also became the first person with a disability to graduate from UBC with a degree in Physical Education. Rick's strong character and focus let him reach unprecedented achievements in sports, graduated from college, and foremost leading a full life of a non-disabled person.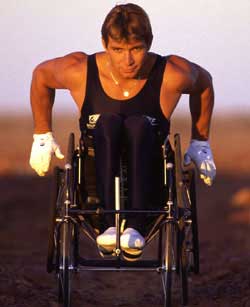 Along with his remarkable physical recovery and athletic achievements, Rick developed an astonishing strength -- eventually becoming an inspiration to others. Immediately after his injury, Rick showed his genuine care for others through his active involvement in a series of organizations and events for those with spinal cord injury. On March 21, 1985, Hansen started his Man in Motion World Tour. On his wheelchair, he travelled through thirty-four counties raising money and awareness for those with spinal cord injuries. On May 22, 1987, after collecting $26 million dollars, he arrived in Canada; he was rewarded with a cheering crowd of thousands. Rick later created the Rick Hansen Foundation. This foundation actively searches for and promotes inventions aimed in helping those with spinal cord injuries. He is also a co-founder of a distinguished research group, CORD, that works toward finding a cure for spinal cord injuries. To "...bring together initiatives, programs and activities aimed at raising awareness and inspiring youth to make a difference in their community" (Rick Hansen Foundation), he created the Rick Hansen School Program, which educates children in social consciousness, making a positive difference to the world. Rick's devotion toward a spinal injury victims through his awareness programs, education, and organizing wheelchair marathons and tours inspired many people to discover their own potential able to deliver them hope and realize their dreams. He is the person who brought together many scattered spinal injury research groups; a new hope for damaged spine core cure became reachable.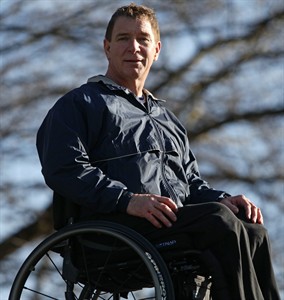 A tragic accident, any life-threatening event or sickness, sometimes enables releasing a huge potential human energy beyond imagination. For many people a perspective of living without ability to walk, see, hear or use hands sound unimaginable. Spinal cord injury often results from auto or sport-related accidents. Over 12,000 new spinal cord injuries occur every year in US alone(Spinal Cord Injury Facts). None of us sees ourselves as potential victim -- "this happens to others, not me." This false logic leads to gross misconception of the injury condition and often is a source of harmful stereotypes. Rick Hansen did not plan for this to happen to him as well. Most likely, if the accident had not happened to him, he would have lived a "normal" life -- unknown and quiet. The accident, however, mobilized him and let the best human values in him surface. Rick did not only overcome effects of his injury but he also made a remarkable change in the world. He became a hero to many through his inspiring perseverance overcoming physical shortcomings as well as an advocate and voice of millions who live with similar to his injuries. There should be little argument that if this accident had not happened he would not have been motivated to act the same way or even be aware of the hardship living with spinal cord injury. Majority of today's celebrities or other successful people, despite possessing all necessary financial resources and public access, do not show their care for others or will leave similar legacy as Rick Hansen's. It is not that those people are insensitive or lacking bravery. They simply have not been subjected to a similar "awakening" experience. Two quotations attributed to Rick became words of wisdom, inspiration, and guidance how to lead your life. He said: "The goal you set must be challenging. At the same time, it should be realistic and attainable, not impossible to reach. It should be challenging enough to make you stretch, but not so far that you break" and "There is nothing you can't do, if you set your mind to it. Anything is possible."
Works Cited
"General Logon Page." Gale Error Page. Web. 13 Dec. 2011.
"GIC Logout." GaleNet. Web. 13 Dec. 2011.
Hansen, Darah. "Rick Hansen. "Wikipedia, the Free Encyclopedia. Web. 13 Dec. 2011.
"Rick Hansen's Canadian Relay Wheels into Toronto for 25th Year (Includes First-hand Account)." Digital Journal: A Global Digital Media Network. Web. 13 Dec. 2011.
"Rick Hansen: Man In Motion." CBC Archives. Web. 13 Dec. 2011.
"Rick Hansen Foundation". 5 Jan. 2012.
"Strange Wounderous" 5 Jan. 2012.
"Spinal Cord Injury Facts." Foundation for Spinal Cord Injury Prevention, Care & Cure. Web. 10 Jan. 2012.
Page created on 1/14/2012 12:00:00 AM
Last edited 1/5/2017 7:27:36 PM
Related Links
Rick Hansen Foundation
- "Our mission is to inspire others to share in the achievement of big dreams that accelerate improvements in the quality of life of people with spinal cord injury (SCI)."
Youtube
- "Rick Hansen Man In Motion Tour Footage - Asia"