Everywhere I look I see heroes. They come in many different forms and from many different times and places. Heroes are people we look up to because we believe in their thoughts and actions. When I think of my hero many people start coming into my mind; anyone from my own mother to Mother Teresa. So when I wanted to find a hero from a different culture I tried to find someone that held the same beliefs that I do, and that maybe many people didn't know about. That's when I found information about Raden Adjeng (or Ayu) Kartini from Indonesia.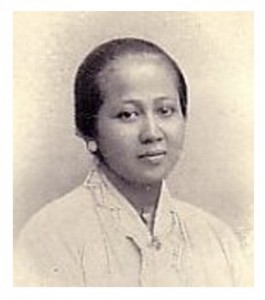 Raden Kartini is known as Indonesia's first feminist. She was born on April 21, 1879 in Java, an island off Indonesia that was inhabited by the Dutch at the time. She was the daughter of a Javanese official who worked with the Dutch government. Because she came from an aristocratic family she received a primary education based on Javanese and Western intellectual traditions. She then secured a scholarship to continue her education in Holland, but her parents opposed the plan. During this time their cultural tradition was for girls to be secluded from the age of 14 until marriage.
Despite receiving a scholarship to continue her education in Holland, Raden decided to succumb to family pressure and not continue her education and go into seclusion. It was during this time that her citizenship started to show. She spent these years educating herself and learned to read and write in Dutch, which was a privilege during this time as only noble males were given an education in reading and writing, and very few Javanese were allowed in Dutch schools. However she believed that simply being born from a noble line does not make one great; a person needs to do great deeds for humanity to be considered noble. She spent this time writing letters to several correspondents in Europe including Dutch feminists. Kartini wrote to her European friends about many subjects, including the plight of the Javanese citizenry and the need to improve their lot through education and progress. She recounts how Javanese intellectuals were put in their place if they dared to speak Dutch or to protest. She also describes the restrictive world she lived in, rife with hierarchy and isolationism. She is most known "for writing letters in which she advocates the need to address women's rights and status, and to loosen the oppressive Islamic traditions that allowed discrimination against women. She protests against education restricted to males of the nobility, believing that all Javanese, male and female, rich and poor, have the right to be educated in order to choose their own destiny. Women especially are not allowed to realize their calling" (galeencylopedia.com).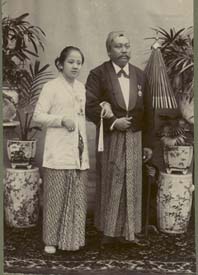 In 1903 at the age of 24, Kartini was married off to a man who already had 3 wives and numerous children. However, being married gave her more freedoms as a woman and she realized her dream of opening a school for native girls. Her dreams of educating Indonesian girls was short lived because she died during childbirth September 24 1904 at the age of 25.
Kartini's letters, rebellious nature and ambition spurred her nation's enthusiasm for the rights of Javanese women. These dreams were realized 1945 when the nations new constitution guaranteed women the same rights as men in the areas of education, voting rights, and economy. Today, women are welcome at all levels of education and have a broad choice of careers. The country made April 21st a national holiday to recognize her as a pioneer for women's rights and emancipation.
After researching her and reading her thoughts and beliefs on how everyone should be educated, and learning about her letters influencing other women to take a stand for their rights made her a hero in my mind. I am always inspired by women who fought against oppression, despite the odds. Kartini was criticized during her life for being un-nationalistic, but that didn't stop her from writing down her thoughts and dreams and reasons for education for all and rights for women. Even though she didn't get to see it fully, it finally happened. I believe that if you have perseverance, persistence, and stand up for what you believe in, eventually your dreams will come true.
When we say the word hero we think of people who do amazing things. They can come from anywhere in the world, be famous, or be as close to us as our own friends and family. Everywhere I look I see heroes all around me and feel so fortunate to learn about, know, and be inspired so many people who do wonderful things for our world.
Page created on 7/30/2011 12:00:00 AM
Last edited 7/30/2011 12:00:00 AM
Bibliography
Rosenzweig , Roy. "Women in World History." [Online] Available 1. http://chnm.gmu.edu/wwh/modules/lesson12/lesson12.php?s=1.
Education, Pearson. "My History Lab." [Online] Available 2. http://dev.prenhall.com/divisions/hss/app/BW_TEST/Western_History/documents/Raden_Ayu_Kartini_Let.
website. "Encyclopedia." [Online] Available http://galeencylopedia.com.