There's a bold line that separates a hobby from an art. That line is purpose. Tupac Shakur, the most influential rapper known to man, had great desires for people that needed it most. The voice of the people, he had experienced what many were going through first hand and incorporated that into his music.
'Pac was born into a poor family with two parents actively involved in the Black Panther political party. This being true, he was surrounded by many people and influences on him being imprisoned, taken to court, and having to go into refuge due to the rebellion of all racism. His own mother was charged for 150 accounts of "Conspiracy against the United States and New York landmarks" only a month before he was born, putting him in a tough situation ever since birth. Later down the line, after his step-father had been incarcerated, Tupac and his mother moved to Baltimore for a fresh start.
For Tupac's junior year of high school, he attended Baltimore School for the Arts. He had taken interest in in creative thinking and media such as poetry, acting, dancing, and more. Soon after moving to Baltimore, Shakur moved to Marin City in California. While there he had made relationships and became a back-up dancer for Digital Underground, which gave his career a jump start. He released his debut album "2Pacalypse Now" to receive underground success. The album reflected on the life of a young person in a poor neighborhood. Because of this, politicians and cops began to treat Tupac disrespectfully and with brutality.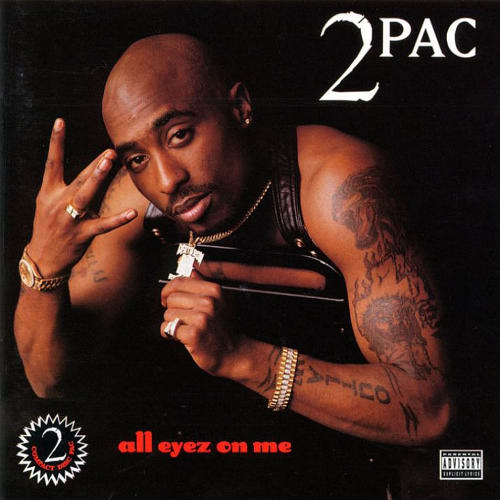 In 1991, a suit from Tupac was filed against the Oakland Police Department for police brutality. Multiple police officers had beat Tupac with batons for jaywalking. In 1995, Tupac had been tried for the murder of a child who was shot by a stray bullet back in 1992. He had evaded any conviction, and his label paid an undisclosed amount to the family. In 1993, Tupac was sentenced to 1.5-4.5 years in prison for a faulty rape charge. He had taken his experiences and incorporated them into his music, being an example of how the government treated ethnic characters for the world to see, exposing truth. He released "Me Against the World" in prison, being the start of the greatest time of his career. After being released from prison, Tupac signed to Death Row Records and released his highly accomplished and critically acclaimed "All Eyez On Me". That album touched everybody's heart. Tupac had found how to make music so relatable, that it actually does ease some of the pain that goes on in one's life. Unfortunately, soon after the release, Tupac was shot and killed by an unknown gunman.
The world went into a deep sadness quickly. Many people's idol, gone. His music was not gone forever though. After his death, multiple Tupac posthumous albums were released. The first was arguably one of his greatest albums, "The Don Killuminati: The 7 Day Theory". It exposed the government, politics, conspiracy theories, and more. The amazing thing about all of it, was how hard he worked. Claimed to have worked on an average of three songs a day, he had created a portfolio that was large enough to carry on a legacy for him even after he had died. It made him a legend, and that's why he's my hero. He worked hard, and he worked for the right reasons. The greatest artist of all time, and somebody who's work ethic and intentions I would like to model mine after. The fact that he was murdered at such a young age saddens me deeply, but I feel like he had sacrificed himself so that everybody could be aware. He gave up his life, to enlighten the lives of others. Rest in peace.
Page created on 10/8/2012 12:00:00 AM
Last edited 10/8/2012 12:00:00 AM