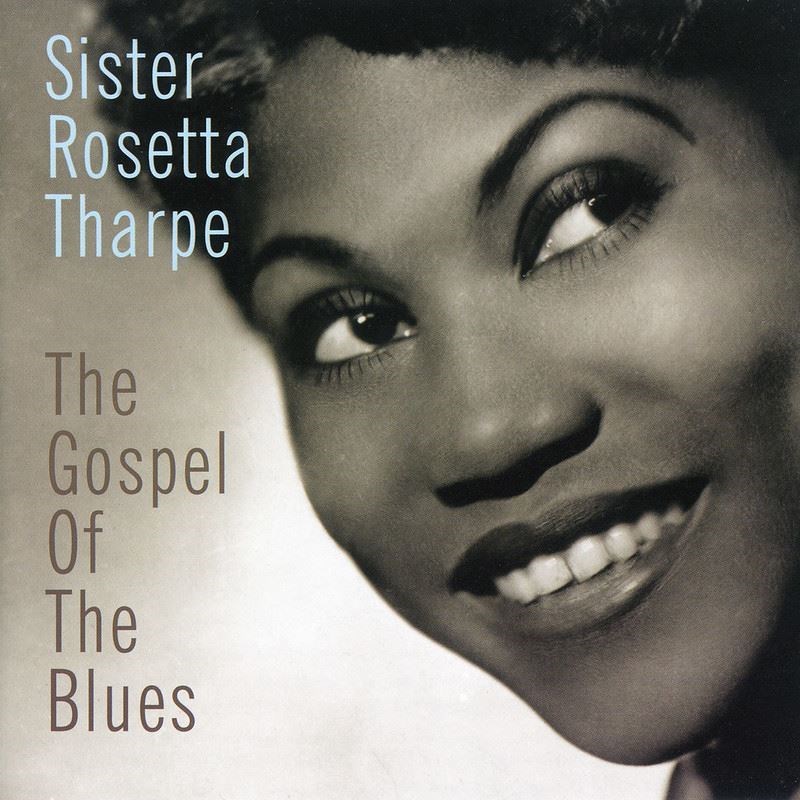 Rosetta TharpeBrett Jordan - Flickr [Public domain]
Heroes are all around us, not just in the comic books; they are our teachers, our community leaders, even peers who we find particularly inspiring. They are in the streets, in our homes, on the news and in our iTunes library. Heroes are passionate and determined, and I feel few people represent these values and what it means to be hero better than my hero the godmother of rock and roll and the queen of gospel, Rosetta Tharpe.
She was born Rosetta Nubin on March 15th, 1915 in Cotton Plant, Arkansas. Her mother, Katie Bell Nubin, was a singer, mandolin player, and preacher with an evangelist church, the Church of God in Christ. Rosetta started playing guitar at age four and her mother immediately picked up that her baby girl was gifted. She started touring around the Bible Belt with her mother in an evangelist troupe at age six and was billed as a "singing and guitar playing miracle." By the mid-20's she was a famed musical prodigy in a time where the only other black female guitarist with national fame was blues legend Memphis Minnie.
In 1938, operating as Rosetta Tharpe, her stage surname a variation on her ex-husband's: Thorpe, she signed with Decca Records and recorded her first four songs - "Rock Me," "That's All," "The Man and I" and "The Lonesome Road." This was the start of Tharpe's adult career which led to her many accomplishments.
Throughout her early career she was trailblazing in three areas simultaneously. Her venues were some of the first integrated audiences. She brought gospel music into the mainstream and played it at secular clubs. In addition to this, her style of playing guitar was epochal, it inspired rock music for years after. She inspired Chuck Berry and Elvis, as well as discovering Little Richard. She effectively started rock as a genre, and it continues to inspire people to this day. In note of her accomplishments she was added to the Grammy Hall of Fame in 1973, a mere months before her death.
Rosetta was able to unify a country in a time of great separation just by doing what she loved, making music. She was determined to do what she loved all her life, and through it she made great things happen. It says of her on her gravestone that she could sing until you wept and then she'd sing until you jumped for joy. Rosetta's determination and the amount of heart she put into bettering her community and this nation definitely makes her worthy of being called a hero.
Rosetta has impacted my life because before I knew who she was, I felt people like me had no place making rock music, and like I had no women guitarists that I could look up to as moral and musical figures, but when I found out everything she'd done and listened to what she had to say in her music, I felt a little less alone. Rosetta only had one person like her to look up to, Memphis Minnie, and look how far she went. She makes me feel like I can go just as far even if I'm only following the light of her North Star.
Rosetta was passionate about her craft. She didn't let anything stop her from pursuing her passion as a performer, even right before she died in the 70's she didn't stop trying to perform. She was brave. She was a black performer in a time of extreme prejudice, and going out into the world and letting herself be seen and heard by Americans was something valiant to do. Lastly, she was faithful. Throughout her career she stayed true to her start in gospel music and managed to bring the beauty of her faith to secular audiences.
Rosetta Tharpe will always be my hero. She's the godmother of rock and roll and put the magic of gospel into the hearts of her audiences. She unified Americans in ways no one else could and that makes her a hero.
Page created on 6/2/2017 12:00:00 AM
Last edited 2/13/2021 1:11:19 AM