Rafael Da Silva
by
Zack from Billings
My hero is someone less known possibly than other heroes of today's modern times, but I assure you, some day he will be the greatest soccer player alive. My hero is #21, Rafael Da Sivla. He is my hero because he shows hard work and dedication; the only way he could make it professionally as a soccer player at only 18 years of age. He came out of Brazil on the Under 17 national team as captain alongside his twin brother Fabio. These two will make history.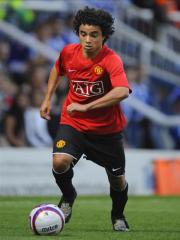 Rafael Da Silva and his Twin brother Fabio Da Silva were scouted out by Les Kershaw, then Academy Manager, in the summer of 2005 while playing for Fluminense (a local club team) in a Hong Kong youth tournament. Fabio seemed to be the better of the two and showed the most promise, but Rafael was no slouch either. Though living in his brother's shadow for most of their lives, he now has played over 400 minutes for manchester united while his brother has only played 45 and is now out with a shoulder injury. That's over ten times as much as Fabio has played! It's a Cinderella story in the making.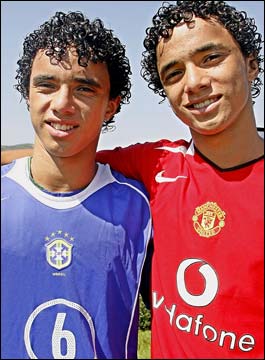 He and his twin brother Fabio were born in Petropolis, Rio de Janeiro. They grew up, lived there their entire lives, living out normal Brazilian childhoods; full of soccer that is. Both of them possess amazing ability and they slowly made their way up to the top. At sixteen, both boys started for the Under 17 national Brazilian soccer team. Fabio captained as a left defender and together, the pair scored many goals and greatly influenced their team.
They came to Manchester United on the 1st of July and since then Rafael has made 8 first team appearances. After not playing for an entire year while waiting for his and his brothers international clearance from Brazil to take place, his amazing debut on the 17th of august against Newcastle United was even more startling. He plays as a right defender but is very attacking minded as are most defenders out of Brazil. His hard work and constant pressure finally paid off with his first goal in a red shirt in the Arsenal game on November 8th. Many are keeping a close eye on him.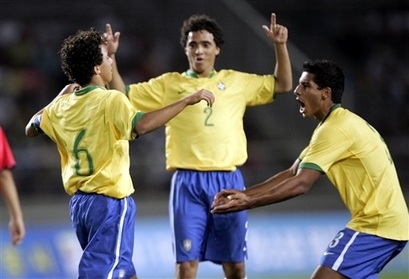 He is my hero for two reasons that I think can make anyone a hero. Like me, Rafael has lived in the shadow of one of his siblings. His brother was captain of the team and the first to sign with Manchester United. But Rafael has made a name for himself and broken free from that haunting shadow. He starts now for the team that his brother signed to and is the next upcoming star tearing up the field and scoring goals. And lastly he is my hero because of his hard work he put in, all that time and effort, that finally paid off for him. If I could work as hard as him to get to my goals, i could certainly get a higher grade in my english class that I am in. :) One day I will meet my hero and maybe, just maybe, get an A in English.
Page created on 10/1/2009 12:00:00 AM
Last edited 1/6/2017 11:59:49 PM
The beliefs, viewpoints and opinions expressed in this hero submission on the website are those of the author and do not necessarily reflect the beliefs, viewpoints and opinions of The MY HERO Project and its staff.