When I was little, way back in the 60's, there was a very popular television show about a dolphin and the family he befriends. It was called Flipper. If you've ever seen the show, you can probably picture Flipper, seemingly walking on water in a dolphin moonwalk, making that Flipper sound and smiling from eye to eye. And Flipper was smart as a whip. He could warn the family of impending danger, outsmart bad-guys and help a couple of boys grow up knowing right from wrong. And maybe best of all, he would take them for rides. Just grab onto his dorsal fin and hold on tight! Over the surface… diving deep and long, Flipper was the ultimate toy… the most perfect imaginable pet in the world.
I have since learned that Flipper was not a he. Flipper was played by five dolphins, but mostly by a female named Cathy. The dolphins had been captured for the Miami Seaquarium and trained by my hero, Ric O'Barry. Remember the Flipper house? "I used to live in that house," said Ric. "I captured (and trained) the five dolphins… I lived with all five of them in the Seaquarium. And on Friday nights, at 7:30, I would take the TV set, with a long extension cord, out to the end of the dock, so Flipper could watch Flipper on television." According to O'Barry, that's how he came to realize that the dolphins were self aware.
"Cathy, for example, would recognize the shots she was in, Suzy would recognize her shots and so on."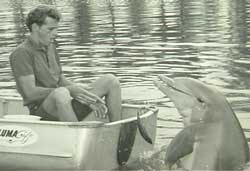 Dolphins are among the most intelligent and socially complex animals on earth. Measuring that intelligence, however, is very difficult. Ric explains one reason why. "Dolphins are hard to read because you have to look at body language. Almost all other animals you can read by looking at their faces. But dolphins have this built-in "smile" that makes it look like they're always happy." Which, according to O'Barry, they are not. "Dolphins are free-ranging, intelligent and complex wild animals, and they belong in the oceans…" Like all intelligent animals, Dolphins living in captivity are subject to a host of abnormal psychological behaviors. To get a better idea of why, take into consideration that US regulations mandate dolphin pens be at least 30 x 30 feet and six feet deep. In order to simulate the swimming range it would enjoy in the wild, that same dolphin would have to circle its tank upwards of 1700 times a day. So, not surprisingly, some dolphins display abnormal behavior including disorientation, general malaise, aggression, self mutilation and, according to Ric O'Barry, even suicide.
"Cathy died in my arms of suicide," says O'Barry. "She looked me right in the eye, took a breath, held it— and she didn't take another one. She just sank to the bottom of the water. That had a profound effect on me."
The next day Ric found himself in a Bimini jail, arrested for having tried to free a captive dolphin. This would be the first of more than 25 dolphin "rescues". After 10 years of working with dolphins in captivity and virtually inventing the idea of trained dolphin industry, O'Barry has spent the past 30 years trying to tear it down.
In 1970, along with Fred Neil, O'Barry established the Dolphin Project. It's dedicated to "abolishing the billion-dollar dolphin slave trade." Their mission is four-fold:
1) To educate the public about the plight of captive dolphins
2) Stop the captures, trafficking, confinement, training, captive breeding and other means of exploitation of dolphins worldwide
3) Improve life quality for the victim dolphins that can't be successfully released back into the wild
4) Release captive dolphins suitable for release.
In pursuing his mission, Ric has launched and sustained a searing campaign against the billion-dollar industry that stocks dolphinariums, "swim-with-the-dolphin" parks and most recently, dolphin therapy operations. His main thrust is education; to help people everywhere see "Behind the Dolphin Smile" and understand how unhappy these magnificent creatures really are when taken from the wild. He has lectured and picketed and created a lot of hostility for and against the cause, but ultimately, he has managed to open the eyes of millions to this tragic cause and to convince many more to boycott the industry altogether. "They're in this for the money," O'Barry states, "Take it away and they'll quit."
Most recently, O'Barry has put his considerable energy into the making and promotion of the controversial, award-winning documentary,
The Cove. Part heist film, part enviro-doc, this thrilling movie follows filmmaker Louie Psihoyos, Ric O'Barry and a team of filmmakers and freedivers to a secret cove in Japan, where they risk life and limb to shine light on a horrible secret. The Cove is winning hearts and audiences from Sundance to Silverdocs and beyond.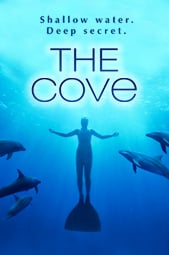 Seeing The Cove and learning about Ric O'Barry's 30 year campaign to end the enslavement of dolphins, left a deep impression on me. Throughout my life, I've been to sea parks and aquariums, zoos and circuses. I've enjoyed seeing wild animals in the cities where I live. Heck, I grew up with Flipper, a beautiful, sentient, intelligent being who, according to her friend and keeper, took her own life in a tragic fit of depression…. It's something that changed the heart and mind of my hero, one-time dolphin trainer Ric O'Barry forever… and it's his heartache that reminds us all of the value and dignity of the animals with whom we share the Earth.
Page created on 8/2/2009 9:46:10 AM
Last edited 2/24/2021 11:34:20 PM
Related Links
Dolphin Project
- For the past 30 years the Dolphin Project has worked to stop the capture and confinement of dolphins worldwide. Captivity is wrong, and candidate dolphins should be released back into the wild.
Oceanic Preservation Society
- The Oceanic Preservation Society (OPS) is a non-profit organization founded in 2005 by photographers, filmmakers, and eco-activists. Sparked by the love of the oceans, and concern at their evident decline, OPS shows the world, through visual media, what is happening on 70% of our planet. OPS hopes that individuals make a difference so that future generations need not adapt to a diminished environment. Our first film, The Cove, has won Audience Awards around the globe. It has also prompted many to take action to protect our oceans, its creatures, and our planet.
Save Japan Dolphins
- Ric O'Barry is their Campaign Director.
Earth Island Institute
- For 25 years, Earth Island Institute has been a hub for grassroots campaigns dedicated to conserving, preserving, and restoring the ecosystems on which our civilization depends.
The Cove
- The movie The Cove tells the amazing true story of how an elite team of activists, filmmakers and freedivers embarked on a covert mission to penetrate a hidden cove in Japan, shining light on a dark and deadly secret. The shocking discoveries they uncovered were only the tip of the iceberg.
Extra Info
"The Cove" the feature documentary film exposing the annual slaughter of dolphins in Japan, won The Oscar for Best Documentary Feature at the 82nd Academy Awards.