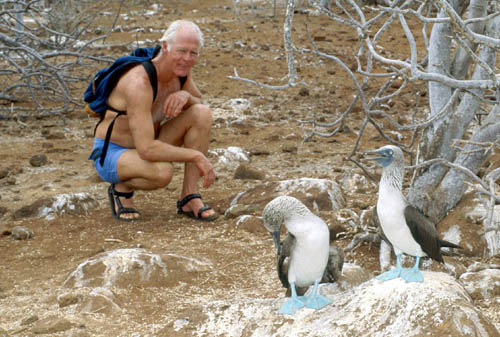 Dr. Richard C. Murphy, or Murph, is a marine biologist, photographer, writer and a very funny guy. But mostly he is a devoted friend to the ocean and its inhabitants. He grew up two blocks from the ocean in Long Beach, California. His father was one of those original deep-sea divers that you see in old movies…walking around the bottom of the ocean with lead shoes and a metal hard-hat. Murph's father would put him to sleep when he was a kid with stories of his adventures on reefs in remote South Pacific islands. So from a very young age, Murph was hooked on everything to do with the ocean. By the time he became a teenager he knew he would be a marine biologist. Dr. Murphy explains that a marine biologist, "studies the life of the sea. Some of us are teachers, others are scientists working at universities and research institutions and some work to help sustainably manage resources. All of us need to understand basic biology, chemistry and physics and be comfortable using mathematics and computers to manage our data."
Richard Murphy has always embraced life to the fullest and taken advantage of the opportunities placed in front of him. He figures that landing 'the job' 38 years ago with Jacques Cousteau (the co-inventor of SCUBA) and his son, Jean-Michel Cousteau (filmmaker and educator), was made easier, not just because of grades, but because he had done so many things relating to the outdoors. "I had worked for UCLA collecting specimens for an invertebrate lab class, I had been a competitive speed and slalom water skier, I took underwater photographs, I was a surfer and had traveled to a number of other countries." So a job that was supposed to last a few years is going on 34 and Murph feels "extremely lucky to have been paid to travel the world, search for answers to important scientific questions, help educate people about the importance of nature and work on projects to show how we can live without destroying our environment."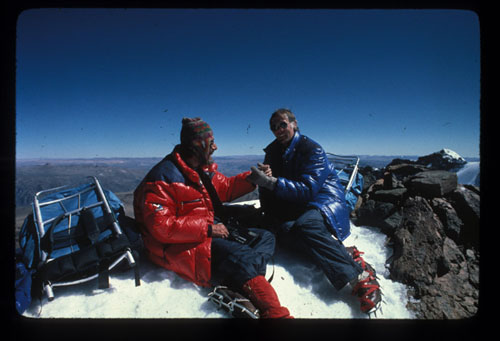 Over these past 33 years, Dr. Murphy has had many adventures while serving as chief scientist and photographer, as well as overseeing research done on filming expeditions to such places as Papua New Guinea, Fiji, Indonesia, The Mekong River in Southeast Asia, the Amazon, Sea of Cortez, Australia and New Zealand. I asked him to tell me a story about life aboard the CALYPSO, the old minesweeper that became an expedition boat for Jacques Cousteau in 1951, 17 years before young Richard Murphy was brought on board. "One story that comes to mind was during my first expedition on the Calypso. I was eating dinner at the long table in the galley and paying careful attention to my manners. It appears that all of the men on my side of the table had held the plastic tablecloth at such an angle, in their laps, that it formed a trough, high at the far end of the table and low at my end. I did not know they were doing this. Then at the far end a guy poured a glass of water in the trough. The water ran down and ended up in my lap. All of a sudden my lap was soaking wet and I had absolutely no idea why. Being new I didn't want to say anything, but obviously my expression changed. Since everyone but me knew what happened they said, "What's wrong, are you all right?" I offered some lame excuse and then the guy next to me looked in my lap and said, "My gosh your lap is wet. Did you have a little problem?" Then everyone laughed and I realized what happened. There were lots of fun things we did to each other on those expeditions." But it wasn't all just fun and games. The voyages of the Calypso are legendary and much was captured on film, (The Undersea World of Jacques Cousteau), to the delight of landlocked people all over the planet. These trips also provided crucial scientific data that has helped shape the world's knowledge of life underwater. Murph recalls, "We all had our jobs to do and we all worked very hard. It was great being isolated for a month or so just diving and working. Sharing these adventures made us friends for life. It was also a wonderful feeling to know that we were doing something that would share the wonders of the sea with others and help protect the oceans for the future."
One of the most fun times Dr. Murphy had diving was while doing advance scouting for Jean-Michel Cousteau's documentary film team in Papua, New Guinea. "I could go anywhere I wanted to explore new reefs. It was fascinating to see so many different islands, reefs and people who depended on these reefs for food." And I just had to ask this man who has logged thousands and thousands of hours in the ocean about the weirdest thing he had ever seen while in it. His reply? "To me the most strange and fascinating critters in the sea are gelatinous zooplankton (gelatinous = jelly-like, zoo = animal, plankton = drifting). These are mere wisps of life, water alive, delicate living membranes, cosmic works of art. They are jellyfish, snails that never touch the bottom, relatives of the Portuguese man-of-war, worms that give of light and many other weird critters."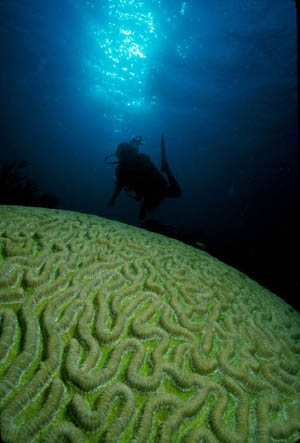 Eco-Tourism. Good or bad? "Eco-tourism by definition is good. 'It is responsible travel to natural areas which conserves the environment and improves the welfare of local people.' This is good because it gives people a better understanding of nature and other cultures. It is good because it helps people in remote places earn a living from their own natural resources and culture in a way that will not harm either nature or culture. Unfortunately, not all tour operators who say they are doing eco-tourism actually protect the environment or local people. So we must pay attention to make sure that we as tourists behave in a way that respects nature and other people's culture."
We hear so much doomsday talk about the state of the planet's environment…do you buy into it? And how does it affect you? "I totally buy into the fact that we humans are having a major impact on the planet. Forests, fisheries, water quality, coral reefs, populations of fish and marine mammals - the health and abundance of all these natural resources are being undermined by humans. The planet depends on nature to keep it healthy and habitable for us. We must protect natural ecosystems and species from over harvest, destruction and pollution because they do important work that we need done. We should see nature as a partner to work with and benefit from. I want people to feel more connected to nature and better understand the value of things we don't eat or sell in the global scheme of things. I think the golden rule is very appropriate in the context of the environment - treat others as you would like to be treated. It's morally right and it's smart."
Dr. Murphy is now Director of Science and Education at the Ocean Futures Society. He and Jean-Michel Cousteau and their organizations are providing a new vision for the next generation. They are also providing ways everyone can participate in that vision. So check out www.oceanfutures.org and learn, join and make your voice heard.
I asked Dr. Murphy what his major priorities were for saving the oceans and how kids and their parents can help.
Dr. Murphy's major concerns for saving the oceans are:
Protect biodiversity with marine protected areas.
Stop overfishing.
Stop global warming that is killing coral reefs around the world.
HOW CAN WE ALL HELP?
Write letters to our leaders to establish more protected areas.
As individuals we can be energy efficient.
Prevent trash and pollution from getting into the sea (i.e., don't litter at the beach!).
Kids can remind their parents about these things when they purchase a new car, build a house or manage their business.
Is there anything you'd like to say that I haven't asked you?
"Yes, I now work almost exclusively with young people; of course at my age almost everyone is young. I am enriched by the enthusiasm of young people and hopeful when they reject the old ways and search for new ways. My generation has made unbelievable advances - space travel, computers, Internet, new medicines, etc. We have also created monumental environmental problems. We now need fresh minds that respect nature and can create new ways to manufacture things to avoid waste and pollution, new ways to manage nature that are sustainable and new ways to think about our deep connections to other species and the planet."
Who are Murph's heroes? He has several.
"A hero of mine is Ed Ricketts, known to many as Doc of Cannery Row. He was a marine biologist who looked at nature as a whole system in a different way from most other scientists of his time. He saw each species as important and an interrelated member of a community. He was not a nerdy scientist but enjoyed a wide range of subjects – philosophy, music, poetry and other people. He was intensely curious and enjoyed living a rich and diverse life." Note: Ed Ricketts was "Doc" of John Steinbeck's Cannery Row. In his own personal memoir about Ricketts, Steinbeck wrote, "Everyone near him was influenced by him, deeply and permanently. Some he taught to think, others how to see or hear… He taught everyone without seeming to."
"The other is the Dalai Lama because he is very well educated, respects science and is a generous person who does not judge others and other ways of thinking. He does not allow anger to control his emotions and instead has focused his energy on helping other people in a gentle polite way."
You seem to have a pretty good time on a daily basis-what keeps you laughing?
"My spirits are lifted by a clean head high wave on a sunny day, a fast mountain bike ride through the redwoods, being launched into the sky while kite boarding and hovering spellbound above a reef watching a little cleaner fish tend to its patients who are 'standing on their heads' to get the cleaner's attention. I like sunsets, the smell of kelp on a beach and the sound of waves. I like kids because their laughing makes me laugh. I try to put fun in all of my work."
And what does he think a fish would say if it could talk?
"Dear Human,
I know you like our world but your behavior certainly is confusing. You throw trash in my front yard; you dump chemical waste in my home and kill my family members. We were here first, you know, and we would appreciate it if you remember that we are all relatives. Corals, kelp, sea stars, lobster, fish, dolphins and people - we are all related! And we share the same planet so please treat us like your family members - because we ARE part of the family of life. Come visit, we've got some great things to show you.
Bubble, bubble,
Your fishy friend."
My husband and I had the good fortune of meeting Murph this past summer at the Ambassadors of the Environment Family Camp, which he runs with Jean-Michel Cousteau on Catalina Island off the coast of California. My daughter, Slater, was there to meet her Environmental Hero, Jean-Michel Cousteau, and do a short film about him and his work. That pleasure was expanded by also meeting Dr. Murphy who was warm, funny and very informative. We have never had so much fun in a science lab! I am going to treat myself to Murph's book, Coral Reefs, Cities Under the Sea, then make a cup of tea and dive into the magical world of the oceans he shares with us all. Perhaps his good friend Jean-Michel Cousteau says it best, about Murph's book: "Here is a scientist you can understand, who relates the extraordinary life of a coral reef to the readers' own quality of life. People do not exist outside the domain of nature. Dr. Murphy's book makes us realize that everything is connected in the ocean world, as in the rest of the world. We are all part of nature, and inseparable from it. Our well-being", Cousteau continues, "is linked to the health of our environment."