Robert Edward Doherty
My father was absolutely one of the most genuine, down to earth and easy to be with people in the world. He was forever entertaining. He was the only son of a doting mother and a rolling stone father. He grew up poor and isolated in Fall River. They never had a car and had no transportation. He did, however, have a large extended family with dozens of aunts and uncles who were loving, funny and as Irish as the mist. Maybe because he was isolated as an only child, with a father who sometimes disappeared, that he created deep and lasting relationships with friends. Dad (or "Dowd") was the most loyal friend one could have. When Mom needed it most, his loyalty and devotion were unparalleled. She was simply never to feel alone or unloved especially during her most difficult time of need: the Alzheimer's years. His love and devotion to her was touching and ever enduring.
He was also tough as nails. He had more physically wrong with him then you can imagine in the last years of his life--blind, diabetic, with cancer of the prostate, gallbladder and liver, COPD, skin cancer, crippling peripheral neuropathy, and a heart that had withstood several heart attacks. You name it, and Dad had it; but he refused to give in and rarely, if ever, complained of the many ills that ailed his body. His mind, however, was a different story: there, he never lost a step. We will never again see a mind quite like Dowd's. His infinite memory, his profound knowledge and his unique humor made him the bright, appealing and easy to love man that he was. Dad had the ability, when socializing, to digest and remember forever everything that was happening. He was instantly able to measure people and often found humor in his interactions. With his quick wit he would further endear himself or disarm a situation.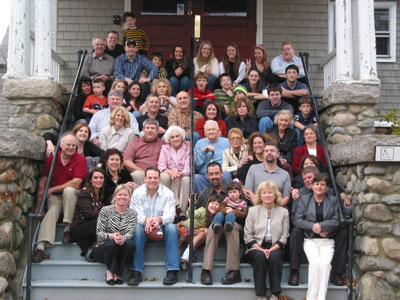 Once you were Dad's friend you were never forgotten and you were properly recognized. He acted on friendship. He immortalized it for his brothers in the 96th Bomb Group in four books, as well as poems and articles printed in other national publications. Dad's war stories were never about shock and awe or blood and guts. Rather, they were about the effects of war on young men, their families and loved ones.
Dad's story was one about the relationships carved out of combat training, combat, and his experiences as a prisoner of war. His writings described how 18-20 year old boys became men together as comrades in arms. They described the feelings and fears bred in battle. To Dowd, writing these stories was about defining a brotherhood, and the men who became the siblings he never had.
The book he is most well known for is Snetterton Falcons: The 96th bomb group in World War 2 by Robert Doherty and Geoffrey Ward. He also won the Telly Award for history as an associate producer of "Behind the Wire" which was a documentary about POW life in Germany.
Dad's absorbent mind and his lyric pen saved his story for us all. His deepest thoughts and most impressionable experiences are immortalized in histories and verse. Dowd was quick to point out that he was just one of many. He was part of the Greatest Generation. But to us he was our part. He was our one, our most beloved.
Beau and Mark Doherty
Page created on 6/10/2009 12:00:00 AM
Last edited 1/5/2017 11:19:09 PM
The beliefs, viewpoints and opinions expressed in this hero submission on the website are those of the author and do not necessarily reflect the beliefs, viewpoints and opinions of The MY HERO Project and its staff.