Albert Rocco
by
Jimmy from Selden
Like Yogi Berra Once said, " It Ain't Over Until Its Over"
Everyone in life has a hero. A hero is someone who is admired by another individual. My hero is my Uncle Al. He has survived through many infections and his 15-year battle with multiple sclerosis. He has been in and out of the hospital many times. He never gave up on himself. That's why he is my hero.
I never knew my Uncle without the disease. When I was born, it had already taken over his body. Before anything ever happened to him, he was good-hearted man, who lend a hand whenever you needed him. We would never have guessed that he would get this disease.
Multiple sclerosis moves very slowly throughout. At first he could still talk and move his upper body. The only thing he couldn't move was his legs. After awhile, it took away his voice. He had to use a special kind of object to talk. Later, it took his upper body. Now all he could do is sit there. When his first had Multiple sclerosis, He looked the same. Now when I look at him, I can't believe the difference. This has taken his life.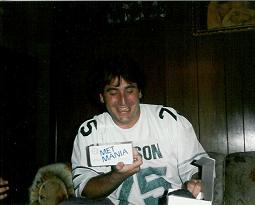 Uncle Al has battle infections, on top of the multiple sclerosis. In January 2000, My uncle had is first serious infection. Most of the doctors though he wouldn't make it, but He wouldn't let himself give up. He fought out of it. About a month later, he was back at home. Between January 2000 and now he has a couple minor infections. Then just a month ago, he had another major scare. He wasn't responding. We felt it was like January 2000 again. Nevertheless, Uncle Al's spirit didn't give out. He resisted giving in. He is not the same as before but he is still alive.
I will never know my uncle as normal. All I can do is listen to the stories my family tells me. If I had a chance, I would love to see him without Multiple sclerosis. I just hope I can get to know him better. My uncle is a fighter and I admire that. My hero is a very brave, inspirational man.
Page created on 10/25/2005 12:00:00 AM
Last edited 10/25/2005 12:00:00 AM
The beliefs, viewpoints and opinions expressed in this hero submission on the website are those of the author and do not necessarily reflect the beliefs, viewpoints and opinions of The MY HERO Project and its staff.