Alex Rodriguez
by
Arjun from Selden, New York
I guess when I hear the word "hero" I think of Superman or Batman, but what a lot of people forget is that there are everyday heroes. Not people with super powers, but ordinary people. To me a "hero" is someone who inspires you to do great things. They are ordinary people who have an affect on you. My hero is a hard worker; generous, skilled, and inspiring. My hero shows everybody the result of working hard. My hero's name is Alex Rodriguez. Alex Rodriguez has accomplished many great things in his life. He accomplished a .358 batting avg. In 2004 he was recruited into one of the best teams at that time, the Yankees. Currently, Alex holds the record of being the highest paid athlete in the world. He was selected as MVP of the year in 2005. He also donated $200,000 dollars to the Boys and Girls Club of America.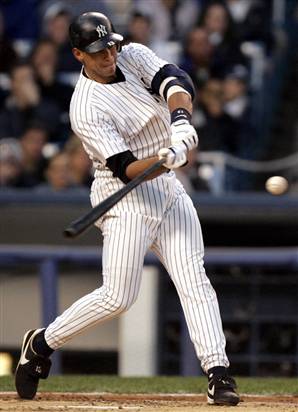 Alex Emmanuel Rodriguez was born in Washington Heights in Manhattan, New York. He first loved the sport of baseball. His father, Victor, opened a shoe store when Alex was born. When the business was doing well, Alex and his family moved to the Dominican Republic, handing the business to their relatives. They bought a beautiful four-room bedroom house, having a clear view of the beach. Then when Alex turned 8 his life changed. His family had to sell their house because their business wasn't doing so well. Instead of moving back to New York they tried Kendell, Florida. There, Victor opened another shoe store. When Alex went to school it was hard for him to switch his transition from Spanish to English. At school he made friends with J.D Arteaga. J.D.'s father became like a second father for young Alex. One day after several weeks of struggling financially, Victor told his family that he was going to New York to go find a job, but he never came back. Alex was heartbroken and was hoping that his father was going to come back. After several weeks, he lost all hope. His mom took two jobs to support the family. When Alex was growing up, his hero was Cal Ripkin Jr. As a 7th grader he played in the baseball squad. In one of his games, Mr. Arteaga had a heart failure in the stands. Alex worked even harder not to disrespect the hard work of Mr. Arteaga. Even before Alex graduated from high school, scouts from all over the country were looking. After negotiating for several weeks he was recruited into the Seattle Mariners for $1,000,000 dollars a year. The Seattle Mariners were a bad team but Alex encouraged them often, which led them to the playoffs. After several years, Alex quit and joined the Texas Rangers. Alex was paid $252,000,000 and would be even paid higher if another athlete earned more money than him. He led the Rangers to a 70-90 record. He continuously mentioned to the public that he wanted "to be on the winning side." As soon as the Rangers started to come into last place, Alex was traded to the New York Yankees. In New York, he was treated like "Royalty". Alex started doing better in his career and Alex and Derek Jeter became the "unstoppable duo."
Alex Rodriguez showed me that if you work hard you can achieve anything. He shows that even when bad times come there will always come some good out of it. When I see him play baseball I think, "How did he do well in life by just working hard?"
I think Alex inspires so many young baseball players. He's done great things such as donating $200,000 dollars to The Boys and Girls Club of America. He also donated one computer for every time he scored a home run. This is what inspires so many youths today.
These are the reasons I chose Alex Rodriguez as my hero and his history makes him a legend. He taught me a lot of values that will stay with me for the rest of my life. He will always be my hero. He is what I call a superhero.
Page created on 11/26/2007 12:00:00 AM
Last edited 11/26/2007 12:00:00 AM
The beliefs, viewpoints and opinions expressed in this hero submission on the website are those of the author and do not necessarily reflect the beliefs, viewpoints and opinions of The MY HERO Project and its staff.

Extra Info
I got most of the information from the book "Baseball Legends: Alex Rodriguez."