A universal trait of heroes is they all seem to be filled with enthusiasm for the vision they've been called to realize. And no matter what the cause, I've found their enthusiasm is contagious. Without even trying, they seem able to evangelize me into their vision.
Now the root of the word enthusiasm literally means "in the spirit." And believe you me, given the challenges and issues that most heroes have chosen to address, given the sacrifices and changes in lifestyle that they have made to engage their vision, well, the prerequisite seems to be a limitless amount of enthusiasm — an infinity of spirit.
The truth is when an individual has been moved to make a difference in their community or world, they are often required to give up their old dispensation--so what used to be comfortable, familiar and expected of them, no longer applies. As a result of their calling, they may have to downsize their lifestyle, be comfortable with a life of financial uncertainty, suffer the slings and arrows of detractors and often accept the fact that friends and family may see their enthusiasm and vision as signs that they've gone off the deep end. And while the sacrifices of heroics may be great, without exception all the heroes I've spoken with have said, "It's worth it." Why? As one hero put it, "With my project I finally found work big enough for my soul."
Roxanne Coady is just such a hero. When I met Roxanne for our interview she was predictably late, impeccably dressed, and her energy parted waiters and waitresses like the Red Sea as she virtually glided to our table at half past seven in the evening. She had been up since four in the morning, about an hour earlier than normal.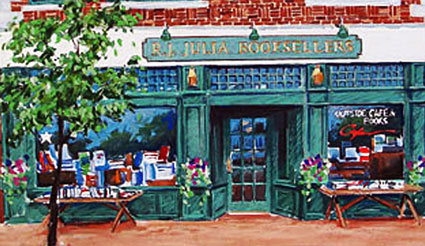 Yet as her days go, it wasn't unusual. After all, one of her days might include a taping for a book review segment on NPR; a check-in with a member or two of Read To Grow, the literacy organization she founded; a business meeting on her new venture, Just the Right Book!, an online gift store (justtherightbook.com); a planning session about one of the two hundred events her book store R.J. Julia hosts each year; a thoughtful read of a book by the author she will be introducing and hosting at the public library the next evening; a mustering of her well-read and trained book store staff in preparation for upcoming black Friday; a call to her college-age son, Edward; a lunch date with her husband, Kevin; or perhaps even an emergency call from Good Morning America to fill-in for their flu-rattled book critic.
I could go on, but it exhausts me. Not so for Roxanne. For her, it's all in a day's work. And it all involves books and it all comes from her passion to share the joy, learning and relationships that have enriched her life since she was a little girl. Roxanne is a literacy evangelist. Let me explain.
It was almost twenty years ago that she gave up the comforts and security of a corner office overlooking Central Park in New York City; the guarantee of a whale of a paycheck; the comfort and esteem of friends, family business associates who knew her as one of the best accounting professionals in the industry. By some people's standards, including her father's, she had it all.
But even at her young age and in the whirlwind of success, it felt empty. "There's got to be something more than this," she thought. And for Roxanne the answer was in a book. Over the years she had developed a deeply ingrained love of literature. A deep appreciation for intellectual learning, spiritual inspiration, and emotional insight gifted to her by fiction and non-fiction alike. The words of books and the stories that weaved in and out of her consciousness had shaped a dream that went beyond boardrooms, debits, credits, and spreadsheets. And so she left the well-heeled urban life and entered into a field of dreams — or more exactly, stacks of books.
Now this dream and love affair with books was seeded when Roxanne was just a little girl. When her little brother was born, it was in the day when families were not allowed anywhere near the maternity wards. So six-year-old Roxanne and her sister Barbara were waiting four stories below their mother's birthing room window. Suddenly, and without warning, a flurry of Golden Books floated from the window. Roxanne may not have known where babies came from, but for sure at that moment she knew "books were from heaven."
Her love of literature also began at the knee of her father. You see, Roxanne's parents had immigrated to the United State from Hungary. Their English was broken. But Roxanne's Dad had a passion for learning English and for reading. Since the Rosetta Stone language learning series had yet to be invented, he chose the New York Post as his English tutor.
Eyeing her father's keen interest in the newspaper, Roxanne wondered what was so enthralling. So, when she was about seven, she too began to read The Post. Together, father and daughter would share the stories of the day. Her dad got to practice his English and keep up with current events and Roxanne found a way to spend time with her very busy dad. In this way they were brought into each other's universe, warmly connecting and sharing while learning to read and reading to learn. It was a connection that bound them until her father's dying day.
When Roxanne's family moved from New York to Hartford, Connecticut, her new school hosted a personal Mount Sinai right across the street: the Hartford Public Library. Virtually everyday after school, Roxanne found herself in the midst of the Dewey Decimal system. There she'd make her way over to the children's section of the library. But for this ten-year-old that was not enough.
Fortunately for Roxanne, when it came to education and reading, her parents were not about to limit her curiosity. So they signed a permission slip giving her the freedom to explore all the stacks. And explore she did. Liberated from the children's section, she found the book that changed her life. It was Leon Uris' Exodus — not exactly Cat In The Hat, but it would do. For her hungry young mind, reading had become a land of milk and honey.
And just as Exodus tells the story of the Jewish people founding the nation of Israel in the historic Promised Land, it was in this book that Roxanne found a whole new world to explore in all of its dimensions and color. For Roxanne, Exodus was an introduction to everything literature could do for you. It was a multi-layered exploration of humanity-—from wrath to romance, from fictional myths to non-fiction history, from adventure to mystery, from tragedy to comedy--with personalities that came to life off of the page to become transcendent spiritual guides. As she made her way with Israel's founders through the trials and troubles of an unsettled land and a hostile world, she watched as her ancestors transformed themselves from a diaspora to a unified and visionary nation, and as they did, she felt her own transformation.
Books can open up whole new worlds. They can be guides to life, counselors and confidantes, and even confessors. Books can open doors to self-understanding and awareness. In them, are reflections of ourselves--from the darkest parts of our shadow sides to the celebrations of our lighter sides. Books can be friends; they can shed light on those parts of ourselves that we may feel ashamed of or may seem unattractive, and by doing so it can liberate us or at least bring to consciousness those shortcomings or character defects that may inhibit or hurt ourselves or others. A book can give us perspective on a life event, a tragedy or crisis or doubt. Books can give us a language to explain what we thought were nebulous or even indefinable feelings. Books remind us that we are not alone.
So immersed in literature is Roxanne that when she meets a person and listens to their story, she can always envision a book that would suit their situation in life. And by doing so perhaps provide strangers (or friends) with some comfort, insight or perspective, or challenge that may just bring them an "Ah Ha!" moment or two. "…If my life can be about giving that gift to other people that would be great…" Roxanne says.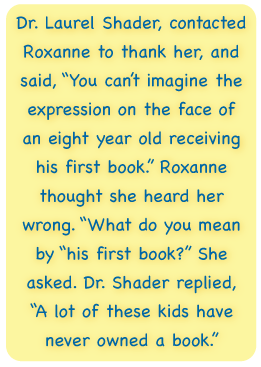 And so, her calling to a small somnolent town on the coast of Connecticut was as irresistible and as inevitable as her need to share her love of the written word with all who might be lucky enough to cross her path. So what if the big-box bookstores were beginning to knock the independent bookstores off the block? It seemed like the right and natural thing for Roxanne to start an independent bookstore by the name of R.J. Julia Booksellers. In Roxanne's words R.J. Julia was founded "to be a place where words matter, where writer meets reader, where the ambiance and selection and merchandising of books creates an atmosphere that is welcoming and presents the opportunity for discovery. Ultimately we are fiercely committed to putting the right book in the right hand."
To see how successful Roxanne has been in fulfilling this mission, you only have to look at R.J. Julia's stack of awards from local, statewide and national organizations--Publishers Weekly Bookseller of the Year to the Lucille Pannell Award for bookselling excellence, to Connecticut Magazine's Best Bookstore, to Connecticut Retailers Award for Community Commitment, to the New Haven Advocate's Best Bookstore, and finally to the New Haven Business Small Business Award.
Soon Roxanne found herself able to serve customers who couldn't pay but desperately needed books, when Laurie Ruderfer an employee at a nearby health clinic contacted her. It has been their practice to give a book to every child that crossed their threshold. And now they were running out of books. Roxanne was asked to organize a book drive for the clinic. And when she did, she filled two school buses with 12,000 books. When Dr. Laurel Shader, the pediatrician at the clinic, contacted Roxanne to thank her, and said, "You can't imagine the expression on the face of an eight year old receiving his first book," Roxanne thought she heard her wrong. "What do you mean by "his first book?" she asked. Dr. Shader replied, "A lot of these kids have never owned a book."
Roxanne was shocked. And when she read that the city of Hartford's functional illiteracy rate was 70% and New Haven's was 44% and the richest state in the Union had an overall illiteracy rate of 32%, she made a promise that she would do all she could to make sure that "no child born in Connecticut would be without a book."
So, in 1998 Roxanne rallied a group of like-minded citizens, including bankers, philanthropists, business leaders, educators and health care professionals to create the Books for Babies program. They agreed to share and help support her vision that all babies born in the New Haven area would begin their life journey with a book to call their own and parents would be coached to understand the importance of reading to their children from the day they were born.
The reason the focus was on infants is because Roxanne knew from current research that the first three years of life offer a critical window for brain development. The human brain is not fully developed at birth. The brain develops as genes (nature) and experience (nurture) interact. What they need most in the early years are stable, positive relationships with loving caretakers and good learning experiences. What happens in those earliest years lays the foundation for later growth, development and learning. Books for Babies brings books into the home and techniques for assisting parents to be their child's first teachers.
The name Books for Babies was changed to Read To Grow in 2000. The name change reflected an even larger vision to beat back the epidemic of illiteracy and bridge the increasingly widening achievement gap. Specifically, the Read to Grow mission widened "to improve early literacy for all Connecticut children by providing books, by helping families share books with their babies starting at birth, by encouraging language development, and by promoting an awareness of literacy services." The evolution continued, tapping into the R.J. Julia mission of "putting the right book in the right hand," by making sure that children got to take home books that would interest them--all from books hand-sorted by teachers who volunteer their time with Read to Grow. Unlike movies or television where imaginations are spoon-fed, the tactile and mentally interactive nature of reading is aerobics for the brain--that's why it's important to keep young people reading.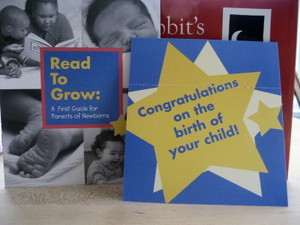 Twelve years after its start, supported by donors, volunteers and community partners, Read To Grow has given away over 100,000 books in eight hospitals. Somehow I don't think that Roxanne's love of reading and sharing that love will stop here. Her enthusiasm is just too big. Like a flower that overflows with fragrance, her enthusiasm touches, enriches and edifies anyone who is fortunate enough to step into her bouquets of books.
For more information on Read To Grow visit: www.readtogrow.org
(Written by Charles F. Harper, The My Hero Project 2009)