Marla Runyan is the holder of three United States 1,500 meter titles, she is ranked number one in the United States 5 km run and the marathon in 2002. In addition to that, she is a two-time Olympian, a USA Indoor 3,000 meter champion, and came in tenth in the 1,500 meter at the 1999 World Outdoor Championship. Marla holds records in the 20 kilometer Road, All-Female marathon, 500 meter and Heptathlon. All of these accomplishments would be incredible for any normal athlete, but Marla Runyan isn't any normal athlete. Marla Runyan is legally blind, so all of these titles make Marla one of the most outstanding runners of our time. Marla Runyan was born on January 4, 1969 in Santa Maria, California. She was born into a family consisting of her father, mother, and her older brother Grady.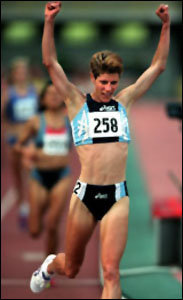 Marla wasn't diagnosed to be blind with Stargardt's until she was nine years old in 1978. Her doctors had very low expectations for her future, predicting that she would never get above a "C" in school, learn to drive, or go to college. At that time, she was very active in soccer and gymnastics, but eventually had to drop them when her vision made it hard for her to see the soccer ball. She soon picked up running and became very dedicated. She continued running and competing in the Heptathlon, 200m dash, high jump, hurdles, long jump, javelin throw, and 800m run throughout her high school years and during college at San Diego State. She received a degree in Education of the Deaf at San Diego State University and one in Education of Deaf-Blind Children in 1994.
Then, Marla moved to Eugene, Oregon, so she could be closer to her trainers. After a lot of intense training, she was able to place 10th in the Heptathlon at the Olympic Trials in 1996. By 1999, she was ranked 2nd in the USA by T&FN and had come in 1st at the Pan Games by one hundredth of a second during an exciting race. Also, she came in 10th at the World Outdoor Championship for the 1,500 meters.
In 2000, Marla became the first legally blind American to compete in the Olympics, when she placed eighth in the 1500m and had the highest finish for an American female in the race. Marla also competed in the Carlsbad 5000 Road Race and placed 4th at her first try at long distance.
Since 2001, Marla has served as the first ambassador for Perkins School for the Blind. She has given many speeches about being blind to the public. Also in 2001, Marla broke the American indoor 5000m record at the New York City Armory, running 15:24 on February 18. In 2002, Marla was the USA Outdoor 5k champion for the second time (she also was in 2001).
Marla became interested in running long distance as well as middle distance, and also competed in the Boston Marathon where she placed 5th. The next year, when it was time for the Olympics, Marla placed 9th in the 5000 meters. Along with the Olympics, Marla kept her title of USA 5000m Outdoor Champion for the third year.
2005 was a joyful year for Marla Runyan, for she had her first child with her husband and coach, Matt Lonergan, on September 1. After taking a break from running to take care of her daughter, Marla amazed many when, in 2006, she bounced back into her career and set a personal record in the 10000 meters with a time of 32 minutes and 11.92 seconds. Despite having her sight being about 20/300 in her left eye and 20/400 in her right eye, Marla has passed all expectations to become extraordinary!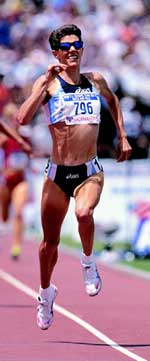 Being the first legally blind American to compete in the Olympics, Marla Runyan demonstrates signs of heroism for many people who are visually impaired. Also, she has inspired many people who don't have an impairment. She is an inspiration to many because she has overcome the difficulties of her disability. Plus, she has proven to the world how strong she is, both physically and mentally. Many other people with disabilities have followed her lead and have done things they were always told they could never do. She is living proof that it doesn't matter if you are different from others to succeed!
Marla has shown an enormous amount of strength, determination, caring, and perseverance throughout her life. She demonstrated strength as she ran many different races, including marathons. And she had the strength to not give in when she was diagnosed with Stargardt's disease. She also proved how determined she was to lead a normal life and to continue being an athlete despite her impairment. Marla Runyan has shown how caring she is by educating the public as an ambassador for Perkins School for the Blind. Marla should be proud of what a positive role model she is!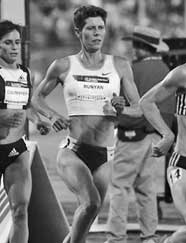 These days, Marla resides in Eugene, Oregon, with her husband, daughter, and dog. Marla Runyan is still running, but her main priority is her daughter, Anna. She wants to make sure Anna has the best childhood possible. When she is not taking care of her daughter, she is training for upcoming races. She is currently focusing on training for marathons more than anything else. One of her most recent races was the Twin Cities Marathon. In this race, she placed 1st in her division.
Marla's life as an inspirational runner teaches us to never give up. Even if someone says something is impossible, it doesn't mean that it can't be done. Instead of giving up, Marla focuses on what she can do, not what she can't. She put no limitations on herself as to what she could do, and because of this, she was able to work her way to the top. She has said, "I don't consider it to be any sort of disability on the track, honestly, I don't think of it at all. It's a condition I've had for so many years, that as far as I'm concerned, the way the track looks to me is the way the track looks to everybody else." I admire her because of her determination and how she follows her dreams. She inspires me to not give up, even if things don't go as planned. Marla Runyan is my hero!
Page created on 9/10/2008 12:00:00 AM
Last edited 1/6/2017 11:56:10 PM