Contact: Jeanne Meyers                                                                       FOR IMMEDIATE RELEASE
Co-founder and Director
The MY HERO Project
MY HERO and Creative Visions Foundation Honor Extraordinary Burmese Doctor
Los Angeles, CA - 8/19/12 – On a sunny day in Malibu, while beach traffic labored along Highway 1, a crowd of people stood listening to a soft-spoken physician from Myanmar. Though English is his sixth language, he spoke elegantly and with passion about his first day on the job. "I was the only doctor, responsible for the millions of people who live [in this region]…so the village leaders promised me, they will elect a young man and a young woman from each village, and I will train them." He went on to describe how they "faced challenges, from the Indian army, the Burmese army...but we never lost hope, because we knew what we were doing…we had faith."
The man speaking was Sasa, a young Burmese doctor in the process of expanding the medical training facilities and hospital he has developed from scratch in his home village, along the border of Burma and India. Throughout his childhood he observed the suffering of his people, not just from political and military turmoil but also from an utter lack of medical care. In response, Sasa was determined to improve the lives of his family and neighbors. As a boy he traveled to Rangoon for schooling, at great personal risk, since his government had outlawed such education. When he returned, his friends and neighbors pooled their money in order to send Sasa to an affordable medical school in Armenia.
While he studied there, his people endured a plague of bamboo rats, famine and multiple atrocities committed by soldiers. As soon as Sasa completed medical school he returned home, again at personal risk, to fulfill his promise. The villagers immediately helped him build a medical clinic, which he is now in the process of expanding. He is also raising funds to support the education of young people in his community, with the goal of bringing the first generation of educated Burmese physicians to his people within the next ten years.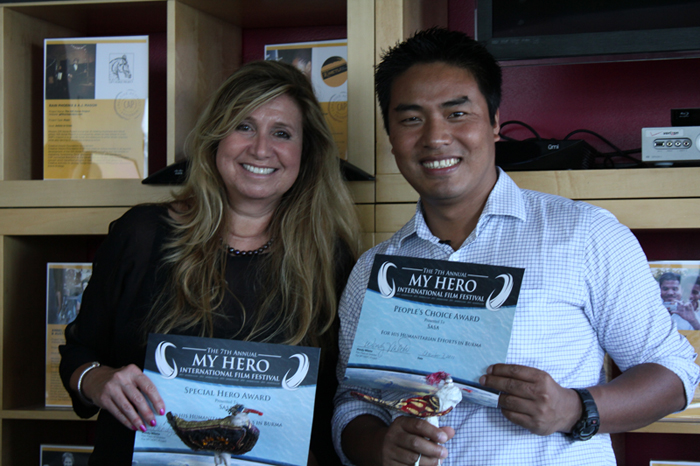 A crowd of supporters and friends gathered at The Dan Eldon Center for Creative Activism (on August 19th World Humanitarian Day) to help honor this extraordinary man. A short film about Sasa, recently was selected as for The People's Choice Award at The 7th Annual MY HERO International Film Festival. MY HERO's festival audiences and international network of students selected Sasa for this prestigious award. The film by Diane Namm also won 1st place in the Festival's Humanitarian category.
In addition to helping Dr. Sasa raise money for his medical operations in Myanmar, Producer Diane Namm is currently seeking funding to expand her short film on Sasa into a feature project. She praised The MY HERO Film Festival for bringing those fundraising efforts to a wider audience, as well as for validating a project so close to her heart. "You never know as a filmmaker, when you find a story that seems very important, if the rest of the world will agree. We've seen, as a result of the MY HERO Film Fest…that people are listening."
Her sentiments were echoed by Sasa, who stated, "it's just amazing to know that there's a group of people, here in America, who recognize the importance of the people who are like us, on the front lines every day, risking our lives." The MY HERO International Film Festival is indeed proud to honor Dr. Sasa's work, as well as the talent with which Diane Namm put his story into film.
Sasa is the first winner of this special new award at The MY HERO International Film Festival. To determine the People's Choice Award winner, MHIFF judges and staff members put together a ballot containing the strongest films from all the categories of the festival. That ballot is then put online with an invitation to MY HERO's network of student users and the general public to vote on their favorite film. Winners are announced online and at the Festival Awards Ceremony, in December at USC's School of Cinematic Arts.
The competition is already underway for the 8th MY HERO Film Fest. If you have a film you would like to submit for The MY HERO People's Choice Award, please visit http://myhero.com/submit
The final deadline is October 1st.
To view Sasa, winner of the first MY HERO International Film Festival People's Choice Award, please visit http://myhero.com/sasa
For more information about Sasa and his work, please visit:  http://www.healthandhope.org/
Or contact:
Diane Namm
For more info on Creative Visions Foundation visit their web site: creativevisions.org
Visit the Creative Visions web page on the project: http://www.creativevisions.org/?s=sasa

For more information on The MY HERO Project visit us at http://myhero.com
Page created on 8/30/2012 3:36:06 PM
Last edited 8/30/2012 3:36:06 PM