Stephen Robert Irwin
by
Britney from Texas
♥ CRICKEY ♥
Steve Irwin is a hero to me because he devoted his entire life to the entertainment of others and the care and treatment of animals. He always thought of himself last. After the animals, the people, and of course, his beloved family. His family consists of two lovely children and his wife. He married his wife, Terri Raines, in 1992. The pair had met a few months earlier when Terri had visited the zoo on a holiday. Terri said at the time, "I thought there was no one like this anywhere in the world. He sounded like an environmental Tarzan, a larger-than-life superhero guy." "Together they had two children: a daughter, Bindi Sue Irwin (born July 24, 1998), and a son, Robert Clarence "Bob" Irwin (born December 1, 2003). Bindi Sue is jointly named after two of Steve Irwin's favourite animals: Bindi, a saltwater crocodile, and Sui, a Staffordshire Bull Terrier who died in June 2004."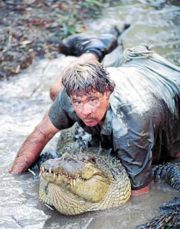 In 2002, Steve Irwin starred in a movie called, The Crocodile Hunter : Collision Course. This is an Australian-Adventure film that is based based on, what was, Steve's nature documentary series The Crocodile Hunter. All of Steve's family play themselves, the Irwins, in this movie. This was Steve's first movie before he died, but yet, it still made over $28.4 million. An amazing amount, especially considering he wasn't exactly a known movie star.


Shortly after 11:00 AEST on September 4, 2006, Irwin was stabbed in the chest by a stingray while doing an underwater documentary which was titled "Ocean's Deadliest". His wife and children were currently away. They were notified about the accident shortly after. Many people were crushed by the news of the death of The Crocodile Hunter. After all, he was practically a legend.
Page created on 3/10/2007 12:00:00 AM
Last edited 3/10/2007 12:00:00 AM
The beliefs, viewpoints and opinions expressed in this hero submission on the website are those of the author and do not necessarily reflect the beliefs, viewpoints and opinions of The MY HERO Project and its staff.