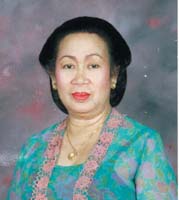 Soedati Warsito Rasman


Photo courtesy of author
The definition of a hero to us is a person who is willing to do something that not many people can do, believes in what he or she believes in and is willing to do their best. We think that the person who has all of these qualities is Soedati Warsito Rasman. Her husband was the governor of Kalimantan. To us, she is a hero, but not many people know about her. To us, she is an amazing woman. And this is how her story begins...
Soedati was born on October 2, 1937, in Pemalang, a little town in Indonesia. She was the 8th child in her family out of a total 13. Her parents' names are Banon Hardjoamidjojo and Isparin. There are only two girls in the family. Her life wasn't exactly perfect, because, at that time, Holland was taking over Indonesia -- but she was enjoying her life. At a young age, she endured tough things. When she was only 11 years old, her father was sent to prison because he didn't want to work with the Japanese, her brother caught on fire while he was working, and her mother became ill. It all happened at the same time, but, luckily, she was brave enough to continue with all the house chores. She would visit her father in prison, her brother in the hospital, and take care of her mother at the same time.

Photo courtesy of author
When she was in high school, she helped her sister-in-law teach students who could not read or write. She didn't get paid for doing this. She did it because she cared. By the time she was in college, she was active in GMNI (Gerakan Mahasiswa Nasional Indonesia), an organization of college students. When she finished college, she was chosen by the residents of Malang to be in congress. When she was a member of the Pertiwi organization she was already not liked by many people. They all envied her because of her success. She was also a congresswoman in Bandung. She always liked to help people and also tried to make the environment around her better. She noticed that two towns, Lawang and Kepanjen (in Indonesia), needed storm walls and she also noticed that many people had died because they weren't being treated for their medical emergencies quickly enough. She worked very hard and successfully got two ambulances and two storm walls for the towns. She did not stop there -- she was still not satisfied. She also noticed that good medicine was not available in the towns, so she went to Jakarta and got a permit to open a pharmacy. She did it all by herself. She had helped so many people. She was chosen to represent PNI and she was the only woman that was chosen. She also noticed at that time that the roads were not as smooth as they are now, so she decided to fix them, too.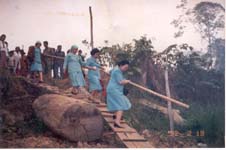 Photo courtesy of author
Not only did she care about her family, but she also cared about poor people. She and her friends made a factory where they would get water from a river and turn it into clean water and sell it to poor people at very low prices. She also organized people to make bridges and buildings in Malang, Mojokerto, Jombang, Tulungagung, Ponorogo, Magetan, Gresik, Lamongan, Bojonegoro, Tuban, Sidoarjo, Surabaya, Jember, Blitar, and dan Banyuwangi. She also built a house for firefighters at the airport in Surabaya. She was also active in Dharma Wanita (a women's organization)and PKK.
When her husband, Warsito Rasman, became the governor of Kalimantan, Soedati was very eager to help the people in Kalimantan, because it was not yet a very modernized city. She would go to villages with her colleagues and help village people build their houses. She would tell the village people that a good house has windows so fresh air can come in, and a bathroom. She also told them that all animals should be kept in a barn at the back of their house. She made a big difference. Now, the village people are more modern than previously. Although her husband was the governor, she did not want to be known as Mrs. Governor. She did all of this, not because she was the wife of a governor, but because she cared about the people's lives.
One day when she was in town, she noticed many young men who were not in school and not working. She decided that she would build a school and dormitories for young men. The school was especially created for young men who are not in school and do not have any money to continue with their studies. She completed the school with many auto repair tools and other equipment. The school for boys became a big success. Next, she wanted to build a school and dorm for girls where they would not just be taught the regular curriculum, but also how to cook, design dresses, and many other helpful things. After both schools became successful, she built a hospital for pregnant women. She saw that many women in Kalimantan died because they gave birth in the streets. She also realized that Kalimantan's people had many talents, especially in making clothes. She promoted handmade clothes from Kalimantan and she named them Batik Kalimantan, which is still famous.
But, she didn't stop there. She saw many gay men on the streets without jobs. She didn't want them to have unhappy lives so every month or so she would hold events for them like song and dance competitions. Soedati loved seeing the gay men happy, because, before she came to Kalimantan, so many people were mistreating them and they were all scared to socialize within their own environment.
Soedati has made a big difference in many peoples' lives and we believe that she does not fully realize how many people she has helped. She is a wonderful person. She still helps many people right now! She lives in Surabaya, and sometimes Jakarta and Malang. She moves to different places because she has many businesses to run. She lives with her husband and two of her grandchildren. She gave more or less over 100 people jobs. She will never stop helping and caring for people. I, myself, am very proud to say that Soedati Warsito is my grandmother. So this little summary I wrote, with the help of my beloved friends, of course, is dedicated to my dearest grandmother whom I love very much.
Page created on 6/22/2004 12:30:59 PM
Last edited 9/25/2020 10:08:20 PM