In many cases our heroes become symbols. The great psychologist Carl Jung believed symbols pointed towards something that cannot be known or defined in any precise or literal terms. In other words, whether the symbol represents a cause or a movement, a religion or a perhaps even a business, it points towards something greater than what it literally represents.
For example, Mandela was literally a lawyer, a political prisoner and the President of his country, but the very incantation of his name has become synonymous with unity, and non-violence. Likewise, Einstein was literally a scientist, professor and discoverer of relativity theory, but he represents far more than his specific contribution to science. He has come to represent all types of genius. And we can all think of religious icons whose shapes and colors are symbols that point to some greater meaning. For example, a cross isn't just a historic representation of a means of execution used by the Romans. And the stars and stripes of the U.S. flag are far more than a nice design.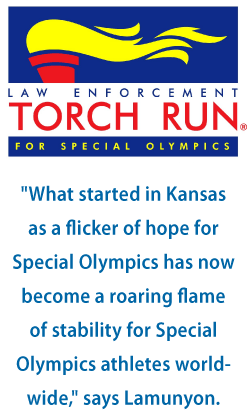 The Olympic torch is just such a symbol. It is not just a flame at the end of a stock used to light a larger fire. It has over the centuries become a symbol of hope. While the actual carrying of the torch was first adopted as a symbolic pageant in the 1934 Olympic games, the Olympic games have always included a ritual flame commemorating the theft of fire from the gods by Prometheus. Now, Prometheus was a champion of humankind known for his intelligence. By stealing fire from Zeus he moved humankind from the darkness to the light. Since the advent of fire is the cornerstone of civilization, Prometheus' gift became a symbol of hope. Without fire humankind would be left in metaphorical and literal darkness.
So I don't think it's any coincidence that nearly 30 years ago, a wet-behind-the-ears Police Chief of Wichita, Kansas, the largest city in Kansas, got the idea to bring this flame of hope into the realm of Special Olympics through the International Association of Police Chiefs (IAPC). Indeed, the efforts of Police Chief Richard LaMunyon, the youngest police chief in Wichita's history, and the symbol of the torch brought financial stability and public awareness to the fledgling organization. And by doing so, he, not unlike Prometheus, has brought hope to millions of people with intellectual disabilities and enriched the lives of countless volunteers who have served Special Olympics through an event that has become known as "The Law Enforcement Torch Run for Special Olympics."
Police Chief LaMunyon's quest for fire began in 1981 when he saw two needs:
As a volunteer for Special Olympics, he saw a great need being served with too few resources. He also noticed a lack of public awareness about the great benefits that Special Olympics brought to the intellectually disabled. And he noticed that there was a lack of understanding about how much the volunteers as coaches, and referees and event organizers were enriched by their work.
He saw his own department "serving and protecting" but not participating as a group in a charity that would allow officers to interface on other levels with their community. And he saw police organizations around the world thinly spreading their support across a number of different charities. Finally, he felt that if he could get the strength of the International Association of Police Chiefs behind one charitable effort, the combined efforts of so many police departments could really make a difference to the charity of their choice.

The good works of Special Olympics had captivated Richard's heart and mind and he wanted Special Olympics to become the charity of choice for the IAPC. He saw the idea of a Torch Run as a way to involve local law enforcement personnel in the community. Richard's idea was simple. You raise money through the Torch Run itself. Volunteer law enforcement officers would participate in the Run and collect pledges or sponsorships for each mile they ran. There could also be sales of Torch Run t-shirts to runners and to the public.
But he had two challenges:
To help support and get elected an IAPC President who would champion the concept of putting its muscle behind a single charity and,
Convincing Special Olympics founder Eunice Kennedy Shriver of the efficacy of IAPC support.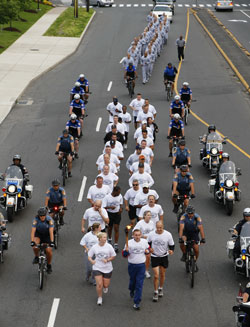 Through his gentle but firm disposition, his strength of character and his single-minded focus, with inspiration and perspiration, and after three years of successful runs in Wichita, Richard succeeded in convincing the IAPC that supporting Special Olympics would enrich the lives of individual officers, and positively effect local community perception of local police departments while benefiting a charity that championed the rights of the intellectually disabled. Today, thanks to its outstanding leadership and broad range of support, the International Association of Chiefs of Police is recognized as the founding law enforcement organization of the Law Enforcement Torch Run for Special Olympics, with active involvement from police unions to federal law enforcement agencies to correction officers. Richard also persuaded a necessarily cautious Shriver that the IACP would be an ideal sponsor of the Torch Run.

"What started in Kansas as a flicker of hope for Special Olympics has now become a roaring flame of stability for Special Olympics athletes worldwide," says LaMunyon. Indeed the Law Enforcement Torch Run has become a year-round fund- and friend-raising initiative. As a result of LaMunyon's efforts, there are now 85,000 police officers raising money for Special Olympics Programs through the Law Enforcement Torch Run. In 2008, the Law Enforcement Torch Run program raised $34 million worldwide, and in the past 15 years has raised over $300,000,000! This makes it the movement's largest grassroots fundraiser and public relations cheerleader. All 50 states in the U.S. and over 40 other countries have their own versions of the Torch Run. And every two years, law enforcement officers from around the globe gather to carry the Flame of Hope in the torch run's final leg in honor of the Special Olympics World Summer or World Winter Games.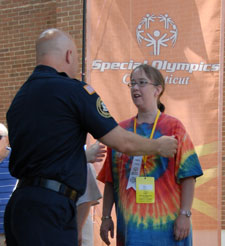 But the funds raised are only part of what the police officers give. I've heard athletes expressing their gratitude to police officers for their willingness to walk with them on their journey—-as friends, mentors and, in many cases, as their personal heroes. When I met Police Chief LaMunyon, it was at the annual LETR International Conference held in Connecticut in 2009, about 2,000 miles from his hometown. He reminded me that the first torch run in Wichita way back in 1981 hosted maybe 30 or 40 people. Today in Connecticut there were well over a thousand athletes and friends and supporters of the athletes at the event.
LaMunyon had no official reason for being at the Torch Run, and no plans to attend until his wife reminded him that he owed it to himself to witness firsthand how the spark he had first fanned had become a flame. And that flame a symbol of hope and he a hero to all of us who know that the intellectually disabled, through their own unique abilities and gifts, bring millions of points of light to a world that can use all the light it can get.
For more information on the Torch Run, contact your local Special Olympics Program. To locate a Program near you, use Program Locator. For other inquiries, please contact:
Christy Collum, Manager
Law Enforcement Torch Run
Special Olympics International
1133 19th Street NW
Washington, DC 20036
(202) 824-0268
or [email protected].
Page created on 9/9/2010 5:48:53 PM
Last edited 1/26/2019 6:45:51 PM