Susan Butcher was a four-time champion in the famous Iditarod. She was born on December 26, 1954, in Cambridge, Massachusetts. Susan had one other sister named Kate. She also had lovely parents, Charlie and Agnes. When Susan was in high school her parents got a divorce and her dad got remarried and moved to Colorado. In her many years, Susan realized her love for animals. She got her first dog when she was four years old. Susan named the dog Cabee. Cabee died when she was fifteen. Luckily, she was able to get another dog, named Maganak. After a few years of racing she met a guy. In late summer of 1978 she married David Monson. After they got married they opened a place with racing dogs and had over ONE HUNDRED dogs!
Susan Butcher is a woman that you will always remember because of the fascinating events that happened in her life! In junior high school Susan realized that she had mild dyslexia. In 1975, Susan moved to Alaska. There she worked at a salmon factory in the summer to make some money because her dream was to eventually buy some dogs to make a team for the Iditarod. In 1978, she had a team of dogs and decided that she was ready to compete. It turned out that there were only three women competing. She did pretty well. In a couple of years she did a few more races and prepared differently to do better. In 1987 at Anchorage, Alaska, she started a race. Early morning the next day, after she took off, she reached the checkpoint Skwentka, but unfortunately she was four hours behind. They reached the halfway point and stayed for 24 hours. Then at dusk they rode away into the cold winter night. She did very well and reached the finish line three and a half minutes behind the leader and very proudly took second place.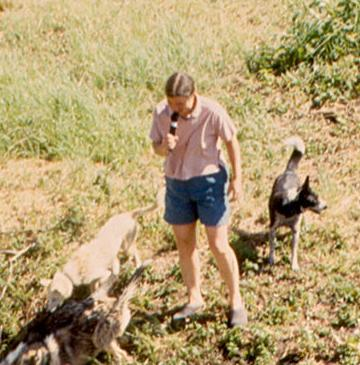 Susan ButcherFairbanks_-_Susan_Butcher_and_Dogs.jpg: Roger Wollstadtderivative work: Dankarl [CC BY-SA 2.0 (https://creativecommons.org/licenses/by-sa/2.0)]
You might think that many people like Susan Butcher have everything and are perfect, but that is not true, nobody is perfect. In Susan Butcher's case, she had many struggles/hardships to overcome, but many major and thrilling events, too. When Susan was sixteen or seventeen she wanted another dog. The only problem was that her mom didn't, so she moved to Maine and then Colorado. In Colorado, one dog was lost and the other killed. After many years in Alaska, Susan entered a race in 1984. She lost a whole day by following a missed marked trail. Also, in that same race she was crossing a frozen river or what seems like a frozen river, then "Crack, splash!" Susan fell straight through the ice and almost froze later in the race. The very next year when she was on the trail, her team came across a pregnant moose. Normally the moose just passed on by, but the moose was hungry. The moose killed one dog, left one dog dying, and left many injured. All in all, the moose left thirteen out of seventeen injured. When Susan reached the next checkpoint she dropped out. Finally, Susan got a year break from hard times in races until 1987 when she followed many people down a trail for fourteen miles and lost several hours. When they pulled into the next checkpoint, Telka, Susan's lead dog that had been in many races, started limping, so she had to leave her behind. Later, one of her dogs died. It was hard, but she knew that he would be in a better place. Finally, in 1989, some of her dogs got sick and she had to leave them behind.
Enough with the hardships already, now let's focus on what everyone always focuses on: the thrilling events! Well first, in 1978 Susan finished in ninth place and was the first women ever to beat tenth place. The next race that she raced in, she came in ninth again. In 1980, she was able to improve to fifth place. In 1986 she won and set a new record of fifteen hours and six minutes. In 1987 again she won first, AMAZING! Then 1989 again she won first, the first person to ever to win three races in a row! Finally, in 1989 someone out-ran her and her team came in second. Then everything flew back up hill again because in 1990 she won again!
Normally, when people write a biography they write it because they admire that person for what they did. When I picked this topic I saw Iditarod and right then and there, I knew that this book would be the one for me. I have always been interested in dog sled racing. As I began reading, I really started to like Susan Butcher because she was always determined to finish every race; even if she didn't win, she would finish. Also, because she believed in herself and in her dogs that she could win or do well in the race. Susan Butcher is a strong, hardworking, and honest person. There are a multiple words that I could use to describe her. One thing I really like about her is that she sets goals for herself, and sometimes I think that more people should do that because it will help them accomplish more. She had great bravery during races.
After the many years of racing Susan was diagnosed with leukemia and later passed away. Susan lived for 51 years, between December 26, 1954 and August 5, 2006. Susan Butcher will always be remembered as a great Iditorad racer. She has taught everyone a lot about everything. The one thing that will always stick with me is that she was always determined. She would practice non-stop. She would always keep going in the races, even if she hit a bump in the road. She was a great person that hopefully everyone will remember.
Page created on 2/19/2009 12:00:00 AM
Last edited 12/24/2020 9:34:05 PM