Steven W. Cantrell
by
Garrett from Mission Viejo
"The Coast Guard has long been known as the armed service that gets more done for less." -Howard Coble (Representative for North Carolina''s 6th congressional district)
Steven W. Cantrell has been working hard for many years to keep this country safe in the U.S. Coast Guard. When my College and Career Planning class was assigned an essay about our personal career heroes, I saw it as the perfect chance to find out more about my career of choice, a U.S. Coast Guard search and rescue helicopter pilot. I have wanted to go into the Coast Guard since I was eleven years old and I want to be like my hero in the fact that I want to be high ranking in the Coast Guard. I first became interested in joining the force because I saw a documentary about the Coast Guard and saw that it was the perfect fit for me. I am now in high school and hoping to get into a college that will allow me to train for the Coast Guard. Similarly, I want to start in the Coast Guard academy just like Steven Cantrell and get my schooling there.
The Coast Guard is charged with the task of protecting America's coastline and ports. The education and training required for the Coast Guard differs for which type of position you want to go in. For example, If you want to go into a civilian position (engineer, tech, etc.) you might have to have different training than if you want to be on the front lines. The pay grade of a Coast Guard officer differs on how high up you are in ranking and how long you have been in the Coast Guard, kind of like a regular civilian job. Some related careers would be any branch of the army because the Coast Guard often works with other branches to help keep this country safe. I read in a recent article that, the Coast Guard has unveiled a new program joining in part with other countries to make operations in the Arctic.
As a young college student, Steven Cantrell graduated from the top of his class. His hard work ethic and concentration on his goals helped him graduate with a In an article from an anonymous author, Cantrell is said to have, "Bachelor of Science Degree and a Master of Science Degree in Business Administration from he Coast Guard Chief Petty Officer Academy, the National Defense University's Keystone Command Senior Enlisted Course, and other service-related schools." Throughout his career, Mr. Cantrell earned many metals: specifically, as stated in an anonymous article online, Cantrell earned: "the Legion of Merit, two Meritorious Service Medals, one Coast Guard Commendation Medal with an operational distinguishing device, seven Coast Guard Achievement Medals with an operational distinguishing device, and numerous other personal and service awards. He has earned a permanent Cutterman insignia, Coxswain insignia, Boat Forces Operations insignia, Command Afloat and Ashore devices, and a Command Master Chief (Gold Badge) insignia." These days, he is going all around the country visiting members of the Coast Guard and their families.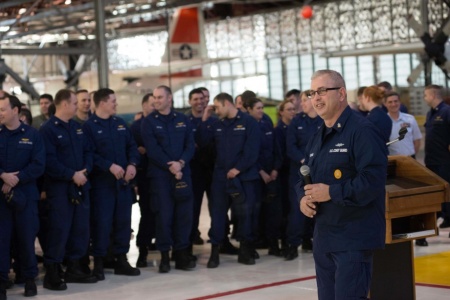 Steven Cantrell is an everyday hero who does all he can to keep the U.S. safe. First of all, he commands The U.S. Coast Guard who keeps the coast and surrounding waters safe from invaders and contraband. Also, the Coast Guard conducts search and rescue missions to help safe sinking ships or anyone or thing that is in danger in the water. Someone who helped Cantrell get to where he is today is former Master Chief Petty Officer Michael P. Leavitt, who commanded him all the way up until Cantrell relieved Leavitt in 2014. A great quote that shows how committed the entire cost Guard is to keeping us safe is stated here, ""The Blue Book says we've got to go out and it doesn't say a damn thing about having to come back." - Captain Patrick Etheridge, USLSS. This just shows the risk Cantrell and his branch of the military takes to keep this country secure.
I have personal goals that I would like to accomplish throughout my life. First, in high school I would like to graduate with a 4.0 or high 3. Also, I aim to be a varsity water polo goalie and excel there. Also while in high school, I plan to attend a maritime course every spring in order to learn more about my field before I even get there. In college, I want to play water polo as well and win some sort of high award. I aim to attend the Coast Guard Academy and graduate with a 4.0. I also I aim to take a few health courses in college to prepare me for search and rescue work. As for my career, I want to be Coast Guard search and rescue pilots to help people in need just like my role model and idol, Steven W. Cantrell.
Page created on 1/15/2016 12:00:00 AM
Last edited 1/15/2016 12:00:00 AM
The beliefs, viewpoints and opinions expressed in this hero submission on the website are those of the author and do not necessarily reflect the beliefs, viewpoints and opinions of The MY HERO Project and its staff.