Born May 11, 1904 in Figueres, Catalonia, Spain, Salvador Domingo Felipe Jacinto Dali y Domenech, or Dali for short, was famous for his weird and eye-catching surrealist paintings. Dali himself was just as bizarre as his works. He loved drawing attention to himself by doing unusual things. His mother, Felopa Domenech Ferres, always encouraged his artistic talent.
While in drawing school in 1916, Dali was introduced to modern painting on a summer vacation with a friend and local artist who was constantly visiting Paris. A year later, in 1917, his father had an exhibition for Salvador's charcoal drawings in their own home. In 1919, he had his very first public exhibition at the Munical Theater in his home town. Later he moved to Madrid and his fellow students' attention was not only drawn to Dali's striking style but his early Cubism work.
In 1926 he was expelled for saying the professors were not eligible to give him exams because he knew his artistic abilities surpassed theirs. Later that year he met, for the first time, Pablo Picasso, whom he looked up to. Over the next few years he was greatly inspired by Picasso and Miro, while he still developed his own unique style. His influence ranged from all styles of art to math. He also started growing a crazy, flamboyant mustache, which was inspired by his icon, Spanish master painter Biegor Velazquez.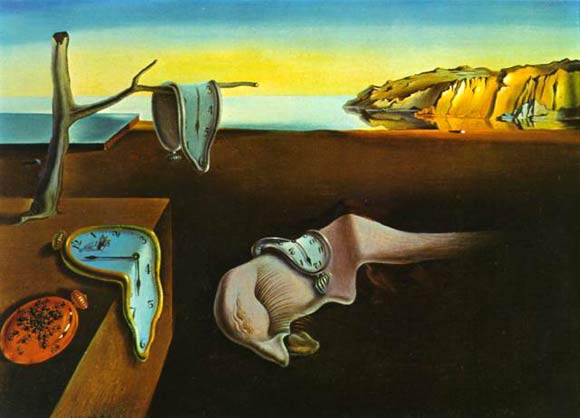 In 1929 Dali worked with the surrealist film director Luis Bunel, mainly writing the script. He also met his future wife, Russian immigrant Gala, that year. She also became his muse. After having an important professional exhibition that year, he officially and finally joined the surrealist movement. In 1931 created Dali created one of his most recognizable paintings, The Persistence of Memory or Melting, also called Melting Clocks. He took part in the London Surrealist Exhibition in 1936, and lectured in a deep-sea diving suit. Later, during the Spanish Civil war, Dali stayed apolitical, which is when you do not care about politics, and was expelled from the surrealist group.
His post-WWII period consisted of optical illusions, science, and religion. He named this period the "Nuclear Mysticism." In 1982 he did his last drawing, which was given to King Juan Carlos of Spain,after the king visited Dali's death bed. His wife died that same year; Dali lost most of his will to live. Dali didn't die until January 23, 1989, of heart failure. His body remains in the crypt of his Teatro Museo.
Salvador Dali has personally inspired me to think outside the box; to be comfortable being me no matter how weird I get. Now I can look to the world for inspiration. His work is so diverse and unlike anything else I have ever seen; it has taught me that as long as I like my art work then I am doing everything right.
Dali had a life full of what he loved and was amazing at creating art. His skills were not only in painting but in sculpting, theatre, photography and fashion. Because he created so many pieces of art, he will never be forgotten. His works will live forever.
Page created on 7/28/2014 6:16:46 PM
Last edited 4/30/2020 8:11:21 PM