Sophie Delezio
by
Sarah from Forster, Australia
The definition of a hero is a remarkably brave person who has shown great courage and is admired. It can also be someone who inspires people or has changed the world. Sophie Delezio is a perfect example of a normal six year old girl that you could classify as a hero.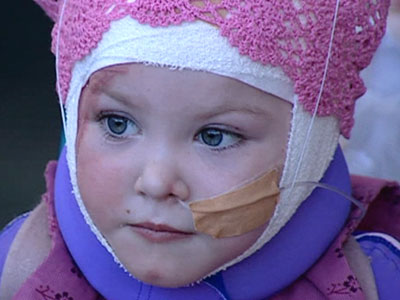 Born in Sydney on the 17th of January 2001, Sophie Joy Delezio was a perfectly normal girl. Unfortunately, this didn't last for long. On the 15th of December 2003, Australia's Angel nearly lost her life. While sleeping in her childcare centre, a car smashed through the window and into a room filled with many infants, including Sophie. Poor Sophie was run over by the burning car. Being trapped underneath the car for a long period of time hurt Sophie in many ways. She made news headlines and Australia was told of her injuries. Sophie lost her left ear, a number of fingers as well as both her feet and legs. She also received burns to 85% of her body. Police and medical experts discovered that the driver, Donald McNeal, 68, had a seizure at the wheel.

Just as Sophie was recovering and seeing a real improvement in her health, another near fatal accident happened. On the 5th of May 2006, Sophie was hit on French Forest Road, Seaforth, when a sedan failed to stop at a crossing. The car hit Sophie, causing her to fly 18 metres through the air. Her condition was assessed at the hospital. She suffered a number of rib fractures, a broken jaw and shoulder bone, bruising to her head, and a tear to her left lung. Sophie also had a heart attack.
The Day of Difference Foundation was set up by her father Ron as a result of her injuries. It helps burn victims, families, hospitals and other facilities by raising money for them. The organization also helps raise awareness in the community and supports medical research.
Sophie Delezio is also an ambassador for 2008 World Youth Day. By doing this Sophie is using her fame to inform others and that's really important.
Sophie Delezio is my hero because she is brave, positive, inspiring and never gives up. To me, heroes aren't sporting people - they are kids like Sophie that don't complain and who use their painful life to educate and inspire others. Sophie Delezio is an inspiration to burn victims to keep on fighting. Imagine being hit by a car twice and never complaining or giving up. Sophie has made me realize that there is always someone worse off than you and you should think about those who aren't so lucky. Sophie isn't a famous sporting legend or scientist, she's just a normal girl that always stays positive and that's why she is my hero.
Page created on 8/26/2010 10:07:49 AM
Last edited 8/19/2018 6:18:55 PM
The beliefs, viewpoints and opinions expressed in this hero submission on the website are those of the author and do not necessarily reflect the beliefs, viewpoints and opinions of The MY HERO Project and its staff.
Related Links
Wikipedia
- The Wikipedia page has excellent information about Sophie Delezio and links to other websites containing information about her.
Day of Difference Foundation
- The Day of Difference Foundation is an organisation set up by Ron Delezio to raise money for burn victims and hospitals. This website tells you about the Day of Difference Foundation's work.
World Youth Day
- is a worldwide encounter with the Pope which is typically celebrated every three years in a different country.
World Youth Day 2008
- was held July 15 - 20th in Sydney, Australia. Sophie was an ambassador!