Chief Spokane Garry
by
Katie from Spokane
Chief Spokane Garry was a Native American leader born in 1811 in eastern Washington. He was the son of the tribal chief of the Middle Spokane's, Illim-Spokanee. He had a difficult life growing up during the times of fur trades, white settlers, and countless numbers of missionary visitors. Through all of these struggles Chief Spokane Garry was able to become educated, learn English and French, and open a school to teach his tribe members. He was one of the first Native Americans to educate his people in reading, writing, and agriculture. This dedication and passion for education makes Chief Spokane Garry a hero in my eyes.
Spokane Garry was lucky in 1825 when he was chosen to be educated at one of Hudson Bay Company's missionary schools. The idea was to educate the Native American boys in the ways of white settlers and to return them home to spread Western-style civilization among their tribe. Chief Spokane Garry did return home, however, taking up the ways of the white settlers was never something comfortable for him. Instead, he chose to open a school for his tribe and teach them how to read, write, and use new agricultural techniques to their advantage.
Chief Spokane Garry was a strong advocate for fair land settlements and continually fought for his tribes land rights throughout his life. He was also an advocate for peace among the white settlers and his tribe. His education and language skills allowed him to communicate with settlers, trade, and become a strong leader for the Spokane Tribe.
Chief Spokane Garry exemplifies the character trait of responsibility. He took responsibility in advocating for his tribes right to land on the Spokane River. Although this goal was never attained, he never gave up fighting for the rights he believed in. He was a strong leader in his tribe and set a good example for others. He chose to use his education to teach his tribe members, something he felt was his responsibility since he was given the gift of education. Chief Spokane Garry was a respectable leader who wanted the best for his tribe and always looked for the peaceful way to handle any situation.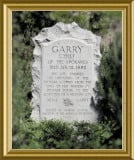 Spokane Garry died in 1892 while living in his teepee on a white landowners property along the Spokane River. He is an inspiration to me because he was one of the first schoolteachers in the Spokane area. He overcame great obstacles by becoming educated and passing on this knowledge in a time when Native Americans were treated so poorly. He fought for what he believed in and did so in a peaceful manner. Today he is still honored in his hometown of Spokane, Washington with a statue standing proud in Chief Garry Park.
Page created on 7/27/2011 12:00:00 AM
Last edited 7/27/2011 12:00:00 AM
The beliefs, viewpoints and opinions expressed in this hero submission on the website are those of the author and do not necessarily reflect the beliefs, viewpoints and opinions of The MY HERO Project and its staff.