Shannon Holloway
by
Alex from Austin
I always had so much fun with my granddad, but then the cancer came. The cancer took away from me a compassionate, smart, and optimistic person. It took away my granddad, Shannon Holloway.
My granddad lived a great 67 years before losing his battle to cancer in the spring of 2006. Shannon Holloway was born on November 18, 1939 in Georgia. When he finished high school, he went on to Huntington College in Alabama. At the end of college he knew that he wanted to help others, and so he set his sights on becoming a doctor. To reach his dream, he went to the University of Florida where he earned his PhD. He then taught at Texas Tech Medical School. My granddad loved to learn and never stopped pushing himself to gain more knowledge about his profession, an orthopedic surgeon. When I asked my grandmother she said, "Granddaddy could never learn enough. He was always hungry for more!" "Shannon Holloway was a well respected doctor," said Suzanna Cisneros Martinez. "Dr. Holloway has remained in touch with his roots – an upbringing that taught him humility, respect for his fellow man, honesty and ethical behavior," Janssen says. He has and will continue to make each of us a better person through his example as a tireless patient advocate, community leader, devoted father, husband and friend.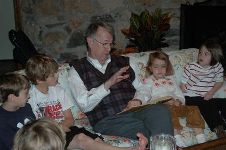 One of the things I admire about my granddad is that he always wanted to be a surgeon and wanted to help people. My granddad loved life and he wouldn't waste a minute of it. He would either be on the sea-do or driving around in his convertible. He loved telling stories to me and my family. My granddad has taught me to always be happy and have a positive outlook on life. He was always doing something he loved, and he has shown me that I should do that too.
Sadly, the cancer took my granddad away from me, but it could never take away the wonderful things that he taught me. My granddad is still very much alive in my heart and these memories are things that no one can take away.
Page created on 1/30/2008 12:00:00 AM
Last edited 1/5/2017 11:19:57 PM
The beliefs, viewpoints and opinions expressed in this hero submission on the website are those of the author and do not necessarily reflect the beliefs, viewpoints and opinions of The MY HERO Project and its staff.