Steve Irwin was born Queensland Australia in February 22 1962. His parents Lyn and Bob instilled a strong love for animals and conservation in Steve from a very young age (just like he would later do with his own children). His father was a successful plumber who also showed a love for reptiles and other animals, and in the 1970's he opened the Beerwah reptile Park, now known as the Australia zoo. Lyn Steve's mother also showed a love for wildlife. She used her nurturing qualities first with her children and later with injured animals. Sadly she was killed in a car crash in the year 2000. Steve quotes, "I know pain, I've been busted up, smashed up, hospitalized. My body has been traumatized and injured for over 40 years, but the pain of losing my Mum is unbearable and relentless. There is no medication - just tears." I think that quote really shows how much Steve loved his mother.
Another women in Steve's life was Terri. Steve and Terri met when Terri stopped by the Australian zoo as a tourist. They say that they fell in love the moment that they saw each other. Within a few days, Terri was volunteering at the zoo. Steve and Terri got married in 1992. Bindi and Bob, Steve's two kids. Bindi was born on July 24, 1998. She had the love of animals instilled in her by Steve and Terri from a very young age. She later started her own TV show made to mix fun with education about animals for young children. His son was named Robert, but he was called Bob. Bob was born December 1, 2003.
I think some of the examples of heroism that Steve showed were risking his life to educate people about the animals that he loved. He said that he had been bitten, scratched, and bruised by the animals that he caught, but that still did not detour him from capturing them to help spread the love for animals all over. I think Steve is so amazing because he didn't do this for money or anything else except the animals. I think if we were all so passionate about a cause like Steve this would be a much better world for everybody. Some of the Characteristics that showed Steve's heroism is the courage he showed. For example he would put his life on the line to save his animals. Another wonderful characteristic Steve showed was passion. His job definitely took passion and you could really see he would not want to do anything else. Also, he showed Commitment for his job. He displayed this when he would leave his wife and children for long amounts of time for his show. I think there is no doubt Steve is one of the best heroes this world has ever seen. Steve Died at 12:53, Monday September 4th 2006 on Batt reef, in Queensland Australia. The lesson that I think I learned from Steve is, that if there is something you truly love then you should never give up on it. I hope can be like Steve when I'm older.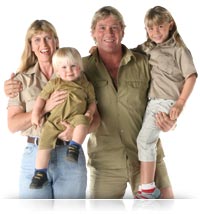 Steve's love for animals, especially reptiles, was always very strong so his parents decided to get him his first pet snake, a Scrub python that was 12 feet long. With his father having a love for herpetology and his mother an avid wildlife rehabilitator, they soon realized that suburbs were not the place for them, so in 1970 they moved to Queensland in 1970 and the Beerwah reptile and fauna park was born. Steve began handling crocodiles from the very young age of nine. He was a big help around the park. He helped feed and take care of all the animals. Steve graduated from Calendar State High school in 1979. Soon after that he moved to North Queensland and began trapping crocodiles and removing them from populated places where they could cause trouble. The Beerwah Park was handed over to Steve and in 1992 it became the Australia Zoo. In 1991, Steve met Terri while giving a crocodile presentation and by June of 1992 the couple got married in Terri's hometown of Eugene, Oregon. The crocodile trapping trip/ honeymoon became the first episode of the "Crocodile Hunter". The show was first aired on Australian TV's in 1996.
In 1999 Steve filmed " The Ten Deadliest Snakes In The World". Soon Steve's show was shown in 137 countries and he had a TV audience of over 500 million people and almost everybody knew his catch phrase, " Crikey".
In 1998 Terri gave birth to Bindi, Steve's first child. Soon Terri and Steve had Bindi in their TV show. From a very young age Bindi was exposed to animals. But soon after Bindi's birth, tragedy struck the Irwin family. Lyn, Steve's mother was killed in a car crash. Steve had a wonderful relationship with her death took a very big toll on his happiness. But in 2002 Terri gave birth to Robert, Steve's second child. Although Lyn's death left a big hole in his heart, Bob helped him gain his happiness back. At this point in Steve's career he pretty much accomplished everything he could have ever hoped except a movie. So he struck up with a Disney to make an Imax movie called "Oceans deadliest". So Steve set out with his camera crew to the Great Barrier Reef. On the fateful day of September 4th 2006 Steve was snorkeling on Batt reef, Queensland, Australia and he got speared in the heart by a stingray and died instantly. I think that it's horrible Steve died in such a horrible way and all around the world his fans felt heart sick for one of the world's most important conservationists was killed.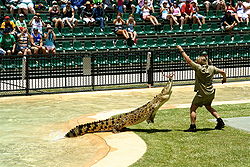 The main hardship in Steve's life was how to save the animals that he loves so dearly. From a very young age Steve always had a love for animals which soon evolved into a passion for saving all of the animals that he loves so much. So right out of high school he began trapping crocs and relocating them to places more suited for them. Soon he was rescuing animals and rehabilitating them in his zoo. But something that Steve could never have dreamed of was his career of informing over 500 million people about conservation on his TV show "The Crocodile Hunter". I think Steve is a wonderful example about overcoming hardships and not giving up on things you care so much about.
Steve had many major accomplishments, here are a few. First, of all he owned one of the world's must famous zoos. And he also had his own TV show that reached over 500 Million people. But the one I think is the must amazing is the way he knew and was able to handle all of the animals he worked with. For example, he knew almost every animal he ever found and he didn't just know their names, he knew what they ate, if they were venomous, and many other things. Also, he was able to handle animals that not only take physical strength to restrain, but they take practice and experience.
Page created on 7/8/2009 12:00:00 AM
Last edited 7/8/2009 12:00:00 AM