Steve R. Irwin
by
Rachel from Peterborough
When I was little, I would turn the television on and quickly switch the channel to Animal Planet for one reason. To see what exciting adventure The Crocodile Hunter would go on that day. Steve Irwin (also known as The Crocodile Hunter) was a man who lived for conservation and animals. Big or small, he would show us how they survived and what we could do to save them. No matter how hideous or gross the animal was, he would show us how extraordinary and amazing they could be. Steve risked his own life for the animals he knew and loved.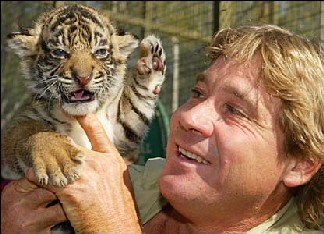 Steve Irwin is my hero because he helped endangered animals survive and live on for generations to come. Ever since I was a little kid, I would look up to him because when I was young, I loved animals too. Irwin's whole life was based on wildlife and animals. Steve was brave and he wouldn't let anything get in his way of reaching his goal for wildlife conservation. Even his daughter, Bindy Irwin, was inspired by him. She has started her own television show about animals and their importance on the earth.
Steve showed us that every animal is spectacular and should be respected, however odd looking or repulsive they may seem. He loved every living thing especially reptiles and anything that crept or crawled. That was how he got the name of his show, "The Crocodile Hunter." In 2002, he came out with his first movie, basically the same as his famous show. It was called "The Crocodile Hunter: Collision Course." It brought in $33 million at the box office worldwide. Still, in the movie, he is protecting animals. it shows that he really does love animals and he is not afraid to say it. Although, that's pretty obvious after all that he has done.
But animals weren't the only things he loved. His wife and children were right behind him in his work and still are, even after his death in 2006. Steve and Terry said that it was love at first sight. They both loved animals and working with them. Their daughter, Bindi Irwin, was inspired by her father so much that she has started her own animal show called "Bindi, the Jungle Girl," just to make her daddy proud. Her speech at Steve's public memorial, received a standing ovation. It was also voted the best television moment of the year.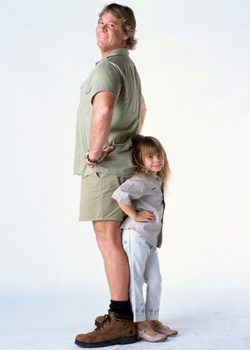 Another reason why Steve Irwin is my hero is because he also helps people when they are in a tight spot. In 2003, he was filming one of his documentaries about sea lions in Mexico, when he heard from his radio that two scuba divers were missing near the area where he was. He immediately dropped everything he was doing and started searching for the two divers. After two days of searching, one of the scuba divers was found on a nearby ledge of a rock. Sadly, the other diver was found dead by a search plane not far from where the other scuba diver was rescued. Steve Irwin didn't just help animals, he helped people too. Sadly, on September the fourth, Steve Irwin was killed by a stingray when its barb fatally stabbed him in the heart while in the Great Barrier Reef. Ironically, he was filming one of his documentaries: Ocean's Deadliest. He was buried in the Australia Zoo which was his favourite place to be, since there were many animals there. He will always be remembered as the man who had an amazing love for animals and wasn't afraid to take risks for them that would risk his life.
Page created on 1/10/2008 12:00:00 AM
Last edited 1/10/2008 12:00:00 AM
The beliefs, viewpoints and opinions expressed in this hero submission on the website are those of the author and do not necessarily reflect the beliefs, viewpoints and opinions of The MY HERO Project and its staff.
Extra Info
I'm Rachel from Peterborough. Ever since I was a little kid I loved animals and Steve Irwin was my Idol and role model. This was in memory of Steve Robert Irwin. Rest in Peace Mate!