Stephen Robert Irwin
by
Josh from Boca Raton
"My belief is that what comes across on the television is a capture of my enthusiasm and my passion for wildlife."
Steve Irwin was a great man. Steve Irwin was a man who risked his life countless times no matter what the challenge was and died in the process to show people animals all over the world and how we can protect injured animals and animals that are almost extinct.
Some good information can help those people in the world that don't know Steve Irwin a little about him. He was born February 22, 1962 in Essendon, Victoria, Australia and grew up there for almost his entire life. In his early years as a child he had many pets which got him interested in animals and he once said that while he was a child that he would love to visit zoos and feed and pet the animals. In his middle age he married Terri Irwin and they gave birth to what Steve called his beautiful children.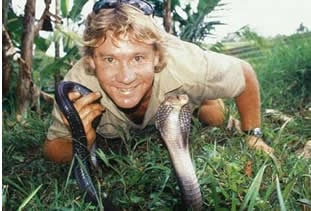 Irwin later accomplished his dreams, only this time it is all about him and his animal buddies. He started his dreams by making a zoo for injured and endangered animals in Australia know known as the Australian Zoo. Another one of his dreams was his TV show on Animal Planet "Crocodile Hunter" which was a very popular show about him connecting with the animals, telling people about the animals, and trying to find ways to help the animals if injured or to tell people how to save them. He even discovered his own turtle which was known as Irwin's Turtle, which is facing extinction.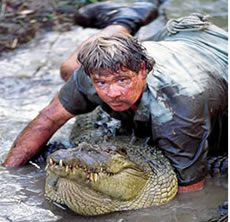 Irwin also inspired people to do things like he did through movies, talk shows, and books. He persuaded people all across the globe by using his show to help endangered animals like the mighty tiger and the loving koala bear. He also set some great examples for first time animal researchers by talking about the first time he researched animals on other Animal Planet shows like "The Croc Files", The Crocodile Hunter Diaries", and "New Breed Vets". He was also able to give speeches at save the animal meetings and all sorts of animal helping foundations.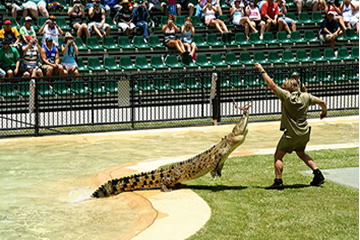 Irwin also received many awards because of his help to all animals across the globe, but he got all of them after his death. He got one of the best awards a man can get which is the Lifetime Achievement Award from accomplishing all of the dreams that he wanted to before he died. He also got awards from movies and TV shows. Not only did he get those but he got the Centenary Medal for his "service to global conservation and to Australian tourism".
Irwin was a great example of a hero because if it wasn't for him risking his life some people would not know what to do or how to do something if a wild animal was surrounding them or even if an animal was close to them. Irwin was also born a great man and always wanted to die a great man and he did so.
Page created on 10/11/2010 12:00:00 AM
Last edited 10/11/2010 12:00:00 AM
The beliefs, viewpoints and opinions expressed in this hero submission on the website are those of the author and do not necessarily reflect the beliefs, viewpoints and opinions of The MY HERO Project and its staff.
Extra Info
Steve Irwin loved animals so much that when he died he wanted all of his money to go to his family and all of his animal friends at his zoo.