Shirley McGreal
by
Morgan from Roxboro
In 1973, Shirley McGreal started a nonprofit charity known as the International Primate Protection League (IPPL). She works to stop illegal primate trafficking and abuse. Her foundation has a ten gibbon sanctuary that takes care of more than thirty gibbons in Summerville, South Carolina. Shirley McGreal is doing so much for the primate world and is changing their lives. She stands up for them and is doing everything she can to conserve all living primates. This is why I consider Shirley McGreal my hero.
Shirley first began seeing primates being mistreated when she went to live in Thailand. She saw a shipment of monkeys being shipped to New York and later saw the primates as pets and for sale at markets. "The babies looked so helpless and, rightly or wrongly, I thought they were appealing to me for help...", said McGreal when explaining her feelings. This is when she decided that what she had witnessed was wrong and she needed to stop it. Shirley McGreal stood up for what she believes in and started the IPPL. She has an intense passion for what she and I both believe. Also, by her actions, she has made me want to go out into the world and help the animals who have been mistreated.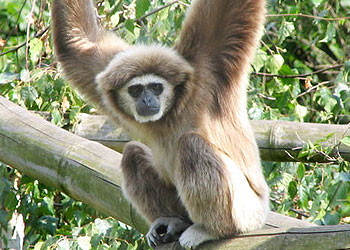 Even though Shirley McGreal knew that there would be controversy over what she was doing, she did it anyway. Those who sold the gibbons at markets and had them as pets would be very angry over her starting the International Primate Protection League. Those who sold them at markets and made a profit off of them would be very upset. They would not be making their money like usual from those who bought the primates as pets, for local bush meat, and smuggling. She knew that there would probably be protesters that would possibly try to ruin her foundation. None of this mattered to her. I look up to Shirley McGreal for her bravery to start the IPPL. When I am older, I hope I am brave like her so that I can do something meaningful, even if I know that there will be controversy and that I would make people dislike me for what I was doing.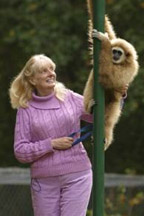 Through everything that Shirley McGreal has done, she really inspires me to just go out into the world and save animals. Animals mean a lot to me as well as Shirley, and I want to go out and tell others about saving animals. Hopefully through her organization, others will see that they need to help save the lives of animals. Those who are mistreating animals and selling them will understand that what they are doing is awful and that they should be protecting animals instead of harming them. The things that she does will hopefully inspire others to help save the mistreated primates and other animals as well.
Shirley McGreal has done so much for the primate population. Her organization has helped stop illegal trafficking abuse. Her international network has grown to 15,000 members, 31 field representatives, and 26 advisors. Her actions have inspired other conservation organizations, animal protection groups, primate sanctuaries in other countries, and me. She stood up for what she believes and continues to help primates even if there is anger towards her. Shirley McGreal is truly a hero.
Page created on 6/9/2009 12:00:00 AM
Last edited 6/9/2009 12:00:00 AM
The beliefs, viewpoints and opinions expressed in this hero submission on the website are those of the author and do not necessarily reflect the beliefs, viewpoints and opinions of The MY HERO Project and its staff.