Sandra Day O'Connor
by
Angelica from Austin
A hero is someone who is loving, kind, selfless, and will sacrifice their wellbeing for the good of others. Sandra Day O'Connor is all of these things and has accomplished great things not only for herself but for all women. She was the first women to become a Supreme Court Justice and really opened doors for women all while being a mother. I have always had an interest in law and she is my own personal hero because of all that she accomplished in an era, where being a lawyer was predominately a man's job all while having the support of her husband and even her children when she had them. She even sacrificed her own career for the good of her family, which is something Jesus did and makes her a great hero of mine.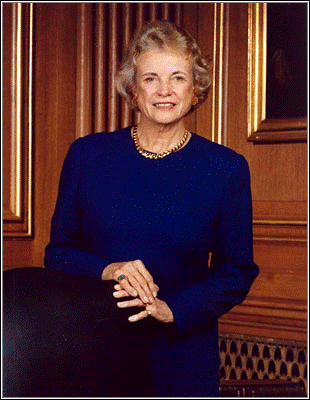 Sandra Day O'Connor was born on March 26, 1930 to Harry and Ada Mae O'Connor. Sandra's parents owned the Lazy-B-Cattle Ranch in Arizona where she grew up, her closest neighbor being 25 miles away. In addition to this, the ranch did not have electricity or running water until she was seven. At the age of seven she did not yet have any siblings and spent her time learning how to drive and shoot rifles. Because her parents lived in such a rural area it was not easy for her to attend school and so she was sent to live with her grandmother in El Paso, Texas and attended Radford and all-girl school. After she graduated from the Radford School she attended Stanford University as an economics major. The reason for her interest in law was because of a dispute over her family's ranch. She enrolled in Stanford Law School and graduated in two years instead of the typical three. She graduated in 1950 magna cumlaude and third out of her class of 102. This is where she met her husband John Jay O'Connor, who graduated a year later. During this time no California law firm would hire her, however her husband was sent to serve in Germany and she went with him and worked as a civilian lawyer for the Quarter Master's Corp. In 1957 she moved back to Arizona and had three kids, taking a break from her work to care for them.
During this time she decided to devote her time to volunteering, when she was ready to work again she got a job as an assistant to Arizona's Attorney General. In 1669 the state senator she was working for retired and she was chosen to replace him. The position opened in 1970 and she won and was then re-elected in 1972. She then became the republican majority leader and was the first woman to hold this position. In 1981 President Regan nominated her for the Supreme Court because he needed the female vote, he kept her nomination out of obligation. She served from 1981-2006 and was not widely liked at first, in 1990 she became the unpredictable vote. She now hears cases in the Court of Appeals and was awarded the Medal of Freedom on August 12th, 2009 by President Obama.
Page created on 9/3/2015 12:00:00 AM
Last edited 3/2/2019 8:52:29 PM
The beliefs, viewpoints and opinions expressed in this hero submission on the website are those of the author and do not necessarily reflect the beliefs, viewpoints and opinions of The MY HERO Project and its staff.