Sadako Sasaki was only two years old when the atomic bomb was dropped on the City of Hiroshima in the midst of World War II in 1945. Her home was just a mile away from ground zero. She was thrown out of her home, but escaped uninjured. Little did her family know of what her beautiful character and hopeful nature would come to represent to the world in the years and decades to come.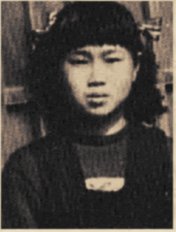 Growing up, Sadako was a healthy and athletic child. She loved to run, and was the fastest student in her class at school, never losing a race. She dreamed of becoming a physical education teacher. Suddenly, ten years after the bombing, Sadako became sick. At first they thought it was just a cold. But soon lumps appeared on her neck. The lumps expanded causing her face to look swollen, and they wouldn't shrink. By January of 1955 purple spots were forming on Sadako's legs. She was sent to the hospital for testing. Her diagnosis was Leukemia, known as the "Atomic bomb disease". Sadako's parents, doctors, and friends all conspired to keep the details of her disease away from Sadako. They never told her she had Leukemia, or how long she would stay in the hospital.
Sadako's friends from school took turns visiting her in the hospital. On August 3, 1955, Sadako's best friend, Chizuko Hamamoto, took up a piece of paper and began folding it into a paper crane and reminded Sadako of the Japanese saying about the paper cranes - Those who fold 1000 paper cranes are granted a wish. Inspired by this saying, Sadako began folding them herself. Paper was scarce in the hospital and so Sadako used every scrap she could find to make her cranes, often asking other patients for the gift wrappings they received or using medicine labels.
Sadako was dedicated to her cause, often tirelessly folding day in and day out. At first, she wished to be well and able to run once again. She had a deep desire to live. But as she grew sicker and weaker, Sadako began to realize that she wouldn't become well again. She began to wish for peace in the world so that others wouldn't need to experience what she had. Into each crane, and every fold, she poured her heartfelt intentions: "I will write peace on your wings and you will fly all over the world."
There are two versions of Sadako's story. In one, she passed away before completing her 1000 cranes. After her death, Sadako's family and friends continued to fold the remaining cranes so that they could be buried with her. In the second version, Sadako did reach her goal of 1000 cranes and she continued to fold cranes until she died.
No matter the ending of her story we can be inspired by Sadako. She never complained of the pain or the fear she experienced. Instead she folded her intentions and prayers into her cranes. In spite of this, Sadako's disease progressed. On October 25, 1955, Sadako passed away in the hospital surrounded by her family.
Sadako's friends and classmates began raising money after her death in order to erect a monument to honor her and all of the children who had died from the aftereffects of the atomic bomb. In all, more than 3000 schools around Japan sent funds to help the movement. The statue of Sadako holding a golden crane was completed in May of 1958 in the Hiroshima Peace Memorial. On it is the inscription:
This is our cry.
This is our prayer.
Peace in the world.
The story of Sadako holds the hope of all that one day there will be a world without nuclear war. There is no need for more children to die this way, or to cause this much suffering. She is a symbol of our nuclear world. In honor of her wish, hundreds of thousands of paper cranes are sent to be displayed at the Children's Peace Monument each year. Sadako and her story have helped keep the hope for peace alive in the hearts of people worldwide. The paper crane is now an international symbol of peace.
Sadako is my hero. She has inspired me in so many ways. Her tenacity, hope, and undying courage have been central to my own passion for both peace and healing from my own disease. She is the proof that the world needs to see that one person, no matter their age, can truly make a difference. Through her suffering Sadako saw more than herself, she opened her heart to us and saw the world.
Her story inspired my best friend and me to ask our Girl Scout service unit to create 1000 paper cranes for peace. We're almost finished.
Peace is possible.
Page created on 11/16/2009 12:00:00 AM
Last edited 11/16/2009 12:00:00 AM
Related Links
The Sadako Film Project
- The purpose of this site is to help educators use the story of SADAKO AND THE THOUSAND PAPER CRANES to teach children about the power of one person to create change, the long term consequences of war, and the values that are cherished by all cultures.