Sharon Snyder
by
Ruth from Spokane
Live...Love...Laugh...and Be Thankful (Labor of Love Creations)
My hero is my mother, Sharon Snyder. She was born in Spokane, Washington, where she continues to live today. She is a caring and devoted woman who put motherhood above all else in her life. She successfully raised eight children in a less than ideal situation and remains very involved in their lives to this day. Despite financial hardship, the loss of her husband, my father, and family instability, my mother always maintained a strong faith in God and displayed strength and devotion to her family.
Many years ago my father died and my mother found herself a single parent. The dream of being a stay at-home mom that she'd had since she was a young woman was suddenly taken away. Faced with raising young children on her own, she embraced this challenge as she always had, with courage, determination, and amazing strength. Instead of bitterness she became more giving and caring to us, pouring all of her energy into raising her children. This strength has transferred over to me as I struggle to raise my family as a single parent. She showers me with encouragement and strength.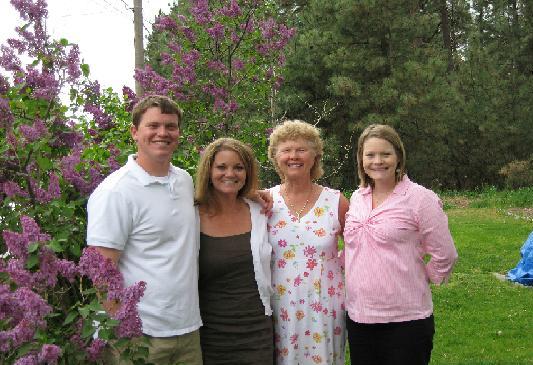 As a thirty-one year old woman, I was faced with a bitter and financially devastating divorce. My mother opened her home to my two toddlers, newborn baby, and myself. She cared for all of us as I struggled to recover from this hardship. While I was filled with hate and anger, my mother encouraged forgiveness. She recently told me about a turning point in her life, when she realized that she needed to give her struggles to God. She could no longer dictate how things in her life would be. God can only do that. Surrendering and forgiveness have driven her life and have been the foundation for my recovery.
My mother always rejoiced in her children's successes. My youngest brother received a full ride athletic scholarship to the University of Montana. Every weekend we would travel to Missoula, or wherever they were playing, sometimes as far away as Tennessee. It was a financial sacrifice, but mom went because she loved to be there with the Griz family. We would celebrate wins and mourn losses. Whichever it was we did it together as a family. Those were weekends of great family time and the foundation for beautiful memories. These are times that I spent with my mom that I will always treasure.
Retired from Nursing for just over two years, my mother continues to show her loving and caring nature. She is finally at home where she has always wanted to be, caring now for her precious grandchildren who are very dear to her heart. She is a constant source of strength for me, offering me encouragement and help whenever it is needed. My mother, my friend, my role model, and my hero; I love her dearly and thank God for her daily.
Page created on 8/1/2015 1:37:20 PM
Last edited 1/5/2017 11:22:05 PM
The beliefs, viewpoints and opinions expressed in this hero submission on the website are those of the author and do not necessarily reflect the beliefs, viewpoints and opinions of The MY HERO Project and its staff.
Extra Info
I interviewed my mother to get some of the details for this article. The rest of the information was recalled from my life experiences.
Bibliography
Snyder, Sharon. "Personal Interview. "