Susanna Wesley
by
Abby Coker
"The Mother of Methodism"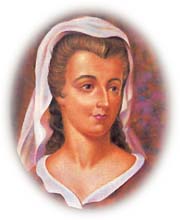 Fame does not always accompany heroism. Susanna Wesley is a wonderful example of a true hero who lived a quiet, yet influential life. Throughout her lifetime, Susanna exemplified perseverance, strength, and humbleness, consistently honoring God, especially in her role as mother. Born in 1669 and the youngest of twenty-five children, Susanna never had the opportunity to obtain a formal education. Nonetheless, she devoted herself to the task of teaching her nineteen children at home. Susanna kept a strong faith in God, enduring with grace the devastation of losing nine of her children to early deaths and the complete destruction of two horrible house fires — one of which necessitated placing her children into separate homes for nearly two years. Afterwards, when the family reunited, Susanna was mortified at her children's improper speech, neglected studies, and worst of all, lack of daily fellowship with God. Quickly taking charge, Susanna taught all her children Latin and Greek, tutored them all in the classical studies, and helped them mature in their Christian faith.
Undoubtedly, as one of the most famous and effective home-schooling mothers, Susanna continues to inspire me and many others. I admire the way Susanna's selfless attitude held her family together when many others would have fallen to ruin. Always humble and gentle of spirit, Susanna employed a remarkable teaching philosophy envied by many less patient observers. Once when coming upon Susanna calmly teaching one of the children, her husband remarked, "I marvel at your patience! You have told that child the same thing twenty times." Looking fondly at the child, Susanna replied, "Had I spoken the matter only nineteen times, I should have lost all my labor." Even though severe physical punishment was a normal part of seventeenth-century education, Susanna always patiently and faithfully stood by her policy of strength guided by kindness.
These teaching methods served both Susanna and her children well. Even with six hours spent schooling her children each day, Susanna rarely failed to spend daily personal time alone with God and even found time to write several manuals on Christian doctrine for her children, aimed to help each child learn, mature, and develop Christian character. Overall, Susanna Wesley lived an amazing yet humble life, not receiving any fame or fortune during her lifetime. Two of her sons, John and Charles, became famous and influential men in the Christian church, a lasting testament to her effectiveness in the home. I respect Susanna Wesley because she is someone people can look up to, learn from, and above all, hold as a godly example. Because Susanna embodied all these qualities, her parenting changed the world.
Page created on 8/27/2011 12:00:00 AM
Last edited 1/20/2020 11:50:00 PM
The beliefs, viewpoints and opinions expressed in this hero submission on the website are those of the author and do not necessarily reflect the beliefs, viewpoints and opinions of The MY HERO Project and its staff.
Extra Info
Pellowe, Susan . " Susanna Wesley's Biography." SusanPellowe.com. Web. 18 Oct 2009.
.

Withrow, William. Makers of Methodism. 1st. 1. Montreal, Canada: 1898. Print.