Spencer West, from Toronto, is living proof that if you can believe it then you can achieve it. His story dates back to when he had his legs amputated at just 5 years of age, due to a genetic disorder that left his lower spine poorly developed and legs permanently crossed. His doctors told him he would never be able to sit up again, let alone walk, and that he would not be able to do much with his life or be a functioning member of society. But he proved them wrong. Spencer is now very active all over the world, inspiring youth and adults alike through his speeches and achievements. He is a truly inspirational person, and his sheer stubbornness and willpower has led him to be an incredible leader and an active part in making change.
Over the years, Spencer has reached millions of fans with his inspiring words and stories of his struggles. Despite the shortfall of having no legs, he has grown to overcome his challenges and shows that you can find opportunity in every obstacle you face. His meaningful and powerful speeches instill hope in his audiences and helps them to find the personal strength they need to achieve their goals and believe in themselves. From motivational talks at schools and colleges/universities to his larger scale involvement with Me to We and, previously, the Go Global speaking tour for Free the Children, he has been able to get his message across to people all over the world. He has even shared the stage with many other influential people including His Holiness the Dalai Lama, Dr. Jane Goodall, former U.S. Vice-President Al Gore, Mia Farrow, Reverend Jesse L. Jackson Sr., Nobel Peace Prize Laureates Betty Williams and Elie Wiesel, and his musical idol Jason Mraz. Spencer has had a tremendous involvement promoting global and social change and his many captivating speeches are part of what makes him such a charismatic and heroic person. However, Spencer West is not all talk.
On top of his great ability to reach all different audiences and motivate people worldwide, Spencer has been actively involved with many volunteer projects, as well as serving as an international leadership facilitator in Kenya, India, the Arizona-Mexico border and Saudi Arabia. He is also the recipient the Fervent Global Love of Lives Medal of Bravery from Taiwan's Chou Ta Kuan Foundation, and on November 5, 2011, he took part in the Rick Hansen 25th Anniversary Relay as a Man in Motion Medal Bearer along with his hero Rick Hansen. But the experience he credits most for helping him recognize his true calling is an international volunteer trip in 2008 where he travelled to Kenya to help build a school in a rural community in the Maasai Mara. This trip was incredibly inspirational for him as he met many young people who would strive to overcome challenges every day. It helped to show him that he was not alone in his struggles and that he could inspire other youth around the world to not be discouraged by their obstacles. And 3 years later when the country began to experience its worst drought in 60 years, Spencer decided that he would give back by raising money for clean water with Free the Children - while climbing to Africa's highest peak, Mt. Kilimanjaro.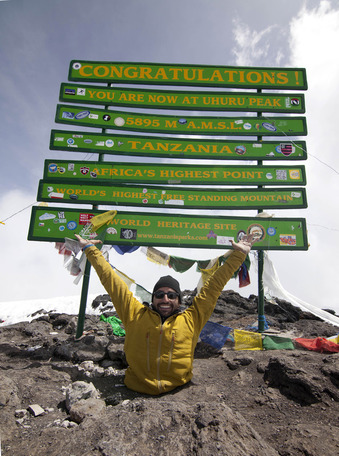 Spencer called his campaign "Redefine Possible" to show how you can exceed the expectations of society and achieve whatever you set your mind to. His goal of reaching the mountain's summit was truly inspirational, as it is something that few people are capable of, and yet he was attempting to do it with no legs. After over a year of training and preparation he and his team began the climb June 13, 2012, with much attention and support from the media. Although they encountered many drawbacks and moments of struggle, their spirit was indestructible and with Spencer walking on his hands 80% of the way (20% in his wheelchair) they reached the peak of Mt. Kilimanjaro 7 days later - June 19, 2012. Not only had they achieved an incredible feat, but they had also raised over $500,000 for Free the Children's project to bring clean, sustainable water to communities affected by the drought. Spencer West had redefined possible - and shown what a hero he really is.
Overall, Spencer is an incredibly inspirational person who I believe possesses all the traits that constitute a hero. Using his passion and drive and refusal to give up he has - and still is - making a positive difference in the world. Through his motivational speeches he has spread his message of overcoming stereotyping and bullying while finding strength to conquer your challenges and not be afraid to fight for what you believe in. His most recent feat, summiting Mt. Kilimanjaro, has shown how important it is to not let anything hold you back and that you can achieve anything you set your mind to. And on top of all of that, he has helped a struggling nation by raising money for them to have clean water once again. I think that all of these things make him a great hero, and he continues to have a positive impact on the world to this day.
Page created on 11/26/2012 12:00:00 AM
Last edited 1/5/2017 8:30:45 PM
Bibliography
Jake Edmiston. "National Post News." [Online] Available http://news.nationalpost.com/2012/06/22/meet-spencer-west-the-legless-toronto-man-who-climbed-mount-.
Me to We. "Me to We Speakers Bureau." [Online] Available http://www.metowe.com/speakers-bureau/view-all-speakers/spencer-west/#spencer.
Casey, Liam. "The Star." [Online] Available http://www.thestar.com/news/gta/article/1213449--spencer-west-man-with-no-legs-reaches-the-summit-of.