My hero is Stevie Wonder, a musician who has overcome great obstacles. Stevie Wonder was born with the name Steveland Hardaway Judkins, on May 13, 1950 in Saginaw, Michigan. He was born four weeks before his due date and was placed in an incubator immediately. He inhaled too much oxygen that caused cataracts behind his eyes which blinded him for life. Another girl, born the same day, was also placed an in incubator and inhaled too much oxygen. She would not survive when they took her out.
His mother, Lula Mae Hardaway raised the whole family. Stevie had five brothers and one sister. She worked for a fish company which didn't provide much money. His parents divorced and Lula moved all her children to Detroit. Stevie's love of music started when he participated in a church choir. "When Stevie was off for Christmas break his Uncle gave him a harmonica and the first thing Stevie asked was "What do I do with this?" He taught himself to play the harmonica, drums, and piano before the age of ten. Stevie sang his first song at his sixth grade graduation in Detroit.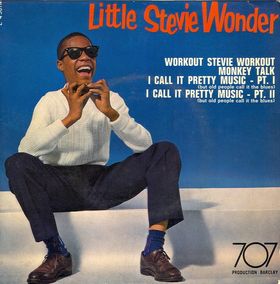 At the age of 11 Stevie was discovered by Ronnie White who at the time was in the Motown band "The Miracles." An audition followed with Barry Gordy Jr. the Motown founder. Mr. Gordy didn't hesitate to sign the little genius with the record company. Motown Records also founded The Supremes, The Jackson 5, and Marvin Gaye. In 1962 Stevie released his first album "Little Stevie Wonder the 12 year old Genius." In 1968 Stevie graduated from the Michigan College for the Blind with honors. After dropping "Little" from his stage name he released a very successful album called "Uptight." The album which included "Fingertips" part 2 was an instant hit.
One day Stevie was in his car and an 18 wheeler was in front of him, the car crashed into the 18 wheeler. The underside of the car struck Stevie's head leaving him in a coma for ten days.
Stevie was destined to make wonderful music. In 1975 Stevie signed a $13 million contract with the largest music industry. Over the course of a decade he created four new albums which earned him 15 Grammies. For the song "Ebony and Ivory" Stevie teamed up with Paul McCartney in 1982. The film "Women in Red" included Stevie's hit song "Just Called to Say I Love You" which earned him an Oscar. Stevie plays the keyboard, drums, harmonica, and percussion instruments. His inspiration for "I Just Called to Say I Love You" is that he wanted to get the message across that love is for all seasons and can always be expressed whether a holiday or just an ordinary day.
In 1980 Stevie led a campaign that was meant to establish Martin Luther King's birthday also known as Martin Luther King Day. After the campaign Stevie wrote Martin Luther King a song "Hotter Than July." In 1983 Stevie bought an LA radio station called KHLH. Stevie was arrested in 1985 for demonstrating against apartheid outside the South African Embassy. He was willing to go to jail to stand up for the rights of others.
Stevie was inducted in the Rock and Roll Hall of Fame in 1989. He has received many awards in his life but the biggest honor of all "The Grammy Lifetime Achievement." He has won over 25 Grammies and many other awards. With his 4-year old on the drums, Stevie accompanied Aretha Franklin at the XL Super bowl singing the "Star Spangled Banner." In March of 2006 Stevie appeared on American Idol singing "Just Called to Say I Love You." Stevie has won so many awards. He never brags about his fame and is so humble about everything he does.
The event that changed his life was the experience of not having his eyesight. He had to adapt the way he did things so that his other senses and talents would take over. He graduated from the Michigan School for the Blind with honors, learned how to read Braille and played the piano along with many other instruments. He didn't let his blindness affect the way he lived. Barry Gordy Jr. inspired him most. He never told Stevie that he wasn't good enough and never gave up on him because he couldn't see. He always trusted Stevie. Lula Mae Hardaway was another inspiration. She never gave up because she was the leader of the family. On February 27, 2009 Barack Obama awarded Stevie Wonder with the "Library Congress Award."
To give back to all his fans, Stevie performs at many benefit concerts for children with disabilities. He performed in Ethiopia for children stricken with blindness and at a benefit concert in Washington D.C for Human Kindness Day. He also performed at a concert with John Lennon for an organization called One-on-One, which is for kids who are mentally handicapped.
Stevie Wonder inspires me because he is a great example to adults and children. He didn't let his disability stop him from reaching his goals. Stevie never complains about being blind; he just finds new ways to succeed in being a musician. I think Stevie has an inspiring story that people should really live by which is, "don't let anything stop you from reaching your dreams."
Fun Facts:
• When Stevie was two, his favorite instrument was the spoons; he would go all around his house hitting them everywhere.
• While listening to the radio, Stevie could separate the instruments he heard in a song, later he could play all those instruments.
• At 13, Stevie often lost himself in his music while performing for audiences and his manager had to go on stage and carry him off.
• He often worked in the recording studio for more than 24 hours at a time. His blindness blocked the night and day that sighted people live by.
• In March of 2005 Stevie's daughter Aisha Morris sang a duet with her father "How Will I Know."
Page created on 3/12/2013 10:37:48 PM
Last edited 1/6/2017 7:19:44 PM