Sandy Koufax
by
Jory from Toronto
Sanford "Sandy" Koufax is one of the greatest to pitch in the MLB. Standing at 6'2, this left-handed pitcher has a hall-of-fame 12-season career (1955-1966) with the Brooklyn/Los Angeles Dodgers. Aside from his amazing career, Koufax is remembered for not playing Game 1 of the 1965 World Series because it was on the holiest day on the Jewish year (Yom Kippur). His decision not to play so he could observe Yom Kippur made Koufax one of the most idolized Jewish athletes, as he made sacrifices for his personal beliefs.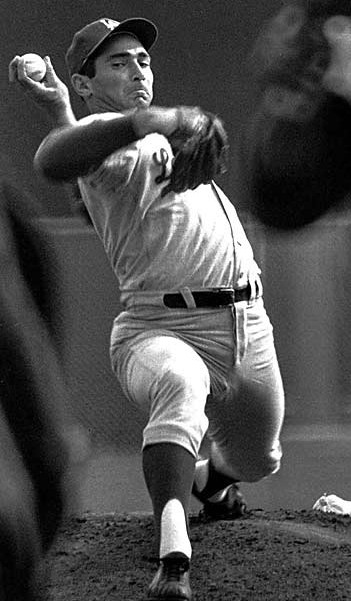 Sandy Koufax was born on December 30, 1935 and raised in Brooklyn, New York. His mother divorced when he was three, and he ended up taking the surname of his stepfather. He played a variety of sports at Jewish community centers in Brooklyn, and was known for his basketball skills. He attended the University of Cincinnati on a basketball scholarship. He made the college varsity baseball team. After trying out for a couple major league teams, Sandy Koufax signed a $6,000 contract with the Brooklyn Dodgers.
Koufax was an extraordinary pitcher. Some say that he had the best arm that they have ever seen. Willie Stargell of the Pittsburgh Pirates said, "Hitting against him is like eating soup with a fork." His two best pitches were his four-seam fastball and curveball. He would sometimes throw a changeup and forkball. He pitched four no-hitters and recorded a perfect game on September 9, 1965. He won the NL MVP in 1963. He is a 7-time All Star and 4-time World Series winner (1955, 1959, 1963 and 1965). He won the World Series MVP in 1963 and 1965. In 1963, 1965 and 1966 he won the Cy Young Award. He is a Triple Crown winner in the 1963, 1965 and 1966 seasons. His jersey (number 32) was retired by the Dodgers in 1972. He has an all-time record of 165-87. He career ERA is 2.76 and he recorded 2,396 strikeouts. Sandy Koufax is one of the greatest pitchers in the history of the MLB.
Koufax is also remembered for not playing on Rosh Hashanah and Yom Kippur, most notably when Yom Kippur occurred on the first game of the 1965 World Series (October 6, 1965). He was not an Orthodox or very observant Jew, but Koufax decided to go to synagogue and fast on the holiest day of the Jewish year. This remains one of the most controversial decisions in sports history. He was criticized for letting his personal beliefs interfere with his professional life. But, he showed character and courage for standing up for what he believed in. He justified his actions by saying that he was letting the other star pitchers of the Dodgers, Don Drysdale, start. On Yom Kippur, the day of sacrifice, he respected Drysdale's abilities and stepped aside to allow Drysdale the start. The Dodgers ended up losing the first game, much of the blame going to Koufax for not playing. But, the Dodgers came back and Koufax pitched a complete-game shutout in Game 7 to give the Dodgers the 1965 World Series. The decision not to pitch resonates with me because I keep kosher. Kosher is the Jewish law that one can't eat milk and meat products in the same meal or eat particular animals. I have to make sacrifices in terms of what I eat, as well as having to make decisions of what to eat (milk or meat meal). Koufax's sacrifice and decision are things that I have to deal with every day, which is one reason that he is my hero. Sandy Koufax is not only remembered for his incredible pitching skills, but also for his standing up for his beliefs and not pitching on Yom Kippur.
Sanford Koufax is considered by many to be the best left-hander pitcher to ever play the game. In the prime of his career (the 1960's), he was unhittable and a dominant pitcher. He is almost certainly the most celebrated Jewish sports icon in history. Sandy Koufax is a hall-of-famer, 4-time World Series winner, 3-time Cy Young winner, one of the greatest ever to pitch and my hero.
Page created on 12/27/2011 12:00:00 AM
Last edited 1/6/2017 11:38:52 PM
The beliefs, viewpoints and opinions expressed in this hero submission on the website are those of the author and do not necessarily reflect the beliefs, viewpoints and opinions of The MY HERO Project and its staff.
Extra Info
Sources:
http://www.baseball-reference.com/players/k/koufasa01.shtml
http://www.brainyquote.com/quotes/authors/s/sandy_koufax.html
http://www.theatlantic.com/entertainment/archive/2010/09/god-vs-the-world-series-sandy-koufaxs-yom-kippur-sacrifice/63094/
http://web.archive.org/web/20061018193520/
http://www.jewishsports.com/reflections/koufax_yom.htm
http://en.wikipedia.org/wiki/Sandy_Koufax
http://www.answers.com/topic/sandy-koufax
http://espn.go.com/classic/biography/s/Koufax_Sandy.html